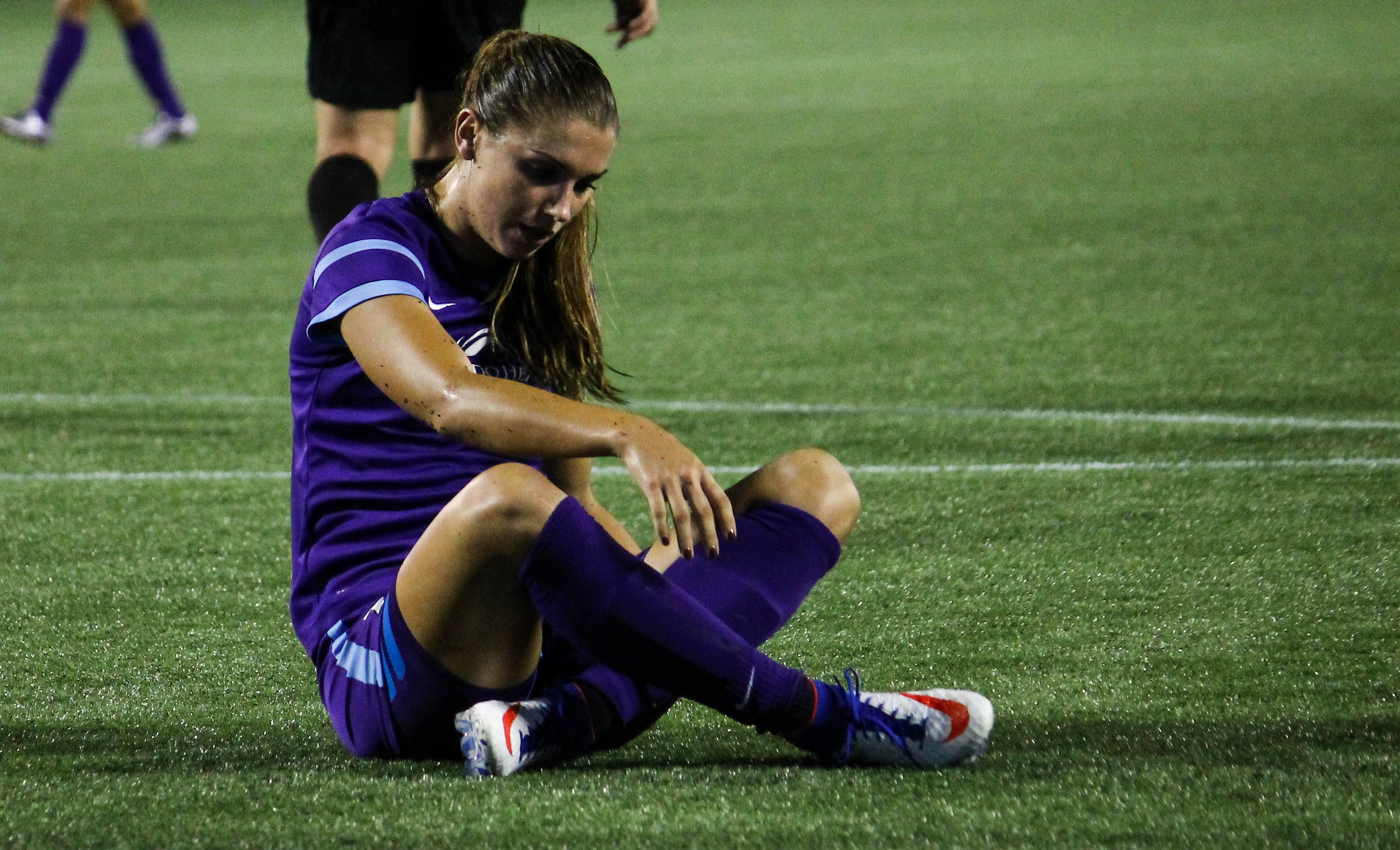 ORLANDO, Fla. – Olympic returnees abound, the Orlando Pride still could not muster enough scoring to overcome the No. 1 Washington Spirit. At Camping World Stadium Friday night, the Pride (6-10-0, 18 points) lost 2-1 to the Spirit (11-3-2, 35 points) in front of an announced crowd of 7,052.
"We knew we were coming up against a team at the top of the league; a team that's in really good form that's had a really consistent lineup for some time." Pride head coach Tom Sermanni said after the game. "Overall, I was, as I usually am, very pleased with the effort of this team. They leave everything on the field."
It looked as if the Pride might rally to a late-game draw after falling into a 2-0 hole in the middle stretch of the match. Pride substitute Sarah Hagen one-touched a pass by Cami Levin past the outstretched body of Spirit goalkeeper Kelsey Wys to pull the Orlando team within one.
"I think the injection of the two substitutes made a difference," Sermanni said. "I think we played with a lot of passion, a lot of commitment for that last 30 minutes and really got ourselves back in the game and probably two or three very good chances to score and equalize."
Monica Hickmann Alves entered the game with Hagen in the 63rd minute.
Moments after the ensuing resumption of play, Pride forward Jasmyne Spencer nearly had an equalizing attempt. The initial pass was intercepted and subsequently played to Spencer, who orchestrated a pass-and-go with Hagen that led Spencer to the center of the Spirit's box. Spencer's final touch was just too much, though, as her crossover move from right to left stranded the ball for a clear.
"I think it was a tough loss for us," Levin said. "We were in the game, and then we put ourselves down 2-0 and got ourselves back in and started playing better. With four games left, we have to take it one game at a time. Regardless of what we can't control anymore with other scores and results, we have to go and finish this season really strong. I think we've had some disappointing losses and results through the season, and I also think, for the first year in the league, we've done really well.
"If we fall short [of making the playoffs], it will be a disappointment. But still finishing strong these last four games is really important."
Washington opened the scoring with a 37th minute goal by Cheyna Williams. The Spirit's Caprice Dydasco found Williams inside the left side of the Pride's box. Williams was met by Pride defender Kaylyn Kyle, but the effort was in vain. The Washington forward faked one way and then slid the ball between Kyle's legs en route to a goal that Orlando goalkeeper Ashlyn Harris could only stare at.
A defensive lapse by Orlando in the 55th minute by the Pride led to the Spirit's 2-0 lead. Following a cross to the inner-right side of the Pride's box, the Spirit's Christine Nairn was left completely unchecked down the left side, leading to a goal-scoring one-on-one with Harris.
Woman of the Match: Cheyna Williams
In addition to her nutmeg-to-goal move in the first half, Williams was a consistent threat down the Pride's left flank until she positioned herself inside the box for more central play and eventually the first goal of the game. She finished the match with 82 minutes played, three shots (two on goal) and a goal.
Williams' 37th-minute strike was her second goal of the season. She's played 590 minutes in 13 games this season.
Missing Catley
Pride left-back Steph Catley was sidelined for the rest of the season on Monday after sustaining injuries during Olympic play for the Australian women's national team. Orlando captain Alex Morgan noticed her missing presence in the form of absent crosses.
"We didn't get many crosses off at all," Morgan said during the post-game press conference. "We did get a cross off. I think it was mediocre at best. I think Sarah made an amazing goal out of something that was a half chance… I think our crossing needs to improve drastically, and Steph is someone who can put the ball exactly where you want her to put the ball."
With both Catley and fellow Australian defender Laura Alleway out with injuries Friday night, Sermanni did feel his team was overmatched at times.
"You've got to be realistic in sports, and we knew coming up against a team tonight, who were, for every intents, were better than us," Sermanni said. "That's not a reflection on the ability of our team. It's more of a reflection on the stability of their team, and the fact that you could tell how cohesive they were, how much they played together, how they've had a stable lineup, and how they've got really good depth in their squad.
"So we knew we were coming up against that tonight. And that's why, particularly in the first half, we set up a little bit more defensively than we normally would playing here."
Orlando started the match in a 4-5-1 formation with rookies Dani Weatherholt starting at right-back and Sam Witteman starting in the midfield. Weatherholt played in seven matches before Friday's bout, recording a total of 373 minutes. As for Witteman, she's played in every game except the first two, recording 902 minutes of playing time.
What's next?
The Pride will embark on a two-game road trip that will begin with a match against the Houston Dash on Saturday, Sept. 3 at 8:30 p.m. That's followed by a home-and-home matchup with Sky Blue FC, beginning with a 7 p.m. game in New Jersey on Wednesday, Sept. 7.
Scoring
| | | | |
| --- | --- | --- | --- |
| Time | Team | Goal-scorer | Assisted by |
| 37' | Washington Spirit | Cheyna Williams | Caprice Dydasco |
| 57' | Washington Spirit | Christine Nairn | Katie Stengel |
| 71' | Orlando Pride | Sarah Hagen | Cami Levin |
Statistics and Starting Lineups
| | | | | |
| --- | --- | --- | --- | --- |
| | Goals | Assists | Shots | Shots on Goal |
| Orlando Pride | 1 | 1 | 11 | 3 |
| Washington Spirit | 2 | 2 | 13 | 5 |
Orlando Pride starting XI (4-5-1): Ashlyn Harris; Cami Levin, Toni Pressley, Kaylyn Kyle, Dani Weatherholt; Jasmyne Spencer, Maddy Evans, Kristen Edmonds, Becky Edwards, Sam Witteman; Alex Morgan (C)
Washington Spirit starting XI (4-3-3): Kelsey Wys; Caprice Dydasco, Estelle Johnson, Whitney Church, Ali Krieger (C); Christine Nairn, Tori Huster, Joanna Lohman; Cali Farqharson, Crystal Dunn, Cheyna Williams
(Featured photo by Daniel Castrillon / New Day Review)