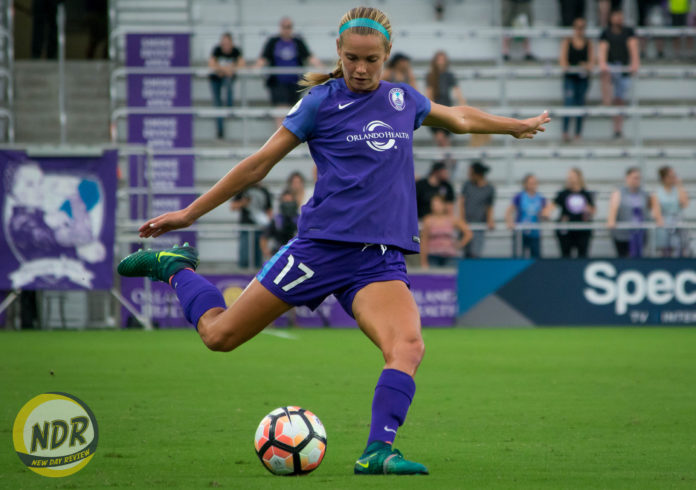 (Photo by Victor Tan / New Day Review)
The Orlando Pride have made their first offseason move, and it's an in-house one. Midfielder Dani Weatherholt signed a contracted extension with the Tuesday, according to a team press release. Per team and league policies, the terms of the contract were not announced.
"We're delighted to have agreed to a new deal with Dani," Pride head coach Tom Sermanni said, per the release. "Dani had a terrific 2017 season and has taken great steps in her development over her two years with us. We look forward to seeing her continuing to grow and contributing to the Pride in 2018."
Weatherholt was the 31st-overall pick in the 2016 National Women's Soccer League College Draft, the Pride's third pick ahead of their inaugural season. The Santa Clara University alumna started 17 of her 19 matches last season and recorded her first pro goal and first pro assist.
On Aug. 12, Weatherholt scored in a record-setting, 5-0 victory over Sky Blue FC; she followed that with a 92nd-minute, lead-taking assist to Alex Morgan in a 1-1 draw with the Seattle Reign on Sept. 9.
The 23-year-old saw a significant increase in her role from her rookie year to her sophomore season. As a rookie, Weatherholt started nine of her 12 appearances for 786 minutes. She tallied 700 more minutes in 2017.
Orlando finished the 2017 season 11-7-6 and with its first-ever NWSL playoff appearance. The Pride lost to the Portland Thorns 4-1 in the 2017 NWSL Semifinals.
---
For more on Weatherholt and the Pride, as they continue their offseason ahead of the 2018 season, follow Victor Tan on Twitter at @NDR_VictorTan.