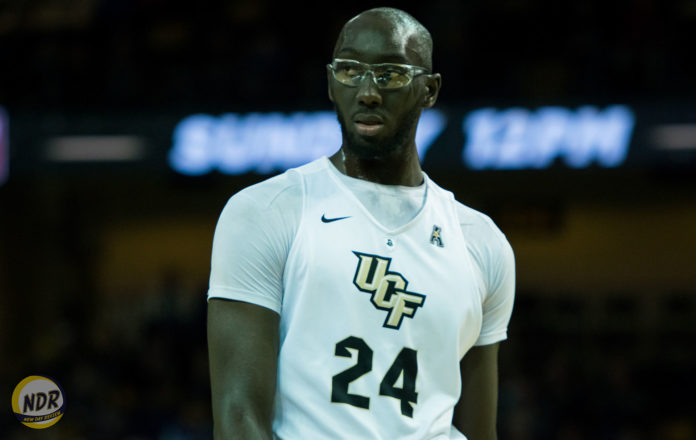 (Photo by Victor Tan / New Day Review)
Through four American Athletic Conference games, the UCF Knights have enjoyed early success. Like last season, the Knights (12-4, 3-1 in AAC) have started their conference schedule with a 3-1 record, losing 56-51 to sixth-place Southern Methodist University.
Now, the Knights come up against one of their toughest opponents—tough, not because of their record, but because of what history has to say about this matchup. In 11 meetings between the Knights and Huskies, UCF has won just one game: a 68-63 decision in the Bahamas for the Battle 4 Atlantis tournament.
Since then, UCF has lost seven-straight games to UConn, most recently losing 66-63 at CFE Arena on Feb. 11, 2017.
Here's what to expect in the 12th hardwood version of the Civil Conflict (cringe) on Wednesday at 7 p.m. on CBS Sports Network.
–
Jalen Adams, Terry Larrier Form Potent Duo
Junior Jalen Adams and redshirt junior Terry Larrier are statistically UConn's go-to options. Between the two, they combine for 31.8 field-goal attempts per game, scoring 34.8 points per game. They are also the only two players on the team with at least 30 minutes per game, as Adams leads the Huskies with 38.5 minutes per game; Larrier averages 35.1 minutes per game.
Adams is a multi-talented scorer, finding his shots in volume everywhere on the court. He takes nearly 13 two-pointers per game, combining it with 4.8 3s per game. Listed at 6-foot-3, Adams is also second in rebounds per game (5.1), trailing just 6-foot-8 Larrier (5.3).
Larrier is less of the same as Adams, finding his shots in a similar fashion; however, the Virginia Commonwealth University transfer shoots the 3 ball at a significantly better rate. Whereas Adams is 29.9 percent from 3-point range, Larrier is a team-leading 39.4 percent.
Adams is an 80.4 percent free-throw shooter, and Larrier shoots 77.5 percent from the line.
Huskies Recovering from Losing Streak
UConn (8-7, 1-2 in AAC) experienced a difficult stretch of games that's put it in ninth place in the American, so far. Over their last five games, the Huskies won just one. That game also happens to be UConn's most recent game, a 70-65 victory over East Carolina University on Jan. 6.
Before the win, the Huskies faced two ranked teams, losing to the then-No. 19 Arizona Wildcats, 73-58, and then-No. 8 Wichita State University, 72-62. That four-game losing streak also included a 90-88, double-overtime loss to the University of Tulsa and an 89-64 loss to Auburn University.
UConn Has Played 3 Overtime Games
The Huskies are no strangers to close affairs. So far this season, UConn has played in three overtime games. On Nov. 29, 2017, UConn won the first of back-to-back overtime wins over the Columbia Lions, 77-73. Three days later, UConn beat Monmouth University 84-81. The Huskies other overtime win was against Tulsa.
UCF hasn't played an overtime game since a 101-96 win over Bethune-Cookman University in the 2015-16 season.
---
For more on the Knights, as they take on UConn, follow Victor Tan on Twitter at @NDR_VictorTan.