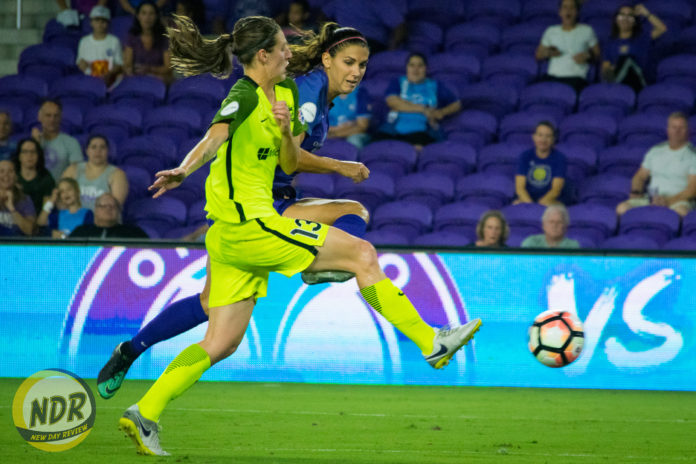 (Photo by Victor Tan / New Day Review)
Match Recap
ORLANDO, Fla. – The scene was set.
Alex Morgan was poised to send the Orlando Pride to their first-ever playoff appearance with a stoppage-time goal against the Seattle Reign. But Jess Fishlock had other plans, scoring an equalizer no more than one minute later in a 1-1 draw at Orlando City Stadium in front of 4,341 people Thursday night.
"Yeah, when I scored, I felt like that was the game-winner that we needed to hold on for probably one minute," Morgan said after the draw. "And I heard [head coach Tom Sermanni] and [assistant coach Khano Smith] kinda yelling over at me after the celebration to get organized and get prepared. And I feel like once I got on the other side of the half-line, they were already down in the final third, and it didn't take more than 30 seconds before they converted, so I feel like we just switched off for a second.
"You know, it's not that the crosses, by any means, were extremely dangerous. I feel like we could have definitely handled them. I think we just switched off for a second, but, you know, we could have definitely been, you know, in the playoffs for sure at this point, but we're not in a bad position by any means."
One errant headed pass by Seattle landed at the feet of Pride midfielder Dani Weatherholt, who hopped the ball to Morgan down the middle-left flank. Morgan then drove into the Reign's box and took a left-footed strike to the far post, past a rooted Lydia Williams for the supposed game-winner.
In the 94th minute, second-half substitute Nahomi Kawasumi crossed the ball to Fishlock for a headed goal, beating Pride center-backs Monica Hickmann Alves and Ali Krieger for the equalizer.
"I mean, we were really organized in the back. We were very, you know, tight in the box," Krieger said after the match. "Obviously, players score goals, spaces don't. So you have to make sure that, you know, you're tight on players, especially players running through the midfield. And you can't just let players run through. So we have to continue to work on that. And, obviously, when you're in the box, you have to make sure you're grabbing onto players."
Both sides remained scoreless until stoppage time in the second half, but there were plenty of chances during regulation. Two of the Pride's greatest chances came from rookie Rachel Hill, who scored a 16-mnute brace against the Boston Breakers on Sept. 2. In the seventh minute, Morgan headed a ball that led Hill down the middle-right flank. Hill steadily worked into the box and unloaded a shot that was deflected.
In the 47th minute, Hill's number was called again. After Camila Martins Pereira staved off a couple of Seattle defenders, she turned toward the six-yard box and crossed it to Hill on the back post. Hill met the ball with her head, and the ball met the crossbar for a goal kick.
Hill continued her goal-scoring effort in the 66th and 68th minutes with near-goal efforts before being replaced by Jasmyne Spencer in the 74th minute.
"I definitely thought [Hill] had at least one tonight, especially the header," Morgan said of her fellow forward. "I thought that was for sure in. It went off the…crossbar, unfortunately. But she's been playing really well. She's been taking on players. I feel like her game has definitely escalated the more that she's gotten playing time, and she's fun to play with, and so I think she's just going to continue to grow the more playing time she gets."
Seattle had its share of chances, too, putting the only ball in the back of either net during regulation. Megan Rapinoe worked the ball down the left flank and crossed it to a cutting Fishlock, who slid a shot in that ricocheted off Pride goalkeeper Ashlyn Harris and into the net. One of Seattle's 10 offside calls negated the score to keep the game level in the 59th minute.
Woman of the Match: Alex Morgan
Morgan finished the match with just one shot (one on goal), but she made it count, giving the Pride the late lead. She also created four chances, second only to teammate Marta Vieira da Silva, who had a match-high six created chances. Morgan finished the game completing 70.8 percent of her 24 passes, drawing one foul and recording one tackle in her 90 minutes of play.
What's next?
The Pride will host the Portland Thorns on Sept. 23 at 3:30 p.m. for their second-to-last regular-season game, their last home game.
Highlights
16′ Camila's corner kick is caught by @lydsaussie. #ORLvSEA pic.twitter.com/xX2oRxTdWI

— NWSL (@NWSL) September 8, 2017
20′ "Beautiful communication between Marta and Alex Morgan," but it's deflected wide. #ORLvSEA 0-0 pic.twitter.com/UTDN7iSfqz

— NWSL (@NWSL) September 8, 2017
26′ @mPinoe fires from distance, but @Ashlyn_Harris is there for the save and the Pride defend the rebound. Still 0-0 in Orlando. #ORLvSEA pic.twitter.com/q6gSpH5NBV

— NWSL (@NWSL) September 8, 2017
39′ | Cheeky, that. 🌬

0-0 | #ORLvSEA pic.twitter.com/pIaEdFSHgB

— Orlando Pride (@ORLPride) September 8, 2017
Halftime stats (ORL-SEA):

Shots (on goal): 8-4 (0-1)
Corners: 7-4
Passing accuracy: 80.1%-79.2%
Possession: 49.3%-50.7%#ORLvSEA #NWSL

— New Day Review (@NewDayReview) September 8, 2017
47′ | RACHEL. HILL. SMACKING. THE. BAR. 😱

0-0 | #ORLvSEA pic.twitter.com/wMSqGrX2AC

— Orlando Pride (@ORLPride) September 8, 2017
47′ Camila finds Rachel Hill, but her header is off the crossbar. #SoClose #ORLvSEA 0-0 pic.twitter.com/8MahJj13hz

— NWSL (@NWSL) September 8, 2017
54′ | Chi going on an adventurous run and almost sneaks one near post!

0-0 | #ORLvSEA pic.twitter.com/qclAJmVYEd

— Orlando Pride (@ORLPride) September 8, 2017
55′ Marta with a backwards pass to Ubogagu for the shot, but it's saved by @lydsaussie. #ORLvSEA pic.twitter.com/vZIU9VBlax

— NWSL (@NWSL) September 8, 2017
59′ @JessFishlock slides in for the would-be goal, but she's ruled offside. #ORLvSEA 0-0 pic.twitter.com/j1FjbsVYk5

— NWSL (@NWSL) September 8, 2017
61′ | Everybody in the house thought that was going in… WOW.

0-0 | #ORLvSEA pic.twitter.com/aLdxaR9K1a

— Orlando Pride (@ORLPride) September 8, 2017
This… #Boss | #ORLvSEA pic.twitter.com/h9ef7C1sUc

— Orlando Pride (@ORLPride) September 8, 2017
90-4' And @JessFishlock's answer via a header to tie the score in stoppage time! #ORLvSEA 1-1 pic.twitter.com/7iOxyGIxuz

— NWSL (@NWSL) September 8, 2017
NDR Notes
Morgan scored her ninth goal of the season in the draw.
The Pride's five-game winning streak came to a stop with the draw Thursday night.
Orlando is still riding a seven-game unbeaten streak, dating back to Aug. 5's 1-1 draw with the Chicago Red Stars.
Weatherholt recorded her first career assist on the late goal by Morgan.
Scoring
| | | | |
| --- | --- | --- | --- |
| Time | Team | Goal-scorer | Assisted by |
| 92' | Orlando Pride | Alex Morgan | Dani Weatherholt |
| 94' | Seattle Reign | Jess Fishlock | Nahomi Kawasumi |
Statistics and Starting Lineups
| | | | | | |
| --- | --- | --- | --- | --- | --- |
| | Goals | Assists | Shots | Shots on Goal | Possession % |
| Orlando Pride | 1 | 1 | 20 | 5 | 51.4% |
| Seattle Reign | 1 | 1 | 10 | 3 | 48.6% |
Orlando Pride starting XI (4-3-3): Ashlyn Harris (GK/C); Steph Catley, Ali Krieger, Monica Hickmann Alves, Camila Martins Pereira; Alanna Kennedy, Marta Vieira da Silva, Dani Weatherholt; Chioma Ubogagu, Alex Morgan, Rachel Hill
Seattle Reign starting XI (4-2-3-1): Lydia Williams (GK); Carson Pickett, Lauren Barnes (C), Rachel Corsie, Rebekah Stott; Christine Nairn, Rumi Utsugi; Megan Rapinoe, Jessica Fishlock, Beverly Yanez; Meritt Mathias
---
For more on the Pride, follow Victor Tan on Twitter at @NDR_VictorTan.