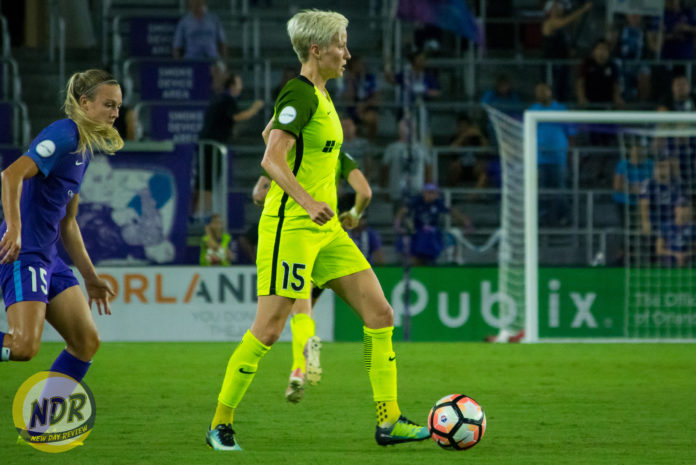 (Photo by Victor Tan / New Day Review)
Update from the NWSL
While the NWSL would not give an official comment, a league spokesman did confirm that Seattle would have forfeited the match if they did not play, per league rules.
Furthermore, in the process of rescheduling the match, the spokesman said the league contacted both the United States women's national team and the NWSL Players Association, and they supported the decision of playing the game on Thursday.
Addressing the issue that players might have been stranded in Orlando because of potential flight cancellations, the league also confirmed with Orlando International Airport that Seattle's flight options of leaving Florida were not inhibited.
---
It's difficult for us players to understand why the priority is to play this game rather than get out of this area? @nwsl pls reschedule. https://t.co/O7SQrVyX78

— Megan Rapinoe (@mPinoe) September 6, 2017
Being in Orlando isn't safe, it's scary & I cant help but feel that the number 1 priority should be us getting out of here now.

— Jessica Fishlock (@JessFishlock) September 6, 2017
ORLANDO, Fla. – As contingently planned, the Orlando Pride and the Seattle Reign played each other on Sept. 7 in Orlando. It was because of the looming threat of Hurricane Irma that both sides' match, originally scheduled for Sept. 9, was moved to two days earlier. And while the visiting Reign managed to escape with a 1-1 draw, Seattle star Megan Rapinoe still wished the game could have been played at another time.
It started with a desire for competitive equality. Before the Pride and Reign's draw, Orlando was in fourth with 35 points, and Seattle was in fifth with 30. A win for the Pride would've given the Central Florida side its first-ever playoff berth while anything but would've kept Seattle's playoff hopes alive. Rapinoe felt the short turnaround of having just beaten the Houston Dash four days earlier affected the competitive balance between the Pride and Reign of what was a pivotal, playoff-push matchup.
"I mean, obviously, [the match] worked out, but nobody was worrying about the hurricane falling on our heads tonight," Rapinoe said after the draw. "I think it was just a lot of other things. I think it put us at a much more of a disadvantage, having just traveled and having just played, and then having to play the game two days earlier and not being able to have an off day… I just felt like it put our club at much more of a disadvantage than it put [Orlando], and I didn't think it was fair."
Apart from soccer, though, it was players' safety that concerned Rapinoe just as much. Born in Redding, California, and having just played 10 games for a Florida team in the 2011 Women's Professional Soccer season, Rapinoe had never experienced a hurricane, let alone one as historically dangerous as Hurricane Irma.
"I mean, we're not from here. We don't know what it's like to be here" Rapinoe said. "You know, basically up until, you know, Tuesday and Wednesday night, we're wondering if we're even gonna be here and stressing about that and having to, you know, book flights and this and that. And I just felt like it's not really time. If there's time elsewhere in the schedule to put the game, then I felt like that would be the right choice…"
The pressure and urgency to play Thursday night's game was compounded even more when the National Women's Soccer League told Rapinoe and the Reign they would have to forfeit the match if they didn't play because the team was already in Orlando, according to Rapinoe.
"Seeing like this was kinda forced upon us and kinda put pressure on us 'cause it said that if we didn't come, then we would have to forfeit the points," Rapinoe said. "And, basically, the only reason they said that [is] because we're already here. So if we weren't here, they obviously wouldn't have had anyone flown in… I think often times, partially because it's a new league, but partially just 'cause sometimes they just do what they want, and I didn't think that it was very fair, and the processes about it I didn't think were very fair. I didn't feel like our club was really put in the best position to have, you know, sort of a competitive equal in this game."
Rapinoe didn't stop there. From the Reign playing a 2016 match with undersized, non-standard dimensions on a minor-league baseball field to players suffering from heat-related illnesses in Southern-based games scheduled in the afternoon, Rapinoe has seen enough cause for her and her colleagues to have little trust in the NWSL.
"I think that this is a pattern…and we've been in all those, and I'm sure other teams have other things, so, I think, for us, it is a pattern," Rapinoe said. "We don't have a lot of trust in the process of the league and their commitment to putting players' safety first. I think that they've shown that time and again, so, until they start doing that more, then I think we're gonna continue to feel the way that we do."
On the other side of the aisle, Pride head coach Tom Sermanni and center-back Ali Krieger saw Sept. 7 as the only time both teams could have played, as there is less than a month left in the regular season.
"Well it was difficult, but it's not [a] perfect situation. And there wasn't another option, given the circumstances," Sermanni said after the draw. "I wanted to play the game [Friday] night. That would've given both teams a little bit more recovery, but, you know, they came into town straight from Dallas. So they've had three days here to prepare and get ready for the game. As I say, we didn't know the game was gonna get changed until late on Tuesday after we had done a particularly hard session on Tuesday morning."
While Krieger agreed with Rapinoe that the league still needed to improve its scheduling decisions, she said the NWSL is also making progress. Earlier this season, Krieger was critical of the league about scheduling matches in the afternoon in states like Florida and Texas.
"Yeah, absolutely [the league has trouble scheduling games]. You know, the one year that Seattle and Western New York had to play on the, you know, outfield of the baseball field—I think those days are over," Krieger said after the match. "I think the NWSL is, you know, making sure that none of that occurs anymore, and, you know, there's new management in the NWSL office which is making sure that they are, you know, looking at all the circumstances, putting us in the best situations to be successful on both sides, you know, home and the away team as well."
Orlando sits in third place with a one-point advantage over the Chicago Red Stars, but Chicago has played one less match. The Reign, who have played as many games as Orlando, have 31 points, four less than the Red Stars' 35. Apart from Chicago's Saturday matchup with FC Kansas City, all three teams will not play again until Sept. 23.
---
For more on the Pride, as they look to solidify their first-ever playoff berth, follow Victor Tan on Twitter at @NDR_VictorTan.