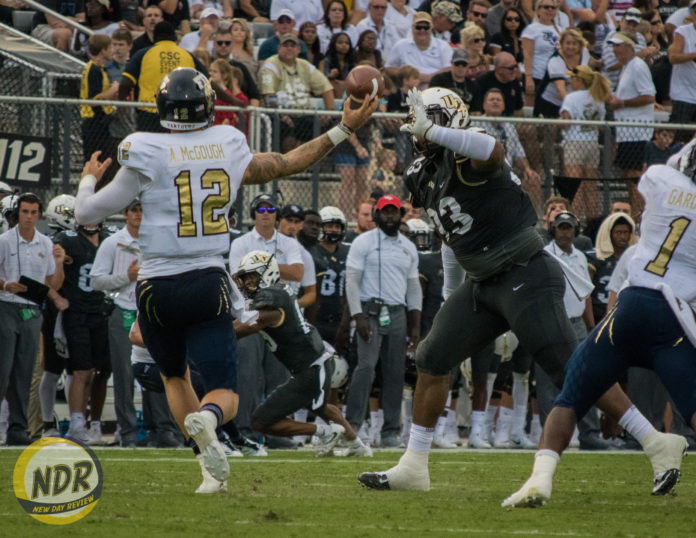 (Photo by Adrian J. Hernandez / New Day Review)
ORLANDO, Fla. – Hurricane Irma's wrath was seen throughout the Sunshine State, leaving millions of people displaced and without power. Additionally and less importantly, it has also impacted the University of Central Florida's schedule, as the Knights have had to call off games against the University of Memphis in Week 2 and the Georgia Tech Yellow Jackets in Week 3.
According to the official press release from UCF regarding the Memphis game, both UCF and Memphis agreed to suspend the game. The announcement came the morning of Sept. 8, the day the game was supposed to be played, as the Tigers arrived in the late evening on Sept. 7 before returning to Memphis no more than two hours after landing.
In case you're wondering about the timelines, Memphis' charter flight arrived shortly before 11 p.m. They were back in the air at 12:33 a.m.

— Brandon Helwig (@UCFSports) September 8, 2017
The suspension of the Week 2 matchup and both teams' American Athletic Conference opener was due to Florida governor Rick Scott's order of closing all Florida state universities in preparation for Irma's landing. UCF's game against Memphis was originally scheduled for Saturday at 8 p.m. before it was moved to Friday at 6:30 p.m.
"Out of an abundance of caution, we agree that the game should not be played on [Sept. 8]," UCF athletic director Danny White and Memphis athletic director Tom Bowen said in a joint statement, per the Knights' official release on Sept. 8. "We agree with Governor Scott that preparation for Hurricane Irma should be top priority for the state. While our fans will not doubt disappointed, we know they understand that safety has to come first."
As for the Georgia Tech game, both teams have agreed to cancel the matchup, and it doesn't appear that the game will be made up. UCF announced the cancellation of the game on Sept. 11, one day after Central Florida felt the impact of Irma. In a relief effort to respond to Irma, UCF began hosting up to 1,000 members and 250 vehicles of the National Guard with the most ideal sight being Spectrum Stadium.
"We're honored to host the National Guard and play a part in helping our community and state recover from Irma," White said, per UCF's official release on Sept. 11. "On behalf of our student-athletes, athletics staff and fans, I promise the Knights will do everything we can to assist in recovery efforts."
Said Georgia Tech athletic director and former UCF AD Todd Stansbury on the cancellation: "We are in complete agreement with the decision. While we're disappointed for both teams' student-athletes, coaches and fans, recovering from the effects of Hurricane Irma should be and is the top priority for UCF and the entire state of Florida at this time."
A source told the New Day Review that the Knights are exploring an option to play a rescheduled matchup during their bye week, but the Georgia Tech game appears altogether cancelled for 2017.
UCF's bye week in Week 9 is not shared by neither Memphis nor Georgia Tech. The Knights will next travel to face the Maryland Terrapins on Sept. 23 for their first road game of the season. Last season, the Terrapins escaped then-Bright House Networks Stadium with a 30-24, double-overtime win.
---
For more on the Knights, as they look to travel to face Maryland for their next matchup, follow Victor Tan on Twitter at @NDR_VictorTan.