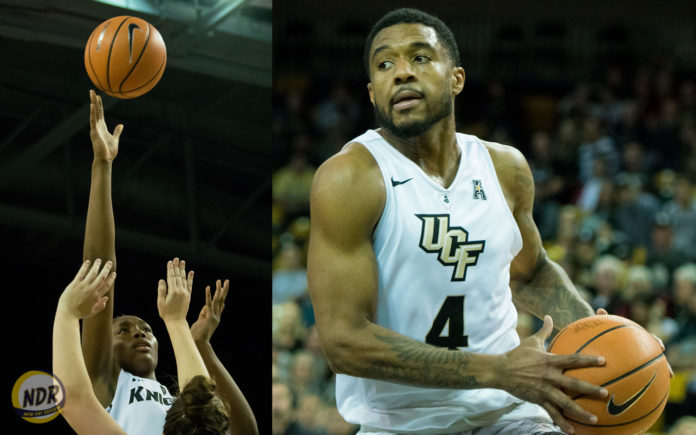 (Photo by Victor Tan / New Day Review)
Two UCF Knights have been recognized for their standout performances in their first seasons in Orlando. For the men's team, redshirt freshman Ceasar DeJesus earned his third American Athletic Conference rookie of the week honor, and, for the women's team, freshman Masseny Kaba earned her first AAC Freshman of the Week honor, according to UCF press releases.
DeJesus' most recent honor comes after wins against the Memphis Tigers and the Temple Owls. He scored a combined 27 points on 8-for-19 shooting, including 2-for-6 from 3-point range and 9-for-10 from the free-throw line. DeJesus also had a game-high 3 steals in the win over Temple, adding one in the Memphis matchup.
This is the third time DeJesus has earned the honor, tying the UCF record for most rookie honors since B.J. Taylor and Adonys Henriquez each did the same in the 2014-15 season. He leads all rookies in the AAC for most rookie of the week honors, having earned the same accolade on Nov. 20, 2017, and Jan. 2, 2018.
Kaba has performed just as admirably for the women's team. She started the season coming off the bench for the first four games but has since started the last 11.
In the past two contests, Kaba has helped UCF to two wins, posting career-highs in minutes in both games (38, 39). Kaba also led the Knights in scoring in both wins against the SMU Mustangs and the Wichita State Shockers, posting 16 and 13 points in each of those games, respectively. The Dorchester, Massachusetts, native shot a combined 10-for-24 from the field, including 9-for-12 from the free-throw line, and grabbed 14 rebounds (10 offensive).
On Nov. 27, 2017, Kaba also received the same recognition, making her the first Knight to receive the honor more than once in her rookie season. Through three games in the AAC, Kaba leads all freshman scorers with 14 points per game.
Both the men's and women's teams will travel to face the UConn Huskies for their next games. The women will first play on Tuesday at 7 p.m. on ESPN3, and the men will play on Wednesday at 7 p.m. on CBS Sports Network.
---
For more on the Knights, as they prepare to take on UConn, follow Victor Tan on Twitter at @NDR_VictorTan.