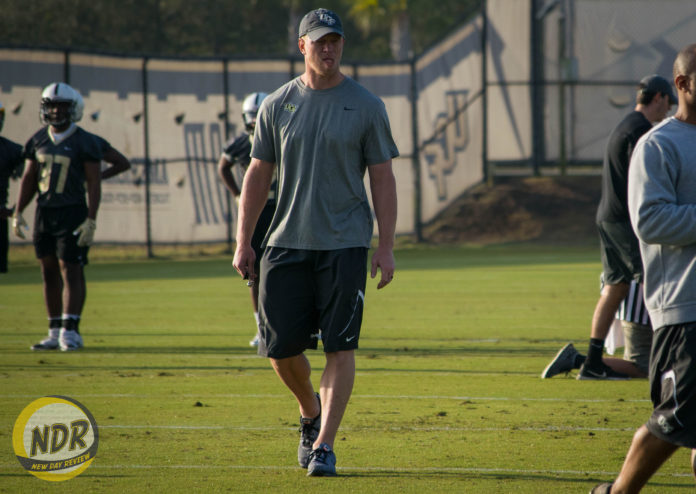 (Photo by Victor Tan / New Day Review)
Sept 7. At Wayne Densch Center
Availability: HC Scott Frost
HC Scott Frost
The University of Central Florida's game against the Memphis Tigers was originally scheduled for Saturday at 8:00 p.m.
Both teams' conference opener has been moved to Friday at 6:30 p.m.
[Having one less day to prepare] changed our preparation. It kinda changed our preparation midstream. But, I think we addressed it well, and I think the team handled it real well. So, I feel like we're prepared.
Really, we throw curveballs at our guys all the time. This was a curveball thrown at 'em. I almost think they responded­ and increased their focus when we threw the curveball at 'em. So I feel like they're as prepared to go in as game as they ever are.
There are 25 players on the roster who hail from Miami-Dade, Broward and Palm Beach County.
You know, each of 'em is trying to help their family where they can. We're gonna keep our guys here on campus. We have some real hurricane-safe things on this campus. So, after the game, we'll make sure we have preparations made to hunker down and keep everyone safe. I told the guys not to worry about that stuff for one second. We got a mission to accomplish tomorrow night, and then we'll worry about the storm in the wake of the game.
Yeah. We'd discussed several other options. Think it's gonna be the safest for us, rather than being on the road and getting out of here. Just to get in safe buildings here and ride the storm out.
Tailgating has been canceled before the game, and the UCF band will not be in attendance.
I have no idea what it'll look like. But we talked to our guys about being ready to play ball anytime, anywhere. I want guys on my team that drive around with a basketball and cleats and a football and anything else they might wanna play in their trunk. So we gotta be ready to play anytime, anywhere, any circumstances. There might be a big crowd; there might be nobody in there. But I think our team will show up ready to play.
UCF went 0-12 in 2015 and 6-7 in 2016.
The message is we're ready to take the next big step as a program. We're gonna get several opportunities this year to make that jump and beat one of the better teams in our league. This is just the first of several opportunities we're gonna have. But I want our guys to be excited about an opportunity to knock off one of the best teams in our league.
No, Bam Bam had some surgery, so he's gonna be out for a while. We're not sure how long. Great kid. Huge asset to this program. We'll re-evaluate him. It wasn't as serious as we thought it was. So we're looking forward to getting him back.
---
For more on the Knights, as they open conference play against Memphis, follow Ryan Weiss on Twitter at @NDR_RyanWeiss.