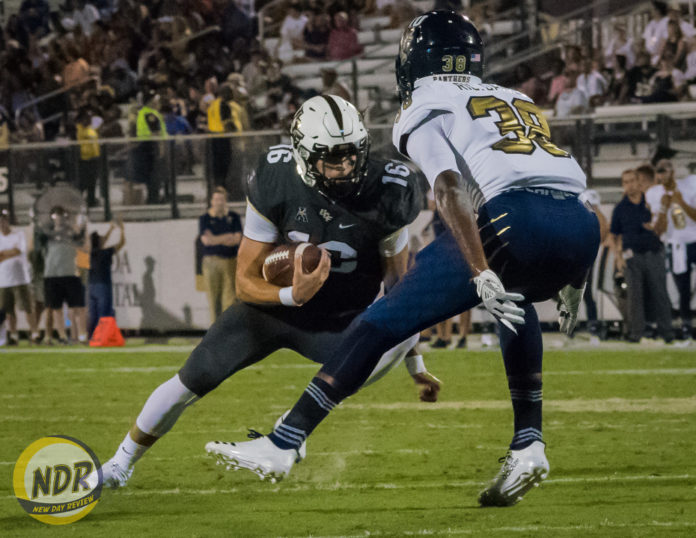 (Photo by Adrian J. Hernandez / New Day Review)
ORLANDO, Fla. – Playing college football is a dream many kids have, but, for a majority of those dreamers, that's all it ever is: a dream. For Wahoo, Nebraska, native Noah Vedral, that dream became a reality on Aug. 31 when he made his debut in a 61-17 win over the FIU Panthers.
In his debut, Vedral was tame but composed. He finished the night with 79 passing yards on 10-for-12 passing and 12 rushing yards on four carries. While those aren't impressive numbers by any stretch of the imagination, those numbers almost epitomize Vedral and his praiseworthy effort to learn the playbook.
And that effort didn't go unnoticed by quarterbacks coach Mario Verduzco.
In my brief but insightful interview with Vedral, it was apparent the true freshman was wise beyond his years. Now, for Verduzco, it's just a matter of time.
---
QB Noah Vedral
On collegiate debut against FIU.
One, it's a dream come true. My mom and dad were down for the game, and I think all three of us were just really excited. It's kinda one of those—it's another one of those stories of hard work pays off, and, just like everyone here, everyone's gonna see the field eventually, and a lot of us got to, so there's a lot of us—those dreams have kinda been rewarded, and you got a taste a little bit of fruits of the work, so I know a lot of us were really happy, but, as far as it's just nice to feel 'cause you want more. You wanna be better than you were then, and you wanna be better than we were yesterday. So, really special but just a taste.
On biggest surprise in first college-football game.
The speed of the game wasn't as fast as it is in practice. Coach Frost does an unbelievable job of structuring practice so that the games aren't as hard as practice, which I know a lot of places want to do that, but I really think he does a really good job with that here. So the game wasn't as fast as I was anticipating with the TV and all that stuff. Makes it easier on a young quarterback when you have a couple extra seconds to know what you're doing. So, really that and then just how much fun it was. I mean, again, like, I think I haven't played a live down of football outside of practice since November of last year, so, I mean, I was prepared to go longer, but the fact that I gotta play was special, and that was a lot of fun. It's a lot of fun. That's all I gotta say.
On what he was most prepared for.
I really do think throughout high school and even here, they've prepared me to stay relaxed. Coach Verduzco is big on making sure I'm not getting wound up or moving too fast, and I thought all the times he's told me, all the time my grandpa and my coach from high school had told me that. I think that really helped me in that setting when there's way more people than I've ever played for, in front of, in the stadium, and then we were on TV, again, which is different coming from Nebraska, where they don't televise too many games. So, it was just different, but them riding me to stay calm that it's still the same game you've been playing since middle school or elementary school. That really helped.
On mentality as back-up.
[The mentality is] same as always. Darriel will say the same thing. Both of us are, as freshman quarterbacks, as Verduzco [said], we're not freshman quarterbacks anymore. We've been here long enough. We're somewhere in between or past that. So, it's get better every single day. Understand something new every single day. If you can get one more than one concept down every day and master something every day, that makes you a better player. The reason I wanted to play college football, I wanted to be the college football player I could be—or just football player. And that's the goal still. I wanna be better than I was yesterday, and I wanna get better tomorrow. So, every single day we come to practice, and that's all we wanna do is get better.
On areas of improvement.
Little bit of coverage recognition. Downfield progressions. All the stuff that's new often for kids coming from high school into college, so, I need to get better in that area. I'd say that, protection pick-ups, and then downfield progressions and coverage recognition. So, I'd say those are my biggest areas. Those are still—I mean, just one of those things that those are things that I'll work on my whole career 'cause people area always coming up with new ones, and there's always different ways to attack 'em. So, I'd say that's where my biggest areas I'd like to work on and get better in, and Coach Verduzco, Kenzie, everybody, the whole quarterback unit—we do a really good job of at least educating and teaching it to us so that we can get it down and master it.
---
QB coach Mario Verduzco
On Vedral's qualities to be the current back-up.
He did a great job before he got into camp learning the offense. So from a cognitive standpoint, he knows what he's doing. And that was really apparent in the early part of camp when we had preliminary playbook test and all that stuff, he did really well in.
[Vedral and Darriel Mack Jr. are] both very athletic. Both very intelligent young guys. There's not a huge difference aside from their stature in terms of their size, but, in terms of their athletic ability and all that sort of business, there's virtually no difference. They're the same style of quarterback. Guys who can throw it, guys who can run it.
On where Vedral needs to improve.
You know, it's a bit like what McKenzie went through last year. It's every experience for him, when he takes a snap, and the guy is new. There's nothing that will take care of that than getting reps. You know, obviously, he was a little nervous when he first got in, you could tell, but, as he took more snaps, he got, you know, more comfortable, more relaxed, and you get to that point where you say, 'Well, I can do this. I belong here.' So, the improvement will come with more snaps and that sort of thing.
On the thought of Vedral being the next starting quarterback because he was named back-up.
Absolutely not a coronation, no way. No, and I know, you know—and Noah knows that as well as Darriel and [Milton] and the rest of people in our program. You know, it's not a coronation at all. Sometimes people look at it that way, but that's not the case.
On biggest surprise about Vedral during his debut.
Usually, typically, guys, if they practice a particular way will play that way. And he was really calm and relaxed in practice. He knew what to do with the ball. You know, he made an error every now and then like they all do, but I had a pretty good sense that he was gonna perform pretty well, not that that always happens, you know, and when it doesn't, then you gotta be concerned because a guy should practice like he plays, and he should play like he practices. So, if he doesn't, maybe there's something in the game experience that just knocks him off-kilter. And those kinda guys typically struggle as quarterbacks throughout their entire career. But he was—I really wasn't surprised. We felt like he would be pretty efficient when he got out there.
---
For more on Vedral, as he progresses in his collegiate career, follow Victor Tan on Twitter at @NDR_VictorTan.