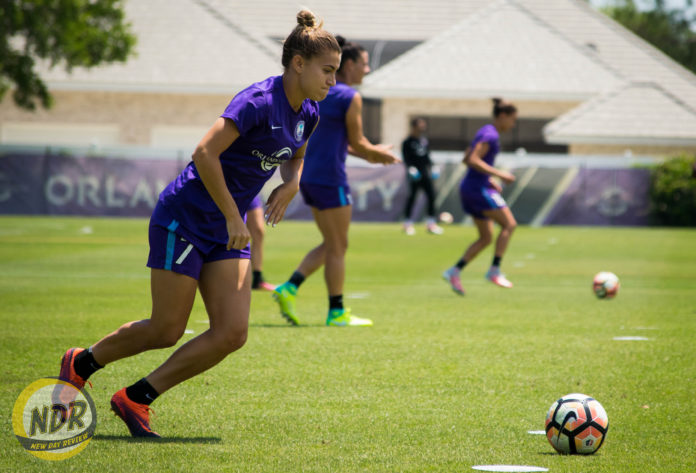 (Photo by Victor Tan / New Day Review)
Sept. 6, 2017 at Seminole Soccer Complex
Hurricane Irma is expected to reach Orlando on Sunday.
(jokingly) Hopefully [the hurricane will] be us tomorrow night. That's a good quote.
Yeah, apparently, and, obviously, the game has been officially changed now to Thursday, which is not ideal, but it is what it is. And that's fine. That's fine with us. We just go out there and play tomorrow in the same way that we would do in Saturday.
No, there's not [different preparation]. As I say, we just have to bring our preparation up two days, which makes things a little bit rushed. But the plusses (sic) for the players is that they don't have to listen to my voice for extra two days before the game, so they're probably pleased about that. But, other than that, no. You know, we're in a good spot with everybody healthy apart from Kristen Edmonds. You know, a consistent team coming off a good result. All our starters are fit and healthy and ready to go. So, as I say, apart from the game being brought forward two days, everything else for us is much the same.
With a win over the Seattle Reign on Thursday, the Orlando Pride can clinch their first-ever playoff spot in their second season of existence.
Huge game for us. Huge game for Seattle as well. And it is. And, like you say, we played Seattle six games into the season, and we were in ninth position with one win on the table. So it's been a significant turnaround, and the players have done magnificently to stick with it and keep chipping away and getting better week in and week out. So, you know, if somebody said to us at the start of the season three games before the end, if you win the game, you'll be in the top four, I'd have her snapped her hand off for that one. So, we're really pleased to be in the position that we're in. And we've done all the hard work to get in this position. So the key thing now is for us to go out there and make sure we finish it and make sure that after tomorrow night, we're in a position where we can be settled, be relaxed and get into the last two games withe hopefully no pressure.
Because of the looming threat of Hurricane Irma, the Pride's match was rescheduled from Saturday to Thursday at 8 p.m.
Orlando City B will also play on Thursday at 4:30 p.m.
Yeah, [the double-header's] huge. I mean, you know, [OCB head coach Anthony Pulis'] team is on a fantastic roll at the moment—unbelievable, really. And, you know, they're playing some great, great soccer. They're winning games convincingly now, and, you know, to come along, see them and see us, will be a great night of soccer. And, although it's rushed, although it's not the weekend, it would be fantastic for the people of Orlando to come out and support both teams.
So far this season, Seattle has scored the second-most goals (33), trailing only the Pride (41).
Well, they're actually probably like us that they're very much a footballing side. They like to play pass the ball around, and they've got some very talented and experienced players. And the players in the team that's used to success. So, it's a mixture of that that they've got. So we've really not—what they'll do is they'll cause problems differently to some other teams we played recently where their more direct approach and the physicality in playing at a quick pace have caused some problems. Seattle will cause us more of a technical soccer problem. You know, if we get sloppy, or if we don't pick up runners, then their passing game will cause us major issues.
The Pride started the season winning just one of their first seven games with a 1-3-3 overall record.
Just the way that they've kinda kept at it when we've gone through some difficult times. You know, we've had some games this year where we felt we should have won, or we felt we should have drawn. And we've kinda thrown 'em away, or, you know, we've lost or drawn games that we shouldn't have. And, quite often, that can sort of start to eat away at the confidence of the players and, generally, the dynamic in and around the team. So I think probably the most pleasing thing for me is that the way everybody's kinda stuck together. And everybody's felt that if we can get this right, we've got a very good side. And, you know, fortunately, over that last five or six games, we started to see that emerge. And, hopefully, that's going to continue.
Those are the kind of things that are frustrating for everybody because, you know, we could and should have won that game convincingly, should have been sitting back, and they almost scored a third goal on the 90th minute, which would have made things really a little bit scary for the last couple minutes. So it's kind of eliminating that as best you can. However, that's football, and teams in this league don't give up. They keep at it. And I can refer to our team last year. We were significantly under-strength for the second part of last year. Lost most of the games. But we gave it—like, we gave it a real go, particularly at home. We were in games right up to the end. The players never gave up. And it's the same when teams are playing up against us, they just don't give up. And because of the way we are playing and because of the personnel we have in our teams, it's become a big game for the opposition. So they're really keyed up to play against us. So we won't be getting any easy games. And it's just now, for us, I think, over the last games, we've got that attacking bit right, and we've almost got the defending bit right. And if we can just get both of them together, we'll be a very formidable side.
Edmonds is out with a calf strain.
She is expected to return next week.
Yeah, she's got a slight calf strain. She'll be back after this weekend. Jas will be available for selection for tomorrow. I mean, she's not, obviously, ready to come in and play 90 minutes, but she's ready to come in and score. And, you know, she's such a dynamic player that if you bring in somebody like Jas off the bench, that's a great asset to have.
LB Steph Catley
The Pride are currently riding a five-game winning streak.
I think just about everything [has clicked for us]. I think sometimes when you get a bunch of new, experienced players coming together into one team, it sometimes takes a while to learn, you know, how they move, how they play and to get everyone on the same page. So I think it just took us probably a little bit longer than we expected, but, now we've got it together. Everything feels really good, and I think, touch wood, you know, we've been reasonably healthy. So, I think that's really helped in getting to know each other on the field, and, now, we're at the…end of the season, and we're playing some really good football, so it's looking good.
I think Seattle are an incredible team. They've got technical ability all over the field, and I think they play some really good football, especially in the final third. I think they combine better than most teams in the league. They've got weapons everywhere. You know, Nahomi Kawasumi. She's an incredible player. Jess Fishlock can sort of pop up and do anything. So, yeah, I mean, they've got lots of weapons that we'll be looking to sort of counteract, but so do we, so, hopefully it'll be a good game.
During the Pride's winning streak, the Pride have out-scored opponents 16-4.
You know, I think we've always been like that. Everyone, you know, loves being out at training and loves getting better, and we're pretty competitive, and a lot of the games that we do, you know, wherein internationals versus Americans or something a little bit quirky, so it makes it a bit interesting. And when you're competitive like that, it makes the football a lot better as well. So I think that's a credit to Tom and [assistant coach Khano Smith] for sitting up the possession in that way. But, you know, we wanna get the best out of each other and really enjoy other's company out in the field, so it's a lot of fun.
Moving the game to Thursday gives the Pride two less days of preparation.
Wednesday would have been an off day for Orlando.
Yeah, I mean, it's interesting, but I think our preparation's still been pretty good. You know, we prepared today as if we would going into a game. So today was the pre-game session, and we were supposed to have a day off today, so it's been adjusted a little bit, but I think everyone's looking really sharp and really good. We had a tough session on Tuesday, which probably wouldn't have been as tough if we'd known it was two days out from a game, but, you know, it was a good session, and we looked really sharp and played some good football. So you can take stuff from that, and then today was a bit more relaxing, and I think everyone's looking really fresh, and, you know, there's no excuses when you get out there in game day, Seattle being the same possession.
Last season, Orlando fell well short of the playoffs, finishing with a 6-13-1 record in ninth place.
Yeah, I mean, it is definitely game by game. And it's strange 'cause it's the third-last game, but it is kind of like a playoff game, and it's definitely for them, and it is for us, too, 'cause, as you said, we can clinch a playoff spot, which would be huge. So, you know, we're attacking it with an important sort of strong mindset, and, I mean, it is any other game, but I think there is a little bit of an extra edge there because, at the end of it, there's a big result.
I mean, I think it was rough last year because it was so disrupted with the Olympics. So, this year, we've been able to, you know, come together and learn about each other as players, and we did start pretty slow, so if we had an interruption with a big tournament, it might have been a different story. So, we've had those games to really get to know each other on the road, at home and learn from each other and build and build, and I think we're at a place now where we're looking strong, and we're getting better every week. So, leading into the finals, we couldn't be in a better position.
CB Monica Hickmann Alves
Seattle has allowed 33 goals this season, the third-most in the league.
Only sixth-place Sky Blue FC (45) and the last-place Washington Spirit (41) have allowed more goals.
I think we know what to do tomorrow or Saturday or Sunday. We have to do our game, and we are ready for tomorrow.
Like I said, every game is important for us because it's step by step, step by step for be in the championship final or playoffs is that our point, and I think we just have to do our game, and, hopefully, tomorrow, win, be in playoffs.
Any team can be problem for us, but we know they got a lot of experienced players, and we, you know, have to be aware on this, and, like, just be focused and concentrated on the, like, 90 minutes.
Monica is of the mindset that athletes always need to be ready for the unexpected.
No. I think for athletic, you have to be prepared for anything. To change or day off to training or whatever. We just gotta be prepared for anything.
Monica said she initially wasn't scared of Hurricane Irma.
Actually, I'm not so afraid right now. But people made me afraid. Everyone says you have to buy water or crackers or flashlight. Yeah, but I know I am prepared. We gonna be fine. I know.
---
For more on the Pride, as they look to clinch their first-ever playoff spot, follow Victor Tan on Twitter at @NDR_VictorTan.