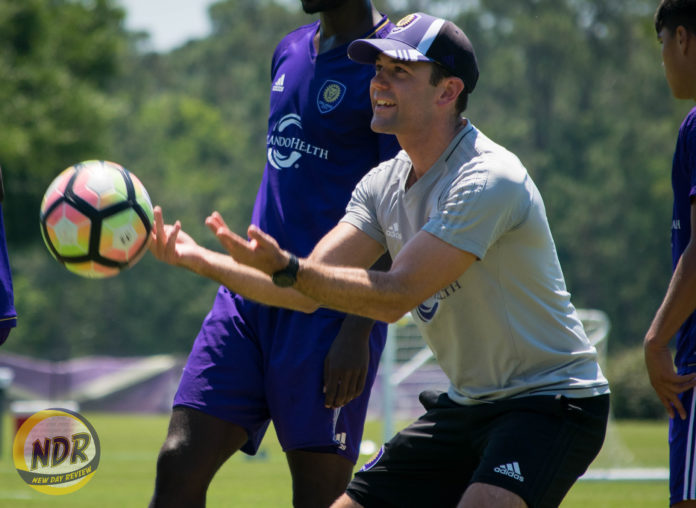 (Photo by Victor Tan / New Day Review)
Sept. 6, 2017 at Sylvan Lake Park
Availability: HC Anthony Pulis, DF Zach Ellis-Hayden
HC Anthony Pulis
Orlando City B host the Richmond Kickers Thursday at 4:30 p.m. as part of a double-header with the Orlando Pride.
Yeah, the focus has been on the process, as always. I think at this stage of the season, it's easy to let your mind kinda wander a little bit and just worry about the results. Obviously, at this stage of the season, we're getting into the business end, so we wanna try and make sure we keep this run going, but, at the same time, it's making sure the players understand that it's the process all the time and making sure that they understand what we need to do tomorrow night to perform well, and then hopefully a good performance will lead to a good result.
OCB's match was originally scheduled for Thursday at 7:30 p.m.
Because of the looming threat of Hurricane Irma, the Pride's game was rescheduled to Thursday at 8 p.m., bumping back OCB's match.
It doesn't really affect it too much. We've kinda had a brief chat with the players about just meal times, really. I mean, some of them will probably usually have like a nap in the afternoon, but that's probably gonna have to change now. So, the heat shouldn't be too much of an issue for us 'cause we usually train at midday here. So, it's the same for both teams. So it shouldn't affect us too much.
This season, OCB is 1-0-0 against Richmond, earning a 1-0 victory on Aug. 12.
Both teams will meet once more after Thursday on Oct. 1 in Virginia.
Yeah, they were really good when we played up there a month ago. They've got some really good attacking players. Lots of mobility. Lots of pace in forward areas. They've got good movement. They're a decent side. And I know I said it before we played them there—in my opinion, they shouldn't be where they are in the table. They're a lot better than what their results will show, so we need to make sure we're ready for them. Definitely.
DF Zach Ellis-Hayden
OCB are currently riding a 12-game unbeaten streak.
We're preparing kind of the same way that we've been preparing for every other game. We know that, for us, it's just kind of the process and continuing to play well and not really focusing on too far ahead. So, we're kinda focusing on the game itself and just preparing how we normally would. And they're dangerous up front. They have some fast and technical players, so we just have to deal with them.
Ellis-Hayden is one of several OCB players who take naps before a game.
Yeah, I definitely do take a nap on game days. We just found out that it got moved up, so it kinda changes my pre-game ritual now, but I'll just have to, you know, alter that, but it's not a big deal. That's not, you know, that's not a big deal for me.
I'll wake up. I'll go have breakfast, have a coffee, and then a bit tuckered out after that, so then I'll go have my nap, wake up, have lunch. My pre-game meal—usually pasta or something along those lines. Some chicken. And then get ready for the game. Listen to music, chilling and get ready for the game.
During OCB's unbeaten streak, the USL Lions have outscored opponents 14-6.
The actual cool thing about this run is that everyone that's been involved, from [Major League Soccer] players coming down to obviously our [United Soccer League] players, is that like everyone can play in a part in this, so it's just that the core group of guys have kinda bought into our philosophy and what we're trying to do, and, you know, it's been great. Everyone that's come in and everyone that's played has has been doing their part, so it's just a team thing.
---
For more on OCB, as they look to extend their unbeaten streak to 13 games, follow Victor Tan on Twitter at @NDR_VictorTan.