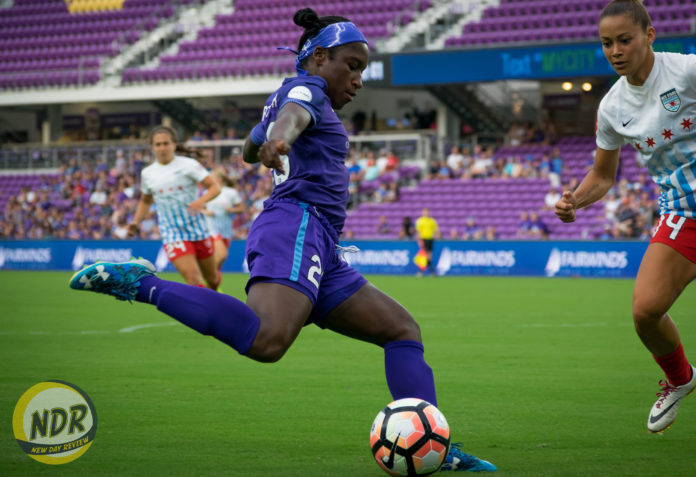 (Photo by Victor Tan / New Day Review)
ORLANDO, Fla. – At 5-foot-1, Jasmyne Spencer is one of the smallest players on the field. But the Orlando Pride forward proves that big things do come in small packages. In her second season with the Pride, Spencer has played her most productive season to date in the National Women's Soccer League.
She attributes her elevated play to an NWSL offseason experience she had while playing in Australia's W-League for Canberra United FC.
"I think when I went over to Australia this past offseason, I had a really talented team around me," Spencer said after training on Aug. 7. "And I really focused on just my final product in the final third, scoring and getting assists. And I was able to carry that over into this season, so I'm happy."
While she attributes new leadership skills to her time with a young team in Australia, it was perhaps a more traumatizing moment that led Spencer to her improved performance with the Pride this year. Spencer was carted off the field after severely injuring her ankle in late November with Canberra United.
"Honestly, I wouldn't say it was necessarily a good thing, but I did pick up a pretty bad injury, and it forced me to rest," Spencer said. "And I think that I came in a bit more refreshed than I had the last couple of years and also a little bit more hungry because I was coming off an injury, so something different for me, but I think it definitely gave me a little bit more of an edge this season."
In 15 appearances and 11 starts, Spencer has recorded three goals and three assists with 14 shots (seven on goal). The 2017 season is the first time Spencer has recorded more than one assist in an NWSL season. From 2013 to 2015, Spencer played a season with the Washington Spirit and two with the Western New York Flash, recording six goals and three assists on 59 appearances and 34 starts in that span. Last season for the Pride, she scored four goals in 20 appearances and 17 starts.
"I think what's happened with Jas is she's taken her game to another level," Pride head coach Tom Sermanni said after training on Aug. 7. "You know, I think what we saw last year was, you know, an explosiveness and the passion and the danger when she was running with the ball. I think she still has all those attributes, but I think she's brought a better game skills this years. I think she's improved her touch. She's improved her ability to keep the ball, and she's improved her ability to use the ball better."
Spencer and the Pride return to action on Saturday when they conclude their three-game home stand with a matchup against Sky Blue FC at 7:30 p.m. Both teams are tied with 23 points apiece, but Orlando has the narrow lead with a positive goal differential.
---
For more on the Pride and Spencer, as they look to propel themselves into a playoff spot in the final stretch of the season, follow Victor Tan on Twitter at @NDR_VictorTan.