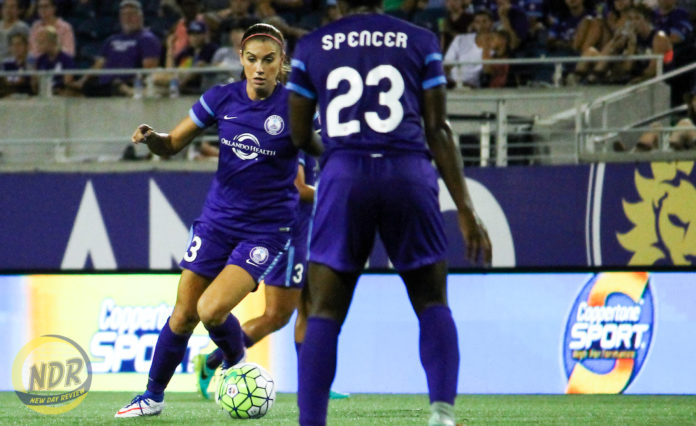 In late December, the Orlando Pride received news that one of their star players would not be with the team to start the 2017 National Women's Soccer League season. Team captain and United States women's national team forward Alex Morgan headed off for France to play with Olympique Lyonnais for the 2016-17 season, effectively keeping her away from the Pride for at least all of preseason and the first month of the regular season.
But, for second-year Pride head coach Tom Sermanni, that doesn't change how the teama prepares itself.
"You're always impacted when you lose one of your key players and best players," Sermanni said at the team's medical examinations Saturday. "But that doesn't impact how we are going to prepare, how we're going to train and how we want the team to play. Because, as I said, now we've got much more depth than we had last season.
"We're in a much better position than we were last season."
Morgan's absence also provides an opportunity for players to assume bigger roles in both the locker room and on the pitch. Forward Jasmyne Spencer, who played for Australian W-League side Canberra United, grew as a leader on a relatively young team. She looks forward to bringing those skills to Orlando.
"Well, my team there was really young. And now [I've] rounded the corner and became a veteran and had to develop some more leadership skills," Spencer said at the team's medical examinations Saturday. "I'm looking forward to carrying that into our season."
Defender Laura Alleway sees Morgan's absence as a chance for other attacking players a chance to shine. One player in particular Alleway mentioned was second-year Pride forward Sarah Hagen, who scored twice in 17 games last season.
"Sarah Hagen is an amazing player. And I don't think we really got the most out of her last season," Alleway said at the team's medical examinations Saturday. "So, this is a chance for her to really step up and stake her claim as a No. 9."
Alleway even related Hagen's opportunity to one of her own. The Australian recalled when then-Australian women's national team head coach Sermanni selected Alleway to join the Matildas in 2011.
"It just allows for other people to step up," Alleway said. "We've all been in that place where we were maybe the underdog… For me, it was in 2011. And when Tommy picked me back for the Australian team, and it was a battle between me and someone else and myself going into the World Cup, you know, he took a shot on me and never looked back."
Opportunities aside, it also helps that the Pride begin their season no longer as an expansion team. This time, with a full preseason, there's more of a direction.
"I think we're just gonna have a little bit more direction as a team, like, what our identity is gonna be on the field," Spencer said. "As an exapnsion team, it's really hard to try and get that in the first season, especially. We were formed in October, and we only had three or four months to put a roster together."
The Pride will have their first training session on Monday. They will play their 2017 NWSL season in Orlando City Stadium.