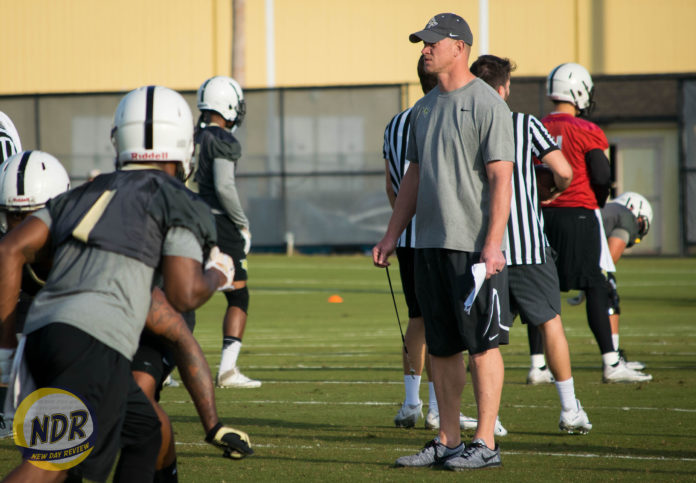 (Photo by Victor Tan / New Day Review)
Aug. 11, 2017 at Wayne Densch Center
HC Scott Frost
Frost likes what he has seen so far from his team through two weeks of practice
Things are good. Guys are working hard. I think we're doing a lot of good things. So, I'm pleased with the effort. I'm pleased with the comradery. I think we're getting better every day.
Linebacker has been a position that has continued to impress throughout training camp, in Frost's eyes.
Linebackers have been great. We got four outside guys that I feel great about. Inside, Chequan [Burkett] and Pat [Jasinski] have done an unbelievable job. Nate Evans and Gabriel Luyanda are doing great too, and we got some young guys who are good ball players. So, coming into the year, I think that was a position we were worried about and worried about depth. But they've been really good so far in camp. So I feel great about the inside backers.
At the cornerback spot, Frost wants to see the same competitiveness for the starting job that he sees from other position groups.
Same thing we're looking for: competitiveness and guys stepping up and taking a hold of the position. I think we got some young guys at that position, and it's just a matter of them getting confidence and reaching out and grabbing it and making it theirs.
Frost believes he has a lot of weapons available at the running back position.
I think we have a lot of guys that can carry the load at running back. [Jawon] Hamilton and Taj [McGowan] have been doing a great job. Those guys know what they're doing; they know the offense. We got some other guys, too. The two freshmen are playing well. Otis Anderson gives us another element, and obviously Adrian Killins is a weapon for us. And Greg McCrae's been doing a good job. So we got a lot of guys that can do good things with the ball in their hands.
Converting on third-and-short situations is something the Knights want to improve on from last year.
Well, between the running backs and the offensive line, we need to convert third downs. Third-and-shorts last year, fourth-and-shorts—we didn't have a high enough percentage. And when we need a yard, we need to get a yard.
The return game is an aspect of the team that Frost is confident about.
I think we have more able and capable bodies, better athletes, to man all the special teams this year. Certainly have some special guys that can return 'em. So, those guys are taking pride in that, and if we can give a couple of those guys some space, we'll make some big plays on those teams.
Frost noted that his quarterbacks have been progressing during camp.
[McKenzie] Milton's been doing great. Getting better. Clearly way ahead of where he was last year. I think both freshmen quarterbacks have been doing some good things. I think Darriel Mack had his best day today. Noah's [Vedral] been on point. He came in knowing the offense, and I think got more comfortable more quickly. But both of them have a lot of talent and look forward to keep watching them progress.
Before getting to where he thinks the team is, Frost wanted to share the big news about the team.
Well the big news today is—our whole team is excited. Chequan Burkett and his wife Megan had a son a couple days ago, Cairo Burkett. So, Chequan wasn't at practice today. We sent him home to see his new baby, which makes me happy to be able to do that for him. But, overall, the team, I think, is right on track. I think we need to keep focusing on details. I think some of the details and execution, particularly on offense, takes a while to get. We're starting to climb that wall, but it's gonna take a little while.
Frost admires Burkett for how he has handled himself and his family.
Well everybody grows up at a different rate. It took me a long time. But Chequan is a grownup at his age, which I admire. You know, he's not just a football player and a student. He's a daddy. And now he has two, so it's a blessing for the family. And I love coaching guys like that. Because he had to grow up quickly.
Having UCF be a family-friendly environment is something that Frost wants.
It's great. We want this to be a family atmosphere, and most families have kids. Almost every one of our coaching staff has children, and they're around the building and around the guys. And this year more than ever before, we have a bunch of guys on the team that we want our kids around.
---
For more on the Knights, follow Ryan Weiss on Twitter at @NDR_RyanWeiss.