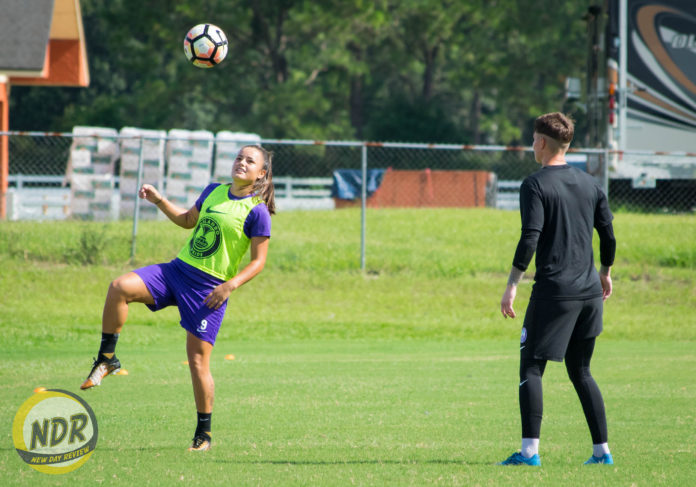 Aug. 10, 2017 at Sylvan Lake Park
HC Tom Sermanni
With the return of Harris, the Orlando Pride are nearly 100-percent healthy. Rookie forward Rachel Hill picked up an ankle injury in a 1-1 draw with the Chicago Red Stars on Aug. 5.
It's fantastic, but, you know, we've been very luck in a sense—you know, having [goalkeeper] Aubrey [Bledsoe] here, we've basically got two what we consider to be first-team goalkeepers. So, obviously, you miss someone of Ashlyn's qualities—both her goalkeeping qualities and her leadership qualities—but we've been extremely lucky over the last 10, 11 games to have Aubrey in goal, who's done an exceptional job for us.
For Sermanni, there are two factors when giving Harris the green light to return: health and training.
There's two factors. One is, obviously, getting back to health so that she's actually physically, truly fit. And the other one is getting her into practices where she's making goalkeeping decisions. And we've probably—with the way the game's and that international tournament went, that bit of the rehab hasn't been probably as thorough as would have liked. But someone of Ashlyn's experience can cope with that quite easily. So, she's healthy, and she's desperate and ready to go.
Leading to her return, the primary concern with Harris' health was her kicking ability.
Yeah, I mean, [kicking] was probably the main thing that we had to clear with her. So, you know, she's had the injury, if you like, cleared for, you know, a few weeks, but it's having that confidence to put a ball down on the ground and kick it fully, and she's had that confidence probably over the last week, maybe a little bit longer. So she's comfortable doing that. At the same time, we're the type of that often play out from the back. So, you know, hopefully, she's not going to go in goal and be having 20, 30, 40 kicks.
The Pride host Sky Blue FC on Saturday at 7:30 p.m. to conclude a three-game home stand.
A win this week could put us in the top four. A win this week gives us a little bit of separation from Sky Blue, and a win certainly puts us right in the competitive mix and keeps our destiny in our own hands.
A win over Sky Blue on Saturday could propel Orlando into a playoff spot. The Pride and Sky Blue are tied with 23 points, but Orlando has the edge with a positive goal differential.
It's hard to say. It's hard to say, you know, because if win, lose or draw, probably the next game becomes the most important game of the season. So, it's a very, very important game, and we've spoken all week about this three-game stretch being very critical to us. So, it is critical, but, you know, we've just also gotta be aware that things don't always go to plan, and you've gotta get up for the game after this as well.
So far this season, forward Sam Kerr has been one of the National Women's Soccer League's most dangerous offensive threats. She has is second in goals (11), third in shots (49) and second in shots on goal (34).
Sam Kerr. That's the problem. I mean, she's been absolutely on fire this year and almost unplayable at times. And she's the key. If we can keep her quiet, then I think, you know, the quality that we've got in this squad is one that will score goals and create chances. So, that's her in a nutshell.
For Sermanni, bringing back Harris is not only an in-goal benefit but also a leadership one as well.
Very important. That's very important because, you know, goalkeeper's role is about obviously goalkeeping and stopping goals get in, but it's also about organizing defenses, keeping players' minds on the job, keeping that level of concentration up. And that's where, you know, Ash is exceptional. And that's that probably x-factor that she adds to the team.
Sermanni is hoping Saturday's match will be the continuation of his team's roll.
There's been sometimes during the season where we really felt that we've had things coming together, and then we've got back to being a little bit inconsistent. I think, you know, if I look over the last few games, we're starting to get a much better level of consistency and continuity. So, hopefully, you know, we're getting things together at the right time.
For Sermanni, his biggest concern for Harris is a new injury.
You know, you're always worried that somebody coming back in from a long-term injury does something else. So, you know, you're protecting the bit that's injured, but you haven't played a full game and done some of those other things. So, there's the potential to perhaps injure another part of your body. That's probably the biggest concern at this stage. I really don't have any goalkeeping concerns, I think, you know? She's played enough games, got enough experience. She's exceptionally good, so she can go in, from a goalkeeping perspective, without any concerns.
Once she get out in that field, once she cross that line, you just don't play any differently. She's gotta go out there as if she's never been injured this season and just pick up from where she left off.
GK Ashlyn Harris
Entering her first match since May, Harris understands this is a time in the season where her team can't drop points.
Yeah, it's such a good feeling. I've been thinking about it the last 10, 12 weeks now. It's been a long process. It's been a long road to recovery. It's been 10-hour days some days, and now I'm just finally trying to focus these next few days on the task. It's a pressure situation to come into 'cause, right now, we can't afford to drop points. But I love the confidence the coaches have in me, and I just gotta stick to the things that I'm good, the simple things right now, and that's bringing my leadership role and bringing my communication qualities and making sure I'm organized, making sure the team hears me and feels good comfortable and confident, and, you know, I just can't branch too far outside of where I was before because it's gonna be a stepping stone at this point. You know, I'm gonna have to build my way back up to the top of my game. I'm not expecting to all of a sudden snap my fingers and be where I need to be, so it's gonna be a process for me. But I'm excited for the challenge.
For Harris, there were no emotions while she was injured. She simply did her job.
No, for me, I just put my head down, and I do my job. There's no time for me to go inward. You know, I gotta focus on the team and what's best for the team. And I can't be moping around on the sidelines worrying about myself. So, I just had to play a different role, and that's being a leader and an organizer off the field and trying to coach them as much as I can and be around as much as I can even on top of my crazy PT schedule. And just trying to be a true professional and team player. So I don't really focus too much on myself and unwanted and wasted energy on things I can't control. So that's kind of where I've been at the last 10 to 12 weeks.
Before getting injured, Harris allowed eight goals in six starts with 23 saves.
You know, right now I'm just not focusing on all the outside pressure. You know, I put enough pressure on myself. That's what fuels the fire every morning I wake up. So I—I'm just focusing on simple things. I'm trying to relax. I'm doing a lot of energy and mental preparation and putting myself through game scenarios because I haven't played in a game in a long time, and no matter how I am out at training, it's a completely different challenge out in the game. So right now, I'm just doing a lot of focusing on my imagery and the things that I can control and not worrying about all the outside factors that are kind of out of my hands at this point.
It was Harris' kicking ability that kept her away from competitive play. She wanted to make sure she was 100 percent in that facet of her game.
I mean, it's an interesting thing being a goalkeeper and tearing a quad. It's—for me, I've been able to train for weeks. It's not a matter of a training capability. That's where a lot of people get confused. They're like, "We don't get it. You're training with the team." It's the kicking. Every time I get the ball, I have to kick it as hard and as far as I can. When you're talking about 60-yard punts, 50-yard goal kicks, you can't compromise that. And there's no point of waiting 10 weeks and jumping into the fire too early and then putting yourself back all that time. It's just doesn't make sense. We have capable players here who are doing, you know, doing their job. So, for me, it's just being 100 percent ready to make an impact, not just exist out there. You know, I, just like I said before, it's putting the team first, not just myself and wanting to be back out there.
Harris hasn't had an opportunity to fully train with the first team, as the team has endured a three-game stretch in a matter of seven days.
No, we haven't [a chance to train with full squads]. I mean, we can't. We played Saturday, rested Sunday, light pre-game on Monday, game Tuesday, off Wednesday, light today. Yeah, but, I mean, this is football, you guys. It's a very simple game. If you make it that way, it's a very complicated game, if you make it that way. I know these players. They know me. They completely know what to expect out of me. I'm gonna be yelling the entire game. They're not gonna be able to take a second off. I'm gonna make sure everyone's switched on, and, as long as I do the communication part in front of me, there should be no breakdowns. So, I know these players; they know me. We're comfortable with each other. We're confident. Yeah, have we been able to train together? No, but that's alright. It'll come.
For Harris, Bledsoe was prepared to perform as well as she did. This season, Bledsoe has recorded 36 saves and has allowed 15 goals in 11 starts.
Yeah, I thought Aubrey was fantastic. You know, I've had these interviews before. I think sometimes goalkeeprs jump into scenarios they're not ready for, and they are not successful. And, you know, Aubrey has been able to be under my wing and other people's wing the last few years, and now that she's gotten the opportunity to shine, she's done well. It's because she was prepared, and she was ready for that opportunity, and, you know, that's what you wait for—to rise to the challenge when an opportunity presents itself. I'm really proud of her and the way she's handled herself, and, you know, it's not an easy job filling my shoes. I know that. There's a lot of pressure that comes with that, and she's dealt with it really well. And I will say this now: I think it's crazy if some of these NWSL coaches don't want to pick her up to be a first-string goalkeeper.
Harris said there won't be any hesitancy once she steps onto the field.
No, as soon as you step across the line, my mind is purely on doing whatever I can to win. All the other stuff that's floating around means nothing. If I wasn't ready, I wouldn't be stepping on the field.
For Harris, her biggest challenge in returning is that she hasn't played a match since May.
I mean, I'm not played in. I haven't played a game in over two months. So that presents itself challenges. You know, being out here, training every day, doing goalkeeper training is completely different. So, I'm just gonna have to be focused 90-plus minutes. I can't take a second off. Soon as I touch the ball, the nerves will go away, and, you know, I'll do my job. That's what I'm here to do, and, for me, it's just focusing on the simple—I have to simplify everything, and then as I get rolling, then you'll see the crazy stuff come out.
MF Camila Martins Pereira
(translated from Portuguese)
In Harris' return, Camila sees a leader.
I think it's great to have her back. She's a leader, a great leader for our team. She push us and always help us. Not that Aubrey wasn't doing that. She's also on the back, but it's awesome to have her back and strength that for our team and also for our fans.
For Camila, the 3-0 win over the Washington Spirit on Aug. 8 was important in putting her team closer to the top four in the NWSL.
It was really important for us, those three points, to get us closer to the four in the top so we can make it to the playoffs. So it was very, very important in these past two games and getting something out of it. And, for this next one, it's gonna be really important for us, as well, so we can make it that push to make it to the playoffs. It's gonna be great to play the semis and final here in Orlando.
After the win over Washington, center-back Monica Hickmann Alves gave the team a post-game speech.
I think we need to keep it up. I think Moni did really well talking to us after the game, saying how we did everything and we put it all on the field. And I think we need to keep that way and give our, like, just give our best on the field and do everything we can to get the push and get that win on Saturday so it can help us make it to the playoffs. And I just think we need to keep that up and put it all on the field like we've been doing in the past games.
Camila sees a Kerr that has entered a good moment in her career. For the Brazilian, that's Sky Blue's biggest threat.
I think they have a great player that is in a great peak of her career, and she's been doing a lot in the league and one of the top scorers. But we also have a great defense, and I think our defense can stop her. So, she can be a problem for us, but I'm confident on our team and our defense, and I think we can definitely stop her and get a good result at home.
For Camila, a win over Sky Blue on Saturday "definitely" puts her team in the top four of the NWSL.
I think it's very important, really, really important, but I also think that all the games are important. But this one is definitely—if we win in this one, we definitely gonna, like, you gonna get to the four. And it's gonna be great for us to be amongst those four. So I just think we need to keep it up, just leave it all on the field like we're doing in the past games, and our defense needs to be the best, our attacking needs to be the best, and our midfield needs to be the best. So if we do all that, we definitely gonna get a result in this game, and we're gonna make that push for the playoffs.
---
For more on the Pride and Harris, as they look to their finale of a three-game home stand, follow Victor Tan on Twitter at @NDR_VictorTan.