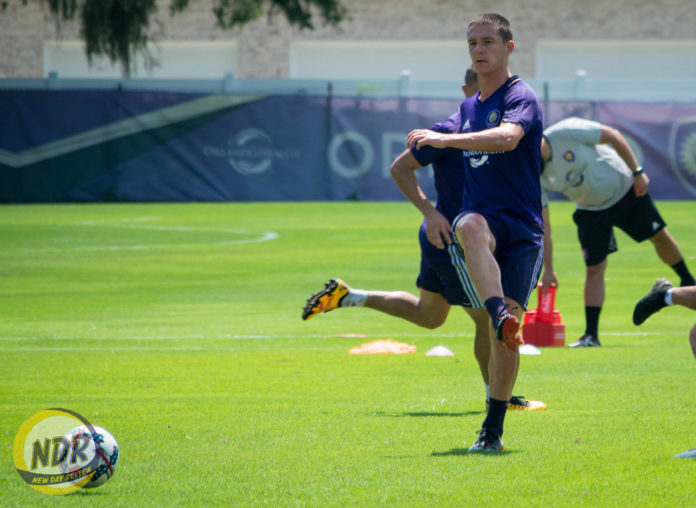 (Photo by Victor Tan / New Day Review)
Aug. 10, 2017 at Sylvan Lake Park
MF Will Johnson
Orlando City SC added Peruvian midfielder Yoshimar Yotún on Aug. 5.
Well, good player. Kind of exactly what you'd expect. Very technical. Very fit. Mobile. A lot of good characteristics that I think will be good for our team. Good on the ball. And helps us defensively as well. I think it's just another solid piece which we continue to add on what seems like a weekly basis. You know, it's another piece; it's another guy. We need more players who are comfortable on the ball no matter home, away, whatever the situation, and he fits the fill really well.
The Lions have won just two games in their last 16 chances.
Yeah, I don't know how positive we've been. It's been hard. This league is hard. The summer stretches are difficult. We continue every week to fight, to give ourselves opportunity to pick up points. We're in games. We're not getting blown out of games. We're right there. But winning's a hard habit to learn, and we've let ourselves down in the last 10, 15 minutes of games—in the first 10 minutes of second halves. These are things that we continue to try to correct. I don't think it's a positive or a negative thing for me. It's a discipline and an understanding of key moments and how much these points matter, and I think that we're starting to get that, but now we're in a fight for our lives.
On Saturday, City will travel to face the New York Red Bulls at 7:30 p.m.
More than anything, I think it's his work ethic, his movement. He's very clever. He plays off the back shoulders of their defenders all the time. Gets in behind. Can come and link up the play as well. And then, obviously, when he gets in and around the box, he doesn't need a whole lot of chances. You saw it last weekend against New York City. Two chances, two goals, and that's what top strikers do. So, you gotta keep an eye on him at all times, and, you know, Sacha [Kljestan] providing balls through lines is also another key for us. So we know their strengths. We know who they are. We know what they're about, but it's easier said than done. We gotta go and execute and be tight, disciplined defensively.
Since adding forward Dom Dwyer on July 25, the Lions have added two additional players in Yotún and midfielder Dillon Powers.
Well I think it's positive. You know, any time you have an ambitious front office that's trying to bring in players, no matter if you're in first place or last place, I think it's important that you always try to improve, and so our front office and coaching staff have shown that they're not afraid to make moves and put themselves out there and try to get better players than what we already have. So, obviously, results speak for themselves. If you're not getting results, you know, things have to change. That's the business we're in. We understand that as players. We support the guys leaving and wish them the best of luck, and we also understand that the new guys coming in are here to help us win and help us do a job.
Johnson sees the new additions as long-term positives for the Lions.
You know, integrating new guys into the squad in the middle of the season is somewhat difficult, but it also gives you a boost. I think when Dom came in, he gave us a boost, a nice energy, something different. Training's a little different, so that part of it. There's also positives as well. Obviously, we're still gonna have to learn the tendencies of Dom and Yoshi and Dillon, but, for the most part, I think, long-term, it's gonna be a real positive impact on this club.
During City's recent stretch without a win, Johnson said he urges patience.
Yeah, we know what we're up against. Obviously we've got a very tough game this weekend. Then we've got five home, five road. We still feel that we have a good opportunity to make something out of this season even though it's been—the results haven't been there. If you look at the points that we've dropped, even just recently—the Montreal point, the three we had against Atlanta, the one we had at home. You know, you go back to the San Jose games—things like that. There's points that we've left on the table, and it's frustrating because if we pick up those seven or eight points, we're second or third in the East, and we're not having this conversation. So it's—you know, I understand the knee-jerk reaction is to say, "Okay, let's blow it up. Let's bring in all-new stuff. Let's start again." But I think we're on a steady path here to success, and I urge patience, and I hope that, you know, people understand we realize that it's time, and we've gotta step up and start to win games.
City started the season with a 6-1-0 record.
We need to get a win. Obviously, it's every week that you go out there, and you don't win, it's difficult. In the locker room, you see guys just having a hard time with that 'cause, you know, we need to win. That's what we're here for. So I think if we can get one and start to steamroll this, maybe get a bounce, a bit of luck, maybe a handball penalty call—that would be nice, instead of penalties against us every week—those kind of things. We need something to reward us for the work that we're putting in, and I think once we get that, then we'll start to integrate guys and things will start to click, and we'll be in a good way.
Johnson and Powers met as Western Conference opponents when the former played for the Portland Timbers from 2013 to 2015.
Yeah, played against him a bunch of times. Obviously, I played in the Western Conference for a few years against him. You know, another good, young player. Works very hard. Can hit a really clean, nice ball. Has the engine to get from box to box. I think he makes us a little bit younger, which is also good. And adds more depth. It's just another guy who's played in the league, who's had some success, who's grown a bit stale in his environment in Colorado and is looking for a change, it looks like. And so I think he'll be refreshed and excited to come in here for a new challenge and hit the ground running. I've heard positive things, but I hope he comes in and makes a difference for us.
MF Richie Laryea
City enters their next match against the fourth-place Red Bulls with 30 points, just two shy of sixth-place Columbus Crew SC.
[Training's] been good. Obviously, everyone's excited to get this game going. To get a road win would be big for us this week, so everyone's excited for this game.
The last time both teams met was in Orlando on April 9 in a 1-0 City win. Johnson delivered a corner-kick assist to midfielder Servando Carrasco for the lone goal of the match.
We know they're good possession, and we watched the film on them. They're a good team, obviously, and [head coach] Jason [Kreis] and staff have spoken to us and gone through things that we need to do to prepare for them, so I think we're ready for the game.
For Laryea, Yotún has been a good addition to the team so far.
Very good. Very good. He's a good player. He's a small, nice, tiny player. Been doing good all of the sessions that he's been a part of, and I think it's a good addition to this team.
From Laryea's perspective, the recent additions show the team is pushing for the playoffs.
It just shows that we're pushing for playoffs, obviously. They added another good player this morning, so it'll be good to work with him as well.
In Laryea's eyes, team chemistry has kept the team together through a difficult stretch.
It's a close group of guys, so everyone's been keeping each other going, and staff's making us go, and we know we're close, and we're right there. So, there's not much more that we have to do within the group.
Orlando City B forward Hadji Barry has scored four goals so far this season in the United Soccer League with 11 games remaining. Last season, he scored four goals total.
I think he's been doing well. He's getting a string of games. He's cashing his goal-scoring form, so think he's—I always think he's a good player, and I think he's doing well again this season.
Laryea said everyone on the team knows what's at stake in these final games for City.
I think the guys just—no one really has to say that everyone knows themselves what's at stake right now and how important these last 10 games are.
Yeah, I agree [with Will about just needing a win to start a roll]. Especially with a road win here, it would get us rolling through the end of the season and be able to end on a high note.
---
For more on City, as they embark on a one-game road trip to New Jersey, follow Victor Tan on Twitter at @NDR_VictorTan.