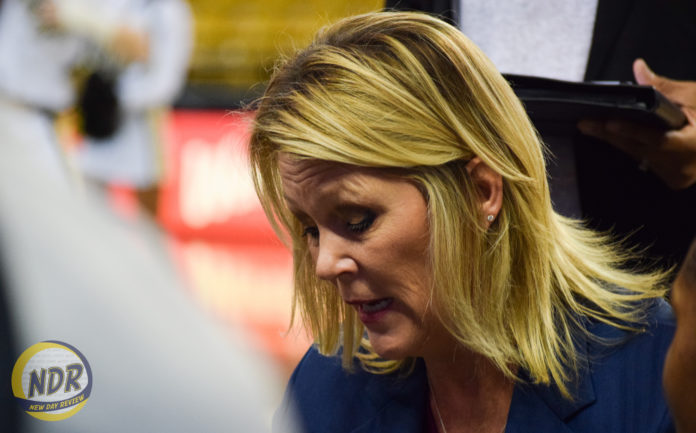 (Photo by Victor Tan / New Day Review)
After a program-changing season, second-year University of Central Florida head coach Katie Abrahamson-Henderson signed a contract extension that will keep her with the Knights through 2022.
"I appreciate Dr. Daniel J. White, Brandi Stuart and President Hitt for their confidence in my staff and I," Abrahamson-Henderson said, per the team's press release. "We are excited for the opportunity to continue building on the success from last season and look forward to even more in the future."
Under Abrahamson-Henderson, the Knights finished 21-12, their best season since entering the American Athletic Conference. Her first year was also the Knights' first winning season in the AAC.
Abrahamson-Henderson also helped the Knights to their first-ever win over ranked opponent, as the Knights defeated the No. 22 University of South Florida 66-62 on Feb. 14. That helped lead Knights into their first-ever Women's National Invitation Tournament. UCF also finished with its first 20-win season since the 2010-11 season.
For the Knights, perhaps their biggest accomplishment came in the postseason. The Knights defeated Stetson University 73-53 in the first round of the WNIT.
The Knights return shooting guard Aliyah Gregory, who earned All-AAC First Team honors. Last season, she recorded career-highs in points per game (16.8), rebounds per game (3.9) and steals per game (1.9).
---
For more on the Knights, as they train in the offseason, follow Victor Tan on Twitter at @NDR_VictorTan.