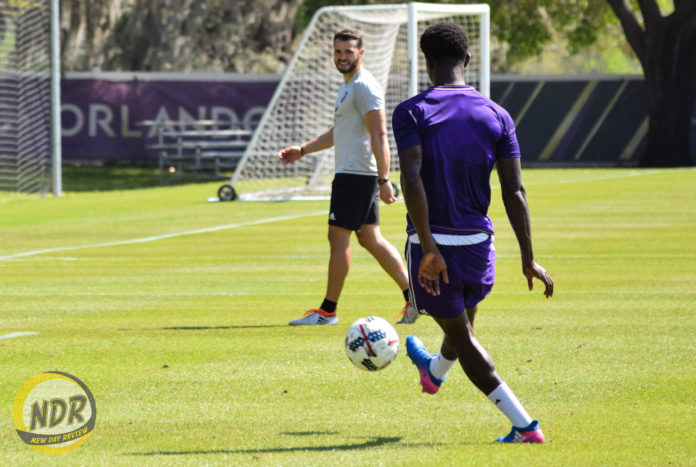 (Photo by Victor Tan / New Day Review)
Aug. 10, 2017 at Sylvan Lake Park
Availability: HC Anthony Pulis, F Hadji Barry
HC Anthony Pulis
The Richmond Kickers sit at the bottom of the Eastern Conference standings in the United Soccer League, only notching three wins in 22 games.
Yeah, it's a really big game. I look at Richmond, I scratch my head a little bit 'cause I don't really understand why they haven't got more points 'cause they're a really good counter-attacking team. They're well organized defensively, and they've got whoever front four—whichever front four play for them are all really dangerous. They've got pace, they've got power, they've got good movement and good technical ability. So, going there, we know it's gonna be a really difficult game. It's never an easy place to go either.
For Pulis, the response to Richmond's counterattack is one of the keys to the game on Saturday.
A few things. They're a counter-attacking team. So, they wait for you to turn the balls over in poor areas, and then they try and do you in transition. So, there's a few things. The first thing is making sure that we possess the ball well and we don't give the ball away in poor areas. And the second thing is making sure we're proactive and we've got good numbers behind the ball at all times so that if we do turn the ball over and we do give it away, we've got players behind the ball ready to defend straight away, rather than having players too out of position, too disjointed and then having to chase back and try and defend against the explosive pace that they've got.
Every game Orlando City B play is seen as an opportunity for them to win. No matter the opponent, the coaching staff and players approach the game the same way.
Every game we play is an opportunity for us to win. So, I wouldn't say just because Richmond are at the bottom of the league, this is a better opportunity. We approach every game exactly the same. We analyze the opposition; we look at their strengths, their weaknesses, what we can exploit and the threats that we have to be aware of, and then we try and come up with a game plan to put on a good performance that will ultimately, hopefully help us get a good result.
With the Major League Soccer side making two signings in the summer transfer window, it adds a couple dynamics to the USL side.
One-hundred percent. [The addition of new MLS players is] something that we've been quite mindful of the last few weeks. Because we have—we've obviously got a group of players that we manage here that we want to help improve and to ultimately realize their dreams of getting to the MLS one day. Now, we understand that it's not gonna happen for every single one of them. The other dynamic we have to manage is MLS players coming across to us that are not getting into Jason [Kreis'] 18. So, trying to keep them motivated and work with them closely on their mindset and the way that they approach the games. It's not an easy role, but, having said that—and I've said this numerous times this year—every single MLS player that's come across and played for us, their attitude has been fantastic, and I don't see that changing.
Barry scored his fourth goal of the season in a 2-2 draw against FC Cincinnati last time out.
Well, he's been excellent, and I think he showed last week at Cincinnati. He's a threat, and he's got goals in him. I end up sounding like a broken record a little bit with Hadji 'cause it's him understanding what his strengths are. And his strengths are running in behind opposition's defense and facing the opposition's goal. And if you watch any of the highlights and any of those clips from that game at Cincinnati last weekend, that's probably why he was so effective. Don't get me wrong, it helps when he's got players around him that create that space for him, but when he runs in behind, and he stretches, and he exploits defenses, then he's a really, really dangerous forward. And then he took his chance well last weekend, and he could've had two or three others.
So far this year, Barry has only played 11 minutes for the MLS side. Pulis doesn't know if Barry will return to the MLS side this season.
You'd have to ask Jason that.
F Hadji Barry
Barry and OCB are yearning for three points after drawing with Cincinnati in the final minutes.
It is very important. We've been playing very well the past six games and drawn the last six games. We feel like a couple of them should have been wins, especially this last one. Winning 2-1 until the end of the game and then giving up that goal. I mean, it's a big point on the road, but we'll always feel like we dropped two points. We're looking forward to the next game, coming here and working hard and trying to get the next three points.
OCB aren't looking at teams as better or worse than them because of standings.
I mean, they're a very good team. They're in this league for a reason, and Ant's gonna prepare us wherever we gotta. They've been [scouting] them, so we're gonna know all the, you know, mistakes that we can exploit.
We're not gonna look at [the standings]. You know, every team in this league is good, no matter if they're first or second. We just played Charleston [Battery] the other day, and they're first in the league, and we tied. So, we're not gonna look at [Richmond like] they're below us or anything. We're just gonna go out there and try to get three points.
Barry has become comfortable with the OCB side this season.
Getting older, you know, and just getting used to playing with these guys and being here. You know, I'm comfortable now, so I'm trying to get better every time I come on this field.
Barry looks at OCB games as an opportunity to prove to Kreis that he can be relied on if needed on the MLS side.
This is my chance to show him that he can count on me. So, every time I come to an OCB game, I'm trying to give my all. So that any time he needs me, I'm ready to play.
---
For more on OCB, as they look to break their streak of draws with a win, follow Tommy Cardinal on Twitter at @NDR_TomCardinal.