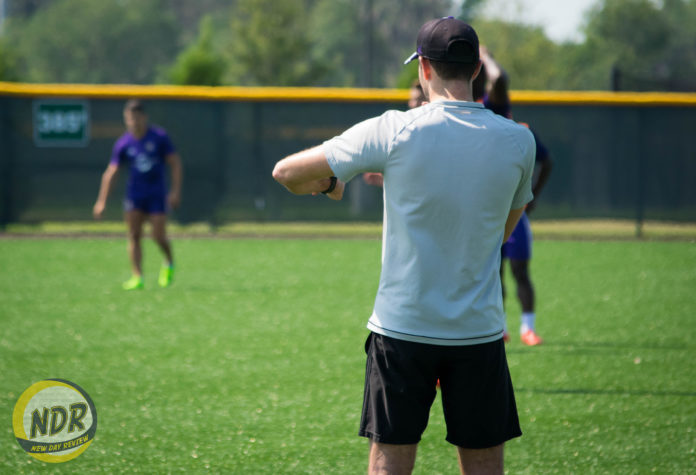 July 11, 2017 at Sylvan Lake Park
Availability: HC Anthony Pulis, MF Lewis Neal
HC Anthony Pulis
The rivalry between the Tampa Bay Rowdies and Orlando City SC extends to the days when City played in the United Soccer League and Orlando City B was non-existent.
Yeah, really excited. It's a huge game. Obviously, there's more than points at stake for this one; there's local pride. I think people like myself and [assistant coach] Rob [Valentino] that have been at the club for a long time now, we know how much this means to the supporters, the hardcore supporters, who have been here from day one. So, we'll be making sure the players are aware of how much this game means.
With the Rowdies in contention to become a Major League Soccer team, Pulis thinks it puts "some added spice" to the game on Thursday.
Definitely. I think there will definitely be some added spice to it. The fact that they're obviously trying to get their MLS expansion franchise. We're already there, so, for sure, I'm imagining they're gonna bring down a few supporters themselves. Hopefully, we can get a decent crowd, and I'm sure it'll be a good game.
The Rowdies currently sit at No. 4 in the Eastern Conference standings of the USL.
Yeah, they've got a lot of attacking threats. Hugely experienced lineup. Players that have got a wealth of experience playing at the highest level, both in Europe and here in the States. So, we know that they've got an unbelievable amount of quality and that we're definitely gonna have to be on our A game.
OCB started the season with a 1-0 loss against the Rowdies in Tampa back in March. Since then, Pulis has seen improvements.
Well I think we're a lot better team than what we were at the start of the season, if I'm honest with you with that. That game, I distinctly remember that game at Tampa and then the first game at home against Louisville—we were nowhere near the level that we expected to be, and we've certainly improved since then. And hopefully we can perform similarly to what we did against Pittsburgh the other night but just take our chances.
For Pulis, the 0-0 draw with the Pittsburgh Riverhounds was nearly complete.
Take our chances. It's as simple as that. I thought we performed really well, as good a performance as we've had in possession, out of possession. Our shape was good, we attacked well. We just didn't have that final piece, if you'd like, that final effort at goal that was gonna be on frame. Hadji [Barry] hits the post, Lew misses his chance first half and a couple of other near misses second half. So, if we can take our chances, hopefully we'll have a positive result.
With the MLS side on a long break, Pulis does not know what players will be available for team selection Thursday.
Nope, not yet.
Before the season-opener against Tampa, Pulis tried to show the importance of this rivalry by showing the debuting players a video made by the supporters' groups of Orlando City.
Going into the first game, we had obviously quite a lot of new players and guys that probably didn't really understand the rivalry. We actually got a video together for the guys that we got some of the supporters' groups to put together for us just to kind of show them what the rivalry means and what the supporters think of the Rowdies. So, I'm sure they're well aware of it now.
Although it's important for the players to know the importance of the rivalry, Pulis wants his players to "play the game, not the occasion."
Yeah, at the same time, we wanna make the players aware that it's a local derby that means a lot to the supporters and the community of Orlando, but you don't wanna then go and approach it differently to how you would normally. I think it's still—you kind of play the game, not the occasion. I think if we approach it with the right mindset and the same mentality as we did against Pittsburgh, then we should be okay.
MF Lewis Neal
Neal echoed his coach's sentiments on approaching this next matchup as a game rather than an occasion.
Yeah, obviously excited. I mean, more the focus is on winning the game. Obviously, there's that added extra spice for it being against the Tampa Bay Rowdies, but, for me, it's about making sure that we play the game and not the occasion, you know? We have to go out there, and we're gonna prepare now the next couple of days tactically and technically on how we're gonna go about winning the game. And that's what we need to focus on when that whistle goes and try to shut out some of the noise that's going on around the stadium, which isn't easy at times. But, you know, as professionals that's what we need to try and do.
Neal hardly calls this an away game for the Rowdies, who will be traveling a little more than 100 miles to play OCB.
They're a very, very, very good team. Individually, they've got some really really good players. I think they've struggled maybe a little bit away from home this year, but, obviously, you can't really call traveling down I-4 away from home for them. So, it's gonna be a really, really good game, to be fair, one I'm really looking forward to.
For Neal, this game also serves as a reunion with his friend and former Orlando City left-back Luke Boden, who played for the MLS Lions, who started 43 games in two seasons for Orlando in the past two years.
Yeah, I mean, we don't generally tend to come up against each other too often on the actual pitch with the positions that we play. But yeah, I mean obviously very good friend of mine, but as soon as that whistle blows we'll both be forgetting about that and wanting to win the game for sure.
As far as their expansion bid goes, Neal sees the Rowdies as having a financial advantage over other aspiring MLS teams.
I mean, financially they seem to be having a really good go at things. I mean, I don't know exactly what their wage bill is, but I know it's probably one of the highest in the league I would imagine. With, you know, having the likes of Joe Cole and [Marcel] Schäfer there. So, you know they're expected to be up there come the end of the season. And, you know we've not got that financial power within our group. But, you know, we're gonna be very competitive, and we're gonna make sure we go out there and try to win the game.
Neal thinks the key to Thursday's game will be how OCB has gelled chemistry-wise in the first half of the season.
I mean exactly what you just said there. That was our first game together as a group. I mean, you know we've got, I don't know what it is now, 16 games in, 15, 16 games. We've had together now. So, hopefully we'll have that little bit more of a know-how of how we're gonna go about our business, how we're gonna go and play, and what's expected of each other and our responsibilities on the pitch. I think that'll hopefully show and make a big difference.
Neal and OCB are looking to even the record against the Rowdies on Thursday
Of course, I mean Orlando City against the Tampa Bay Rowdies, nobody likes to lose that game, and we certainly didn't enjoy losing that game. So, we'll certainly be trying to make amends for it this time.
---
For more on OCB as they approach their rivalry matchup with the Rowdies, follow Tommy Cardinal on Twitter at @NDR_TomCardinal.