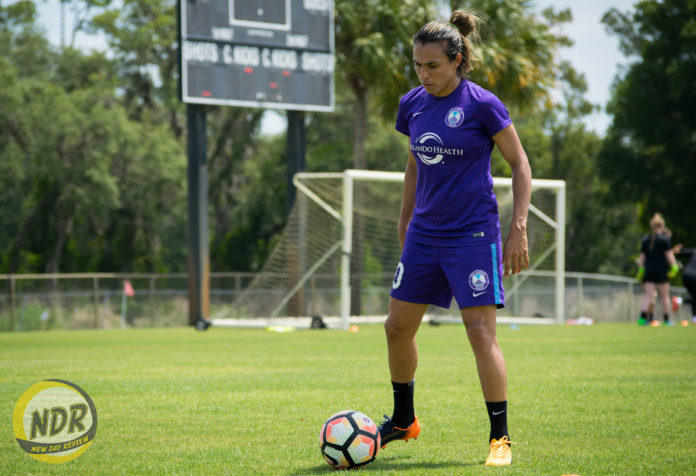 (Photo by Victor Tan / New Day Review)
July 13, 2017 at Seminole Soccer Complex
HC Tom Sermanni
Marta was signed by the Orlando Pride on April 7.
Probably a little bit better, to be honest.I mean, I knew how good she was, but you sometimes don't appreciate how good players are until you actually start working with them. And, you know, since she's been here, she's actually sort of surpassed my expectations of her playing ability. She's just like a complete player and has a, you know, a complete understanding of the game as well.
You see that she sees things that other people don't see before she sees them. It's strange, but you notice that when you're aside watching a top-level player. And even before that ball comes to them, you sense that they have seen what the next picture is, and Marta is one of those players.
So far this season, Marta has scored eight goals in 12 games. She is so far the Pride's all-time leading goal-scorer.
Therein lies that—you know, when you talk about little differences. You know, she had little space. She took her time, or she appeared to take her time or half time, and her execution was first-class. And therein lies the difference when we talk about things and we relate those to our other players is that it's that—you know, it's a whole package. It's her ability to see things, to be calm under pressure, to seem to have more time than anybody else and then to execute. And she did all that in the second goal.
When asked about her personality, Sermanni said Marta is as enthusiastic as a 19-year-old with her first professional club.
(jokingly) Terrible. She's very difficult to deal with. She causes me grief every day.
She's unbelievable. You know, she comes in here, smile on her face. She's out there in training, enthusiastic. She's like a 19-year-old coming into her first club as a professional. She mixes fantastically with the players. She's deadly serious when it comes to the business on the field, but she's a great teammate off and around the team.
This isn't Marta's first stint in the United States. She played for the Western New York Flash in 2011 when that club was a part of Women's Professional Soccer.
Great. I mean, this is a tough league. She's been in the U.S. before, but I think the league now is probably more established and, therefore, probably better. And teams are more savvy about how they play, particularly against players like Marta. But she's adapted incredibly well. Obviously her football was never an issue, but, you know, her ability to physically cope with this league has been outstanding. And, you know, week after week, when we get our figures after the game, she's up there in the top two or three for players who have covered the most distance and covered the most distance at intensity.
When asked about how Marta's affected the Pride's goal-scorers, Sermanni said she's affecting the whole team.
Well, I think she's affected the team. Her ability affects the team so we create more chances. So that makes life better and easier for other players round about her. You know, I think we've got, you know, a better team, as we should have, this season than we had last season. And we've got a lot of quality around our team. So, when you get someone like Marta, that really helps all those other players around about because she sees things, she plays passes at the right time, she plays the correct passes. So that helps everybody else.
This is the second season Marta and forward Alex Morgan have played together. Both played together for Western New York in Morgan's rookie season.
I think we saw it last week. You know, I think we saw a lot of really good movement from both of them last week. We started Marta a little bit wider but then quickly brought her in to play closer to Alex, and, you know, already they started having, I think, a very good understanding.
Orlando has lost both of its last two home games, getting shut out by both the Houston Dash and Chicago Red Stars.
We need to [get back on track]. Not only two losses at home—we haven't scored in two games at home. We scored, I think, nine [goals] in three away from home, and we're a goal-scoring team, and we create chances. And we need to do that at home. We need to do it, firstly, to get points. You know, this, for me, is one of those must-win games. Secondly, we need to perform in front of our spectators. We've got an unbelievable group of fans, and we need to put a show on for them, and part of that is to score goals.
For Sermanni, his team's bout against FC Kansas City on Saturday is a "must-win."
Obviously, mathematically, it's not, but it's in one of those situations where we've got—and I've said this regularly every week—you've got to keep in touch. Otherwise, you get to this stage where it's still mathematically possible to get into top four, but you're then dependent on other teams and other results and on constantly winning games. So when you've got a home game like we've got this week, everybody's fit and healthy, we've just come off a result last week, you know, the team's looking good. We've gotta take that into the game and go on and get out there and win the game.
That urgency to breach the top four of the National Women's Soccer League standings has been persistent throughout the season.
To be honest, I've felt [the urgency from players] every week. We've never had to come in here and kinda get a whip out to the players and their effort and their intensity. You know, they've come in upbeat every week and trained really well. And, you know, we feel we're on the verge. We're right on the cusp of doing really well. We're just not completing the task, if you like. But we feel, as a coaching staff and as a group of players and as a team, that we feel that we're close. And, you know, what we need to do is kinda get on a little winning run to get that winning momentum. And I think if we can do that, we can really go well for the rest of the season.
Sermanni has noticed that when teams come to Orlando City Stadium that they play more defensively.
You know, the teams that have come here of late have been very defensive-oriented and really made things tight. Kansas [is] a football-playing team. They like to get it, play out of the back. So, if we allow them to dictate the tempo of playing, how they want to play, they'll cause us some problems with the passing. And then they've obviously got, you know, a player of Sydney Leroux's quality up front, who, if you give a half a chance in front of goal, will score.
They've kinda changed a little bit and gone—well, they did in their last game to a more like an orthodox 4-4-2 that seems to be the popular system at the moment. Well they have a couple players sent off in the last couple weeks, so they've had to adjust the system. So they'll play either a 4-2-3-1 or a straight-up 4-4-2.
Goalkeeper Ashlyn Harris began her eighth week of recovery on Monday. She is still not in full training with the team.
I haven't actually spoken to her today. She's coming on great. You know, she's close. The only thing that she's probably not able to do right now is full on kick a ball 100 percent from the ground. Outside of that, she's pretty much well on the way to complete recovery.
For Sermanni, there's not really a concern with Harris and her recovery pace, as her delay to return to full training is based solely on the team's desire for her to fully recover first.
No, not really [any concern about her speed of recovery]. I mean, I think that, you know, one of the issues these days is that because of modern medicines and techniques and good rehab that, you know, the expectations are that things are going to heal quickly. But, you know, time's a healer for these injuries, and we just—you know, an extra week here or there is much more important for us and for Ashlyn to get it right than rush her back in. And, you know, we're very fortunate, in the sense, that we've got Aubrey [Bledsoe] as our back-up goalkeeper. So we're not looking out there and worrying every week about who's going in goal 'cause we've got an outstanding goalkeeper in there.
Sermanni appreciates having enough depth to put right-back Kristen Edmonds in her natural position.
She's embraced it well. She came here as a full-back. It was a necessity last year that we had to then shift her in and put her to a more attacking-midfield role. I think she's comfortable playing full-back. She's got all the attributes of a full-back, and, you know, we're, again, much more fortunate this year in the depth that we've got in midfield and forwards so that we can actually put her in her natural position.
F Marta Vieira da Silva
(translated from Portuguese)
The Pride are in just their second season in the NWSL.
When you come to a new place to do a new work, your expectations are obviously do the best you can and get the best results, the positive results you want. So, I feel like eight goals in 12 games is good, but it can get better—definitely better.
Despite a language barrier between players and coaches, Marta communicates with her teammates well on the pitch because, for her, "Soccer is a universal language."
I played the game for a long time, so I understand the game very well. Soccer is a universal language, so when you understand the game, you can see what the coach is looking for and how you can better contribute. And doing that, you can see how to position self to best help the team.
One of the main differences between Sweden—where Marta last played—and Florida is the weather.
It's been great. Honestly, a lot better than I expected just because I spent so many years in Sweden, and I was a little bit concerned about change in climate, for example. Like, the weather itself. It was so cold out there, and it's so hot here. And then, honestly, the whole package, the fact that we have the best structure to practice and play, the fact that I've been so well-received my teammates and the club, the organization and everything else. So I feel happy here, and, honestly, it exceeded my expectations.
For Marta, she's seeing the improvements and development of the Pride.
It's more about the fact that this is a new team. A lot of the players are new to the team, so we saw that we needed some hard work, not only from the coaching staff but obviously from our side to be able to accomplish what we [want to]. And this is such a quick tournament, it's such like a small period of time, and then there's this bottleneck where we're getting closer and closer to like achieving the moment to achieve our goal, which is to make the playoffs. And then we get that that's time to really get together, do our best in order to not drop the points that we've been dropping from time to time, and, honestly, the team is getting better and better, so we feel pretty good about the development and how the team is approaching this work.
Marta sees Saturday's matchup against Kansas City as a good an opportunity as any.
It's really, really important and really focused, and we know that playing in front of our crowd, in front of our fans is a big deal. They're always there supporting us, and then we know that we dropped a couple points at home, and we're not happy with that, so it's really the time to break the ice and show who we are and get those points that everyone deserves.
For Marta, she feels "fortunate" to be playing with Morgan.
It's not different from what it was couple years ago and all those opportunities to play together and against each other. I really admire her in the fact that she puts, like, all the hard work in and tries to do her best every day at training, and collaboration is great, and I feel very fortunate to have the opportunity to play alongside her and all the other girls.
As long as her body allows her to, Marta will continue to play soccer.
Well, while my body supports my game, the way I play, I'll still play the game of soccer, the game that I love. Honestly, I wake up in the morning, and I feel good about my body and my capabilities. And while that is still the case, I'll still play soccer. I still love, you know, meeting the other players. I still love going to the pitch. I still love the exchange with the fans and the atmosphere, and I feel really good. And I just want to keep going until, you know, I feel it's time.
Marta scored both of Orlando's goals in a 2-2 draw with the Washington Spirit on July 8. Her second one was a go-ahead half-volley in the 56th minute.
It definitely took like some weight off my shoulders because I was feeling a little bit upset because their goal, the 2-1 goal—like, I missed a pass, and that whole thing happened, and I'm always upset when something like that happens. So I really wanted to contribute and do something to change that, so when I scored that goal, it felt really good, and I felt like we can do everything. We can do anything. And now, you know, it's just about how good it feels when you can come back on your feet.
It's really tough to say because every single goal matters. Every single goal matters, so I'd say that if we talk about the importance of a specific goal and try to highlight one, it was against Sky Blue just because they had the momentum, and we needed that goal, and then it was just, like, a quick chance. It was that time. I couldn't miss the timing. And then it wasn't one of the most beautiful goals at all, but then that helped the team, and it felt really good. So, sometimes it's about really that momentum and that time you need a contribution to be able to help your team.
For Marta, Edmonds' ability to play anywhere on the field is a good problem for Sermanni to have.
Well, where she actually plays is a good problem to have for Coach because she's got quality to play anywhere, playing multiple positions. The fact that she's playing on the wing, on the back now is probably the reason why she's not scoring much goals this season. But that's something that—like, that's some sort of contribution that she's giving to the team that is not specifically what you're asking for, but then the fact that she's got quality to play multiple positions is definitely great. I was not here last year, so I don't know exactly how the season went for her, but then what I know is that I'm getting to know her right now, and she's a great player. She can do things.
---
For more on Marta and the Pride as they face Kansas City on Saturday, follow Victor Tan on Twitter at @NDR_VictorTan.