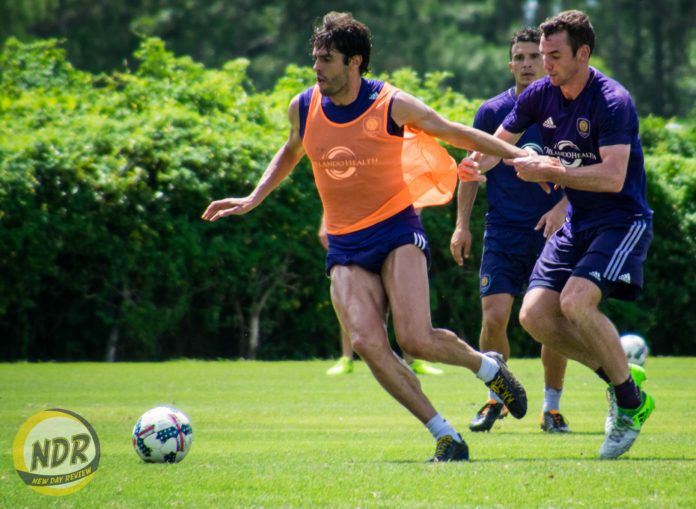 (Photo by Victor Tan / New Day Review)
July 11, 2017 at Sylvan Lake Park
HC Jason Kreis
Orlando City SC had a few-days break after a 3-1 loss to Toronto FC on July 5. The Lions started training again on Monday.
Really needed [that break]. We had so many games in a row in such a short period of time, and, just mentally, the guys were fatigued as well. So, nice to get away from the game, also get away from each other and get the physical and mental break that we needed. The guys have come back with a lot of energy, and I think the coaching staff has a lot of energy right now, and we're hopeful for another 10 days of good work to get us prepared for Atlanta.
For Kreis, the focus in this first of a two-week break before playing Atlanta United FC is on his own team.
It's back to what we're about. It's back to all of our philosophies of play. Defending. We spent a lot of time today talking about defending. Tomorrow, we'll spend a lot of time talking about what we're doing with the ball and how we can do better to create more goal-scoring chances and score more goals 'cause we see that that's—you know, we feel like that's a major issue for us right now. So we'll talk about how we might be able to do that. But, yeah, it's all about us this week, and then next week we'll have a full week to prepare for Atlanta.
Right-back Rafael Ramos suffered a Grade 1 hamstring strain in Orlando City B's 0-0 draw with the Pittsburgh Riverhounds on July 8. He is expected to be out for four weeks.
You know, the hope is that it's only gonna be two weeks. It's Grade 1, so we're hopeful that it's very small and a minor problem. It's also not to the exact same muscle that he has been dealing with. And so we think it could be a minor issue that we could move forward from very quickly. But it's concerning. It's concerning, no doubt.
You know, it's an impossible situation. Sometimes I think it's in all of our natures to want to look for a black-and-white answer to every single situation that happens in life, and this is an injury situation that continues to happen, and we all wanna look for the black-and-white answer. We're handling all the black-and-white information. We're doing all the right things. The rehab, the nutrition, the strength work, the 1-v-1 work he's doing outside of the field, the core work—everything we're putting into it, all of the right information, but, for some reason, it's still eluding us. So I just don't have an answer.
After the loss to Toronto, Kreis prompted his own message about the referees, saying he feels his team feels like the away team even at home. So far, Kreis has received no response from Major League Soccer.
I have not [received any feedback]. And it's one of those occasions. Sometimes after a game, you say something without maybe being level-headed or having the ability to look at the video first, and oftentimes you'll change your opinion from those statements. This is not one of those times. I rewatched the video, and it's very, very clear to me that decisions that went against us in that Toronto game, in particular. But I can tell you, generally, I feel the same exact way in almost every single match we've played this year. The decisions that have gone against us, the 50-50 calls, the little things that are going against us is just not right. The same exact types of contact in that game, in particular, and I feel the majority of the home games, the same types of contacts that our players fall down for, there's no call. The referee's waving it on. And in that game, in particular, the decision for the foul that they called [for Jozy Altidore] that led to the third goal, that broke our back was critically wrong. And so it's another game where you walk out, and you feel like if the referees had been better, we certainly could've come back in that game and drawn 'cause we had all the momentum. We had just scored, and things were looking positive for us.
I don't mean to make excuses or rile anybody up or anything else, but what I do mean to do is say that I want a fair shake for this team. These guys [are] working far too hard and giving way too much in every single game. Our fans are some of the best fans in the entire league. This club is supported extremely well by a community and supported extremely well financially by an owner. We deserve better.
Right-back Kevin Alston is still not training fully with the first team. At Tuesday's training, he did individual work.
It's an impossible situation as well because he's still not really even training. So impossible for him to be elevated when he's not fit to play. The good news is is that we have some other guys that have played right-back. Throughout the two years, we have two other players in this team that have played right-back for this team in first-team games and done a nice job, and we have another player that played right-back the entire last season in England. So, we have options.
Until an actual game is played between Atlanta and Orlando City, Kreis won't put any weight on the matchup being a rivalry.
I am one of those people that believes that rivalries should be intrinsic, and rivalries should happen through experiences and through matches. And so for me, I don't know whether it'll be a rivalry or not. We shall wait and see.
Laryea and Kreis had a "stern" conversation about a month ago discussing what it would take for the Canadian to earn minutes with the first team.
I think he's working in a really positive direction right now. About a month ago, maybe six weeks ago, something like that, so hard for me to remember, but we had a very stern conversation about what he needed to do if he wanted to get opportunities to play and how he needed to really treat these OCB performances the right way because they are real for us. And he took that message on full board, has performed extremely well with OCB in the matches that he's played there, and then he earned his opportunity, and when he got his opportunity, he showed us that it really meant a lot to him. So, he's giving us everything he has. He brings a spark and an energy in both the matches he's come into, and, when you do that, that's how you get more and more minutes. When you continue to do that, you get an opportunity to start. That's the progression that should be there, and that's the progression that I think he's taking advantage of now.
While Kreis sees Laryea as "another quiet Canadian," he understands Laryea is still young and could develop into a more-vocal personality.
Quiet. Another quiet Canadian. I think that's about exactly right. But, you know, he's a young player. And so you don't know what it could be like with some confidence and with some rhythm, his personality may develop.
For Kreis, taking OCB games seriously is important to players' futures with the Central Florida club.
My answer to that is they better be [taking OCB games seriously] because, if they don't, they won't be here long-term. That is the philosophy that we have that those games matter. Those are the games where players that aren't getting minutes with the first team prove to the coaching staff that they deserve those minutes.
MF Servando Carrasco
For Carrasco, refreshing themselves is what's key during the upcoming break.
I think the four days were crucial just to re-charge, to refresh. Think since the day that we got back from training, it's been sharp, and that's the main thing.
I think it's just trying to get fresh. I think for a little bit there, I had some heavy legs, and I think the main thing to take advantage of during this break is to come back fresh; to train hard and to try and be ready for that opportunity.
City has 14 games left on their schedule. For Carrasco, having the same approach during the first part of the season is what the Lions will do.
I mean, not necessarily. I think we're gonna continue doing things that we're doing. I think the games that are coming up are vital for us. I think we have 10 days to prepare for those games, and that's what we're gonna try and do.
For Carrasco, Laryea is a "pretty quiet guy."
What's Richie like off the field, huh? He's actually a pretty quiet guy. He has kind of that quiet confidence. You can see that when he steps on the field. He always takes players on. He's always on the front foot, so, yeah, he's a guy who's done tremendously well with the OCB team, and now that he's getting minutes for the first team, I think he's doing a tremendous job.
Carrasco sees his team's matchup solely as another opportunity to earn three points.
I think it's another opportunity to try and get three points. I know it sounds kinda cliché, but, right now, the standings are so tight. I think they're a point behind us or a point ahead of us or something like that, so I think the difference in points is minimal. So, every game is vitally important. Their team's done very well for their first season. The first word that comes to mind is a team that's very dynamic. Their attack is very strong, and they're a team that we have to be very,very conscious of.
For Carrasco, a two-week break before playing Atlanta couldn't have come at a better time.
I think it gives us the opportunity to address certain things. I think it's the perfect time, really. We have, I think, 14 games left, and there's things that we want to fix. There's things that we wanna strengthen, so I think this break couldn't have come at a better time. Gives us 10 days to address those things, and [I] think the main thing is we're gonna try and get better.
Ramos' injury "sucks" for Carrasco because he has seen Ramos as one of his most proactive teammates.
It sucks. It sucks because that's a guy that I see in the gym. He's the first one there. He's the first one doing all the preventative workouts, and to see him go down again with the same injury, it's tough for him, and we definitely feel for him. But he's the type of character who's gonna come back stronger. It's been a tough year for him, for sure, but we're there for him, and anything that we can do as a team we'll try and do.
MF Richie Laryea
Laryea has played 40 minutes in three matches for City's MLS side so far this season. Those are his first three appearances in MLS of his career.
It's been good. Obviously, using those OCB games to get the minutes there and get in those minutes is important for me.
I'm just showing what I can do when I get on the field, really. I'm just building trust with teammates on the first team, coaching staff and all that and just showing what I can do when I get the chance.
For Laryea, his time with OCB has made him the player he is today.
Obviously, the first year is a lot about learning for me. So I think that was good for me to get games on the B team and go through certain situations, and I think it's built and made me who I am right now.

Obviously getting minutes and just getting used to the speed of play, physicality. All that kind of stuff from the [United Soccer League] and then, obviously, in trainings with the first team.
Laryea sees similarities between MLS and USL play.
I think in some senses it can be kinda similar, but then in other senses, the MLS has obviously bigger guys, faster guys, stronger guys. So, I think USL is just a step down and helps you prepare for that type of competition.
For Laryea, finding his favorite position is difficult.
It's hard to say. The position I've played with both teams, I'd say, are positions that I liked to play in the past, so I don't know if I can really pinpoint, like, one where I like to play the most.
Yeah, like being dropped off behind the striker position, I've played in the past as well. So, really wherever I can get on the field and do well is where I'll play.
Laryea hasn't been surprised by the pace of play in MLS.
Not so much surprised. I felt like I was ready for that type of game [in my MLS debut]. It's just about getting the chance and getting out there and doing what you have to do, really.
For Laryea, the next step in his progression is working toward a start.
Just building on that. Getting more appearances. Building towards a start and all that and just going from there.
Laryea was a part of the match when Ramos went down with another hamstring injury on July 8.
Yeah, it's obviously not good. He's worked so hard to get back. He's been doing well in training, doing well in games and all that. So, it's not good to see him go down like that, especially after multiple injuries with his hamstring.
Kreis said his team, at times, seemed to lack energy. Laryea sees that as an opportunity to insert his own energy into matches he plays in for Kreis' side.
They've obviously played a lot of games this season, and the least I can do is come on, come out there and run around and put some tackles and try to make plays. So, I was happy to get in and do that. But, yeah, that's something I can definitely bring.
---
For more on Orlando City during their upcoming two-week break before facing Atlanta, follow Victor Tan on Twitter at @NDR_VictorTan.