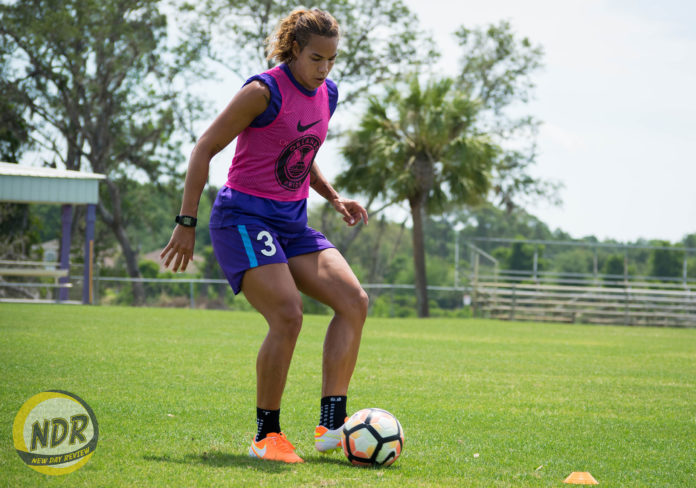 (Photo by Victor Tan / New Day Review)
ORLANDO, Fla. – A new and improved Toni Pressley has been a fixture in the Orlando Pride's defense so far in the 2017 season. Since a 1-1 draw with FC Kansas City on May 7, the Pride's fourth match of the season, Pressley has started and played every minute of the Pride's games.
For the center-back, it's a newfound level of fitness that has allowed her to excel in a consistent starting role. That sort of fitness has her focusing less on the physical aspect of the game, allowing her to pay attention to simply playing.
"I think that the biggest difference is fitness, and I think, with that, it's brought me more confidence, and I think that I'm able to, you know, focus on other areas of my game since, you know, fitness is no longer a major concern," Pressley said after training Monday. "I'm able to figure out my passing and things like that—my communication."
This whole process started when Pride head coach Tom Sermanni had, what he called, "straight-forward conversations" with Pressley about her fitness level at the end of last season. In the Pride's inaugural National Women's Soccer League season in 2016, Pressley totaled 1,028 minutes in 14 appearances and 11 starts.
"Look, she's been superb for us this season," Sermanni said after training Monday. "If you look at where she was at the end of last season and during last season, and we had some really straight-forward conversations at the end of the season, and Toni's gone away in the offseason and put in an amazing regime to get herself in the shape that she's in now.
"We never questioned her ability. Nobody's ever questioned her ability. What she's done now is taken all those other aspects of her game to a new level. So, physically, she's better, and, with that, her level of concentration is better. Her confidence is better. And now you're seeing somebody that's been outstanding for us this season."
Pressley has so far started seven of her eight appearances, recording 642 minutes of play. The 27-year-old has also been more offensively active and efficient compared to her first Pride season. So far in 2017, Pressley has taken five shots (four on goal) while she took eight shots (one on goal) last season.
"Yeah, I mean, he was very straight-forward and just, at the end of last season, just making sure that I would come in fit and just very prepared and to have a good season," Pressley said. "And I worked hard in the offseason to make sure that fitness wouldn't be an issue. And I just hope to continue to have a role on the team and just contribute any way I can."
Part of Pressley's transformation began with a new vegan diet, according to a report by the Orlando Sentinel's Christian Simmons. At first, it was simply a matter of curiosity.
"At first, it was just out of curiosity," Pressley said, per Simmons. "I had had some vegan food and, you know, I thought it was really good. I have more energy now. I feel better on the field. I feel better off the field. So it's going really well."
The Pride will next travel to face Sky Blue FC on Wednesday at 7 p.m. The last time Orlando played the New Jersey side, Sky Blue won 2-1 behind Sam Kerr's tying goal and go-ahead assist.
---
For more on Pressley and how she's faring on the Pride's back-line, follow Victor Tan on Twitter at @NDR_VictorTan.