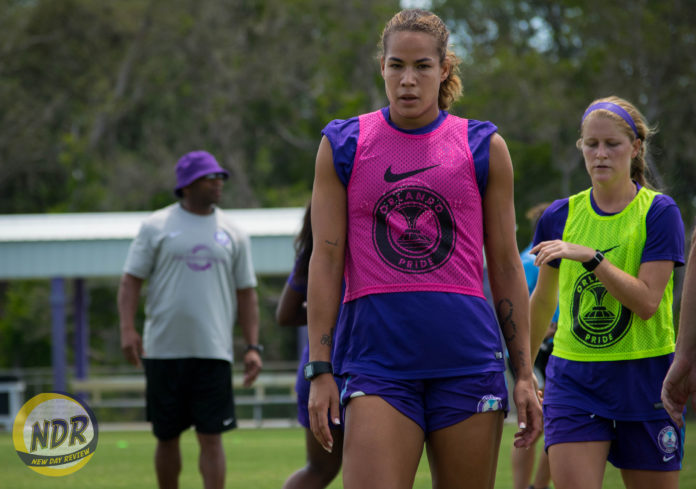 June 26, 2017 at Seminole Soccer Complex
Availability: HC Tom Sermanni, DF Toni Pressley
HC Tom Sermanni
The Orlando Pride's 2-0 loss to the Houston Dash on June 24 was rescheduled from 4 p.m. to 3:50 p.m. During the game, it was 95 degrees outside.
I think we've all said it that at 4 o'clock or 3:50 in the summer, in Orlando is not a wise time to play any outdoor sport, particularly our sport. It would be much better for the quality of the game, the health of the players and for the spectators to play our games in the evening. The reality is these days that you need to deal with, what you need to deal with, and you look different league's view. Take the English Premier League—the most popular league in the world—teams have to kick off at 12 o'clock, sometimes teams now play on a Monday night. So although it's not a heat factor there, there are always factors that influence when games are held. And in the case of us, television plays a big factor in that. And it's something that we just need to go on with and live with and can't use an excuse.
Sermanni has been using a new 4-2-3-1 formation over his team's past three matches, yielding a 2-1-0 record so far. The Pride's most recent result was a loss to Houston.
I don't think it was a formation [issue]. And obviously we tried to change things up in second half to give us a spark. And it didn't quite work that way. So, I don't think it had anything to do with the formation. I just think it had to do with—well, I don't actually know. If I'm being frank, I could here and try and make reasons up. We just seemed to lose our energy. We seemed to lose our momentum, and then from there, we allowed Houston to start to dictate those critical areas, you know, whether that's winning the second ball, getting to things first, winning challenges. They started to get on that, and that upset our rhythm even more, and we just never got back in, either individually or collectively, got back on a roll in the game and to try and get some momentum to turn things around. And it's uncharacteristic of us. Even if I look back at last year and at times when we were struggling to put a team on the field because of Olympics and injuries and things like that—when we played at home, virtually every game, we got momentum in the game at some stage, brought the crowd into the game, got on a roll. So whether we won the game or lost the game, we were very much part of it. We just didn't seem to get that going at the weekend. So hopefully it's just one of those blips that happen every now and then.
Pressley and Sermanni had "straight-forward conversations" at the end of last season, regarding her fitness.
(jokingly) She's improved the quality of her muffins, in particular. Even though they're gluten-free, vegan-free, sugar-free, they're still actually quite tasty. So there's been a significant improvement in that area.
Look, she's been superb for us this season. If you look at where she was at the end of last season and during last season, and we had some really straight-forward conversations at the end of the season, and Toni's gone away in the offseason and put in an amazing regime to get herself in the shape that she's in now. We never questioned her ability. Nobody's ever questioned her ability. What she's done now is taken all those other aspects of her game to a new level. So, physically, she's better, and, with that, her level of concentration is better. Her confidence is better. And now you're seeing somebody that's being outstanding for us this season.
Orlando travels to face Sky Blue FC on Wednesday. The New Jersey side is currently third in the National Women's Soccer League with a 5-5-1 record and 16 points.
You know, when you look at the frustrations of the weekend, we went at the weekend a home game, which is really important to win. We're in the top four. You know, points-wise, we're in there [if we won]. So, it is a tight league, and it's gonna be probably nip-and-tuck. I think I said earlier the other week: There are at least gonna be nine teams and now 10 teams in the mix of this league of the top four. Probably, potentially right all the way through close to the end of the season. So the key thing is making sure that you don't start to go adrift of not being in contact with the top four. So we need to keep picking up results, whether it's at home, not at home so we keep in touch.
DF Toni Pressley
Pressley sees these next two games against Sky Blue and the Chicago Red Stars on July 1 as opportunities to bounce back from her team's most recent loss against Houston.
Yeah, I mean, I do feel the same way. I think, you know, we're good the first 30-or-so minutes, and we kind of lost ourselves a little bit, and, you know, for whatever reason, I'm unsure, but we have two really big tests this week to kinda come back and show the performance that we've had in previous weeks and get back on track with that, and I think these will be really good tests for us to come in and get some results.
For Pressley, keeping tabs on Sky Blue forward Sam Kerr will be key in Wednesday's match. In both teams' last matchup on May 27, which resulted in a 2-1 Sky Blue win, Kerr scored the equalizer and assisted on the game-winner.
They have some really good pieces to their team. Sam Kerr, she's unbelievable. She's very good right now, and I think we need to really manage her and watch out for her, and I think we just need to go in and play our game and kinda, you know, take some of the previous game and figure out what we need to work on from that and go into this game ready and prepared and, you know, looking for a win.
After Orlando's matchup with Chicago on Saturday, Orlando will have played three games in a matter of one week.
I think it just means people need to be good with recovery, taking care of their bodies. Make sure we're hydrating and things like that. I think that's the biggest challenge.
For Pressley, the personal difference between last season and this season is fitness.
I think that the biggest difference is fitness, and I think, with that, it's brought me more confidence, and I think that I'm able to, you know, focus on other areas of my game since, you know, fitness is no longer a major concern. I'm able to figure out my passing and things like that, my communication. So I think fitness has been a major role.
Yeah, I mean, he was very straight-forward and just, at the end of last season, just making sure that I would come in fit and just very prepared and to have a good season. And I worked hard in the offseason to make sure that fitness wouldn't be an issue. And I just hope to continue to have a role on the team and just contribute any way I can.
A win on Wednesday for the Pride could potentially propel them into the top four of the NWSL standings.
I think, you know, from top to bottom, you know, couple wins here or there or ties, you know, the table can shift. And I think, you know, it's motivation. We went there last game we played them, and I think we were unfortunate not to win. I think we dominated pretty much the whole game, and I think that's gonna give us some confidence going into this game.
---
For more on the Pride and their upcoming game against Sky Blue, follow Victor Tan on Twitter at @NDR_VictorTan.