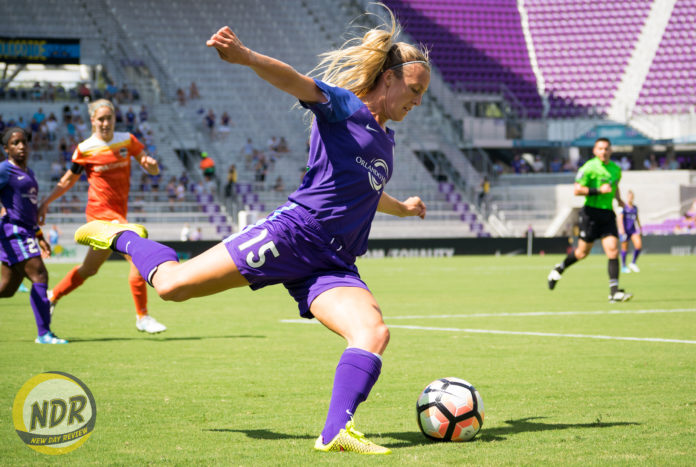 (Photo by Victor Tan / New Day Review)
Match Recap
ORLANDO, Fla. – The Orlando Pride looked to solidify their dominance over a Houston Dash team they blew out a week earlier. But the Dash (3-7-0, 9 points) decided on a different script, blanking the Pride (3-4-3, 12 points) 2-0 Saturday afternoon at Orlando City Stadium in front of 5,497 people.
"Up until the first water break [in the 30th minute], I thought we were quite comfortable. I thought we were playing okay," Pride head coach Tom Sermanni said after the match. "Generally in control of the game and felt that if we had scored at that stage, we would've probably gone on and won the game.
"But frankly, after that, I thought we were very poor. I thought our energy was poor. I thought our effort was poor, and I thought our execution was poor. We really never got [at] any stage in the game, after that, what I call 'on a roll' to put Houston under any kind of pressure."
Carli Lloyd got Houston's scoring started with a stunning finish in the waning minutes of the first half. Lloyd received the ball from the top-right part of Orlando's box and finished it with a stretching shot that landed in the upper-left corner of goalkeeper Aubrey Bledsoe's net.
"First thing I told the team was that actually just written down two minutes before that goal went in, 'We are lucky not to be behind at halftime.' That was what I was going to say first. Obviously had to change that," Sermanni said. "But we basically looked at what we had to do. We didn't feel that the issue was a structural or a tactical issue. We felt it was basically down to our speed-of-ball movement. It was down to our speed of support, and it was down to our execution.
"And we had to improve all those things before we looked at doing anything tactical. So that was a key thing to go into the second half with. And we just didn't do it well enough; in fact, we didn't do it that well for most of the game."
Houston's lead was doubled by Rachel Daly in the 62nd minute. A long ball down the right flank found Poliana Barbosa Medeiros with a step past left-back Steph Catley. Poliana then slid the ball into Daly for a one-touch shot past Bledsoe and a 2-0 lead.
Orlando's defeat comes after a record-setting 4-2 win over the Dash on June 17, when the Pride scored a team, single-game record four goals in one match. For Catley, it was a matter transition.
"I think our transition wasn't good enough, where last week we scored a couple goals off transition going forward, and we kept it really, really tight at the back," Catley said after the match. "This week, we let a fair few things get through and were a little bit sloppy going forward and weren't as sharp and weren't making early runs and creative runs and linking up with each other. I think it was all a bit disjointed.
"So, we definitely had an off one today. And, I mean, as I said, we've got Wednesday to bounce back, which is nice."
Catley kept the game scoreless in the 43rd minute when she cleared the ball off the line of Bledsoe's empty net. A ball in by Andressa Cavalari Machry went over Catley's head to Poliana before the Brazilian tried an on-goal attempt.
"Well, it was my player that got the shot on," Catley said. "I couldn't let her score. I knew Aubrey was coming out and sort of snuck in behind her to make sure it didn't get in behind her. But it was my fault that she got a shot on goal, so I couldn't let her score."
For the Pride, who managed just three shots on goal, had their best chance in the 26th minute, courtesy of a Marta Vieira da Silva header. Catley first found space down the left flank before sending in a high cross to Marta toward the middle of Houston's box. Marta headed a high-arching, on-target shot toward goal, but Houston goalkeeper Jane Campbell managed to get a mitt on the ball, forcing it to bounce on the underside of the crossbar.
Woman of the Match: Poliana Barbosa Medeiros
Poliana directly assisted on both of the match's goals. The 26-year-old also recorded two shots (one on goal), created three chances and completed 89.2 percent of her 37 passes. She was also instrumental on the defensive side, tallying four tackles. Poliana also drew one foul.
What's next?
The Pride travel to face Sky Blue FC on Wednesday at 7 p.m. In their lone matchup of the season, Sky Blue won 2-1 on May 27.
Tom Sermanni Uncertain If He Will Keep New Formation
A new 4-2-3-1 formation carried the Pride to a two-game winning streak before it ultimately failed the Central Florida side in Saturday's loss. In Sermanni's shape on Saturday, forward Rachel Hill started up top as forward Jasmyne Spencer took her place on the right wing.
Despite Hill producing two shots (one on goal), Orlando was unable to score. That was the first time the Pride were shut out at home since a 1-0 loss to the Chicago Red Stars on July 16, 2016.
For Sermanni, he's unsure of how his team will lineup for its next match.
"I don't know, to be honest," Sermanni said. "You know, this is where you kind of need to go away with a cooler, saner head and not make decisions in the heat of the moment after the game. We need to look at performance. We need to look at how players are feeling, and then we need to decide what we do going into the game at Sky Blue. So it's really—like you do at the end of every game, you start looking to the next game and thinking about what you're going to do.
"Obviously it becomes a bit more difficult when, as I say, I felt today we had, you know, so many players that just didn't play very well. You've got to try and take a step back now. Put your sort of sensible head on and say, 'Okay, what's our team for Wednesdsay?' and then get ready for that game."
Rachel Hill Moves to Top Position in Winning 4-2-3-1 Formation
Hill was moved to the top spot in Sermanni's new 4-2-3-1 formation that generated wins against the Boston Breakers and Dash in consecutive weeks. Before, Hill played on the right wing where Spencer played today.
"One, we felt that she would perhaps be better at getting in behind from that position and also a little bit better then closing down their center-backs when they were playing out from the back," Sermanni said. "And we also felt that Jas on the right, you know, would have had, if she got the ball to her feet, the ability to really go in and take on Cami [Levin] at left-back."
For Spencer, who played that position in the wins over Boston and Houston, she saw Hill continue to battle despite the loss.
"She battled the whole time she was out there," Spencer said after the match. "It was tough for us today. I think we didn't find the ball as often as we have been in the last couple games. But when the happens, you just have to keep working, and she did the whole time she was out there. And you can't really ask for much more."
Cami Levin, Sarah Hagen Return to Orlando in Different Uniforms
Levin and Houston forward Sarah Hagen returned to Orlando City Stadium in non-purple uniforms after having played with the Pride during the preseason and the team's inaugural season in 2016. The Pride traded Levin on April 18, and Hagen was waived by the Pride during the 2017 preseason on April 6.
Sermanni was able to catch up with Levin, her mother and Hagen before and after the 4-2 win a week ago.
"We caught up before the game and after the game in Houston," Sermanni said. "[Had] a good five or 10 minutes with Sarah after the game and caught Cami on the field after the game as well—and Cami's mom… I'm just delighted that they're playing in the league.
"Sports, it's a strange thing. Player have to move around. Sometimes, as a coach, you have to make decisions on what happens with players, but, you know, we were proud that they were part of our team, and we're delighted that they're doing well."
Spencer played on Levin's side during the match. For Spencer, those friendships are everlasting, no matter what uniform they're wearing.
"Definitely after. It was good to see them," Spencer said. "They're both doing well, and they're happy, and we're always going to be friends off the field. But, you know, game time, it's tough. Especially, I was going against Cami, like, all game, but it doesn't change the friendship off the field.
"The only ever time we really spoke is when we were confused about the stoppages in the game. But no real banter between us. It's all clean and friendly."
Highlights
13′ | Another corner results in an effort from Camila and her ball just needs a poke on target. Nobody on the end of it.

0-0 | #ORLvHOU pic.twitter.com/gXURmOMJyA

— Orlando Pride (@ORLPride) June 24, 2017
18′ | Even when Marta is fouled she still manages some nutmeg magic.

0-0 | #ORLvHOU pic.twitter.com/ZXOcBw7c02

— Orlando Pride (@ORLPride) June 24, 2017
26′ | Unreal chance for Marta to take the lead but props to Jane Campbell and the bar on the save.

0-0 | #ORLvHOU pic.twitter.com/FjhA1uCZdr

— Orlando Pride (@ORLPride) June 24, 2017
43′ | 🚨 @stephcatley Save of the Week Alert 🚨

0-0 | #ORLvHOU pic.twitter.com/KpJN3YwfkW

— Orlando Pride (@ORLPride) June 24, 2017
45+2′ GOLAZO!

Poli -> CL -> Back of the net#NWSLonLIFETIME pic.twitter.com/UGwsqFn1ED

— Houston Dash (@HoustonDash) June 24, 2017
62′ G O A L !

Poliana finds Daly inside the box for her first goal of the year!#DashOn pic.twitter.com/9urLdm14ZO

— Houston Dash (@HoustonDash) June 24, 2017
😍#DashOn pic.twitter.com/WOg6KXZyRG

— Houston Dash (@HoustonDash) June 24, 2017
NDR Notes
The Pride suffered their first home loss of the season in the loss to Houston on Saturday.
Levin and Hagen played their first match in Orlando City Stadium in a different uniform after playing with the Pride in their inaugural season in 2016.
In addition to her opening goal, Lloyd also recorded eight tackles.
Scoring
| | | | |
| --- | --- | --- | --- |
| Time | Team | Goal-scorer | Assisted by |
| 45'+ | Houston Dash | Carli Lloyd | Poliana Barbosa Medeiros |
| 62' | Houston Dash | Rachel Daly | Poliana Barbosa Medeiros |
Statistics and Starting Lineups
| | | | | | |
| --- | --- | --- | --- | --- | --- |
| | Goals | Assists | Shots | Shots on Goal | Possession % |
| Orlando Pride | 0 | 0 | 14 | 3 | 51.9% |
| Houston Dash | 2 | 2 | 10 | 4 | 48.1% |
Orlando Pride starting XI (4-2-3-1): Aubrey Bledsoe (GK); Steph Catley, Toni Pressley, Ali Krieger (C), Kristen Edmonds; Alanna Kennedy, Monica Hickmann Alves; Camila Martins Pereira, Marta Vieira da Silva, Jasmyne Spencer; Rachel Hill
Houston Dash starting XI (4-1-2-3): Jane Campbell (GK); Cami Levin, Janine van Wyk, Amber Brooks, Poliana Barbosa Medeiros; Morgan Brian; Janine Beckie, Andressa Cavalari Machry; Kealia Ohai (C), Carli Lloyd, Rachel Daly
---
For more on the Pride and their journey to the top of the table, follow Victor Tan on Twitter at @NDR_VictorTan.