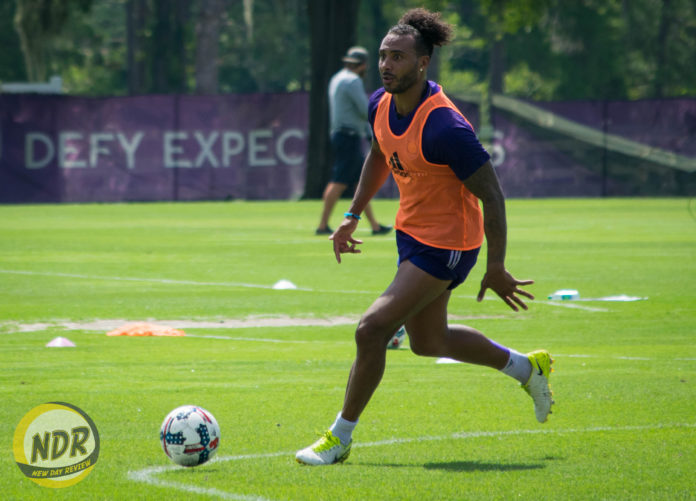 June 27, 2017 at Sylvan Lake Park
HC Jason Kreis
Orlando City SC fell to the Chicago Fire on Saturday 4-0.
[Training on Monday was] pretty good. Yeah, pretty good. Obviously, after that long road trip, can't really expect the guys to do too much today. We didn't ask too much of 'em. Just get 'em going again. Get 'em touching the ball and get 'em with a little bit of smile on their face to remember that we enjoy what we do. We do this job, and it can be particularly stressful at times and strainful and difficult and all that, but, at the end of the day, we still love the game, and we still love what we do.
City forward Cyle Larin was charged with a DUI on June 15. He has since returned from Major League Soccer's Substance Abuse and Behavioral Health program in South Carolina.
Yeah, Cyle addressed the team before the session. So it's obviously nice to have him back and nice to see that he's regretful about his actions, and, as we said before he left, once we take responsibility for our actions and apologize for that, then we forgive, and we move forward.
Looked pretty good. Yeah, looked pretty good. Obviously he's had a week of rest or 10 days of rest. He has some good energy, which is nice to see.
I talked to him on a private level, a couple of occasions before he left to go to South Carolina for the evaluation. But once he was there, you're not allowed to speak to him actually, which I think is a good policy. Lets him focus on the job that they have in front of them. So wasn't able to see him or talk to him until this morning.
Forward Carlos Rivas went down in the Chicago match with an ankle injury.
You're worried any time you're without players with injuries or suspensions or what have you. It causes a concern for a coach, but we believe in all of our players, and we believe that other guys can step forward an do jobs. So, concerned, yes but not losing sleep over it.
Kreis will return to face Real Salt Lake, a side he won an MLS Cup with in 2009, for the first time since coaching New York City FC in a 2-0 loss in 2015. His No. 9 jersey is also retired with the club.
Salt Lake is near and dear to my heart. Utah, in general. It's where my kids grew up. That's where I got my start as a coach. That's where a lot of good things happened for seven years coaching and two years playing, so nine years. So very long time. So, place that's very fond to me and for me. Going there will be nice, but it's been, I think, four years or something like that since I left. So, it's not like it's that fresh in my mind.
Despite being one of the worst teams in the league, RSL is still an opponent that Kreis said needs to be treated with "the utmost respect."
Very good team at home, as all teams are. The altitude causes some consideration as well as a team that I think, just like any other team in this league, every other team in this league, on their day, can be very, very good. So, we need to treat this opponent with the utmost respect, and I don't think that should be hard for us to do, walking into this game off of a 4-0 drubbing. And so our players should be very focused and should be very intent on providing a better performance than we did Saturday night.
The Lions just finished a stretch of three games in a matter of seven days. They now have six days' rest until Friday's game against RSL.
It's very nice to catch a little bit of a breather here and get back to what I think is a more regular schedule. For our players, I think there's probably no hiding from the fact and not calling it a coincidence that things were going very well for us when we were in a regular rhythm, and as soon as we started to having play three matches in a week for a lot of weeks, we've struggled. And so I think that that is something for us to consider as well.
For Kreis, Gil is a player who has had very good and very bad moments.
You know, Luis is just like every other player on this team for me. He's had some good moments, and he's had some bad moments. The good moments have been very good, and the bad ones have been very bad. And so it's—we all know what we're capable of, individually and collectively, and Luis knows what he's capable of individually, and I know what he's capable of individually, and it's probably not consistently as high as it's should have been. But that goes for every player on the team, as well as the coaches.
After his team's match against Chicago, Kreis said the way MLS schedules certain games imposes a "massive competitive disadvantage" on his team.
I wasn't eluding to the traveling being so much a massive competitive unbalance because it is what it is. We have to travel to play Chicago. Chicago has to travel to play us. A season-long, competitive-balance situation, that's even. Now, certainly, I think the answer is obvious that if we could move to chartered flights for all the teams, then you really limit a lot of the extra time that you're spending in airports for delays: weather delays, mechanical delays, flight cancellations. Those things all go out the window. And so I think, from that perspective, you really limit it.
But what I was speaking to is that we played Chicago, now, twice this season. We only play 'em twice, right? And for us to play that same opponent on three days' rest when they're on seven day's rest, for me, twice in the season, that doesn't make any sense. It doesn't make any sense that really anybody should have to play a weekend game when they play a midweek game and their opponent does not. Those things, I think, are details that seemingly, to me anyway, as a pretty simple mind—but, to me, anyway, as you could sort through those details and make the schedule more balanced from that perspective.
For Kreis, he won't be visiting any of his old hangouts while in Utah.
A little difficult because my family lived in Park City, which is a 30-minute drive. So all of our regular haunts are 30 to 40-minute drive away, which I won't be going out there. So, when we're in Salt Lake, it's mainly seeing a couple of very, very close friends and then enjoying the atmosphere of the game, which is a terrific one. It's a good stadium and a great crowd.
The last time Kreis went skiing was when he didn't have a job.
I did not. I did not. The last time I got to ski, actually, my family went back on a spring-break ski strip when I was out of a job for six months. So we'll hope for not having to do that or not getting to do that in the future.
F Giles Barnes
For Barnes, Chicago just has to be taken as a blip.
Just have to look at it as a blip, you know. Figure out what the problem was. You know, maybe the energy wasn't quite there. We had a tough few road games and few games, in general. You know, we can go back to just before the Miami game. It's been a long stretch for us. So we have to just recoup, regen and get ready for the weekend.
A lot of it's correctable. I think it all starts from our energy, you know. I hate to say it. You know, it's not through a lack of trying. That's definitely not what this group's about. I think it was a lot to do with the travel and playing on the games, and obviously we played on turf the game before. Takes a lot more out of you. So, you know, the boss has made sure everyone gets a good workout today. Few of the rested legs that played the full 90 were ready and rearing to go.
It's not about RSL, for Barnes; rather, it's about a focus on his own team.
Yeah, you know, RSL, they're always a good passing, flow, moving team. But we've not got really focus on them. We gotta focus on what we did wrong and make sure we eradicate that.
When asked about Gil as a player, Barnes described him as "technical."
Luis's a good technical player. Works hard. Very intelligent. Finds little pockets, finds little gaps. Always in the half term. Is a very good thinking player. As I said, very technical.
Larin spoke with the team before his first training session back on Monday.
Good. Good to see the big man back out there. Back smiling. Back working hard. He's over there putting in a shift. He's been away for a week or so. Obviously, he's learned his lesson, and he just wants to come and contribute to the team.
You know, sometimes you need that little bit of alone time. But, you know, we spoke as soon as he landed yesterday. He knows where he went wrong. It won't happen again. And, as I said, he's back working hard with a smile on his face.
He spoke to everyone. Cyle's a big gentleman. You know, as I said, he realizes he made a mistake. He apologized to the whole group. And, you know, we obviously don't agree with what he did, but the way he's handled himself, and the way he's conducted himself since he's been back is a credit to him.
After the Lions face RSL on Friday, City will return to a relatively tamer schedule. It begins with a midweek matchup with No. 1 Toronto FC before a two-week break ensues.
As i said, it's been tough, you know. Obviously, we look to go away and get three points, and then you look at the road games that we've had. You get three points. You get a point in Seattle. Four points on the road. You look at that as like a decent turnover, and obviously we start our home run again.
For Barnes, traveling in MLS comes down to what the league decides.
I don't think it's up to the clubs. The clubs would have the players travel how they want them to travel, you know. It's up to the league to decide. Maybe something they look over the next few years.
Even after experiencing early-season, grueling stretches with Orlando City, Barnes doesn't see this as being out of the norm.
You know, I think it's pretty much the same every year. I think I've kinda been fortunate, apart from my little stint in Vancouver where everywhere was a very big travel, to be pretty close to everywhere, but that still doesn't make any easier, you know. We have flight delays, cancelled flights, that kind of thing that comes into play, and you can't control it. That's just something, you know, it's not in your power. But as I said, we just have to focus on what we can control and move on from there.
For Barnes, his team's lack of getting a result is not from a lack of trying.
Obviously, it's not from a lack of trying. So when you're out there, it's not, "The boys aren't thinking to each other. No one's really trying. No one's really moving." Because everyone's still trying 110 percent. I just think it was that little bit of energy that we was lacking, and I think that was probably due to the travel.
MF Luis Gil
Gil is simply trying to put past games in the past.
It's good. You know, it's difficult. Obviously we're trying to put that in the past. We're trying to move on for this next game. Well, like I said, we just gotta put it right behind us.
I mean, that's the thing about, you know, this game. It's like you always have another game to bounce back on. But we gotta learn from our mistakes as well. They handed us a big loss over there. But, at the same time, we gotta give them credit. They played a really good game, and it didn't seem like we really came out. But, you know, like I said, we're out here working hard, and we gotta do our best for this next game.
Gil said there was a "lack of commitment and energy" in the Chicago loss.
You know, we did a lot of traveling and stuff like that. I thought we could've had the energy for the Chicago game, but, for some reason, there was just that lack of commitment and energy, like you said. So, we gotta work on it. We're still grinding during trainings. We're still working hard. So, we gotta put our best foot forward.
It's about finding a balance on the road, for Gil, to get the desired results.
We gotta find that balance, though, on the road. Sometimes we've had that tough times on the road when we had those back-to-backs. We gotta find that balance mentally and physically. And also tactically. Like I said, we're working on it.
When it comes to personal evaluations, Gil said he likes to be hard on himself.
Honestly, I like to be hard on myself. It's been kind of up-and-down. I need to find that consistency. You know, sometimes coming off the bench, obviously it plays a different role, as well, depending on what the score is and stuff like that. I feel like the chances that I've gotten, you know, sometimes I haven't really been taking advantage of them.
You gotta earn your playing time, you know. Obviously, you know, I'm working hard during trainings, giving it my all, but, when it comes to game time, that's when it really matters.
Before joining Orlando City, Gil started his career with RSL, playing for the Utah side from 2010 to 2015.
It's gonna be cool. You know, obviously, I have to get focused, though, with this team. I'm here. We're at a tough time, as well, where we want to get a result on the road. So, it'll be fun, but I'm just trying to focus on us.
You know, it's a little different from the time that I left from what they're doing now. They're a pretty tough team at home, you know, and then the altitude, as well, doesn't help. But, you know, they're a team that can really play the ball, and when they're in sync, they can really do some damage.
With regard to the elevated altitudes in Utah, Gil said it's simply something his team will have to get used to.
I mean, not really. Obviously we like to get there a little bit early, try and get used to it. But, you know, it is what it is. Might be their advantage, but, I mean, we're both on the field, so it's what we do with the ball and be smart with it.
Gil said his team has players it can rely on when his team has to travel a lot or when the scheduling provides multiple games in so few days.
It's tough to say. You know, obviously it's tough to travel like that, but that's why you have a full roster of players. You know, everybody has to be committed to it, and, you know, when we do have that rotation of players, be as precise as you can and as good as possible on the road.
For Gil, it's exciting to have Larin back with the team.
It's awesome to have him back. We're here to support him through his good teams and his bad times. It's a difficult time for him, but, you know, we all have our ups and downs, whether it's on the field or off the field. Life's full of mistakes, but it's what we learn from them. But we're a family. We're here to support him, and I'm honestly excited to have him back.
---
For more on Orlando City as they approach their final of three road games before returning home, follow Victor Tan on Twitter at @NDR_VictorTan.