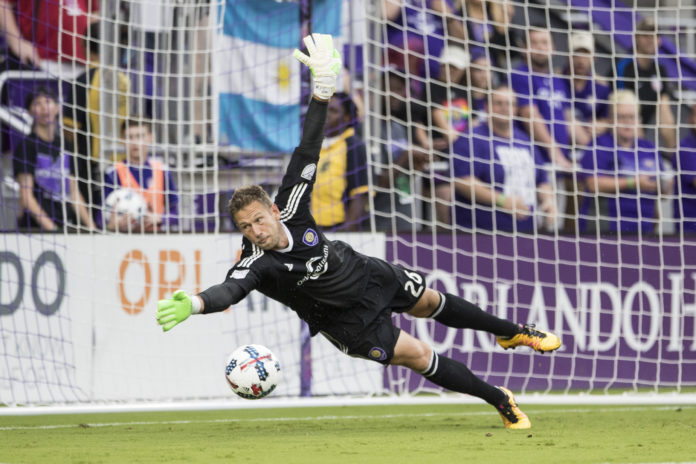 (Photo by Joe Petro / Orlando City SC)
Match Recap
ORLANDO, Fla. – Historically, Orlando City SC has done well in their opening matches in the U.S. Open Cup. A different story was told Wednesday night, though, as Orlando City SC lost its first opening Open Cup match in club history, dating back to 2011. Miami FC defeated Orlando City 3-1 at Orlando City Stadium in front of 5,838 people.
For head coach Jason Kreis, this was the "most disappointing" performance he has seen since taking over as the Lions' head coach.
"For me, this is the most disappointing night that I've had since I've been in Orlando and been involved with this club and coaching this team," Kreis said after the match. "And I want to take full and 100-percent responsibility for it. There are three things that the coach is tasked with for the players: We need to have the players ready physically, we need to have the players ready mentally, we need to have the players ready tactically.
"From my point of view, we did not do our jobs tonight. And so we as a coaching staff take 100-percent responsibility for that. And, at the same time, we also say that Miami was the better team—clearly the better team."
Miami's chances came quickly and early, as the North American Soccer League side tallied 10 shots (four on goal) to City's two (one on goal) in the first half. Those efforts became tangibly recognizable when Miami claimed a 2-0 halftime lead, courtesy of goals by Stéfano Pinho.
Pinho scored his first of three in the 30th minute when Miami captain Michael Lahoud sent in a low, grounded cross past goalkeeper Josh Saunders. Waiting on the back-post was Pinho, who slid into the box for a 1-0 lead.
No more than six minutes later did Pinho score again from the back-post. This time, Hunter Freeman crossed it from the right flank and found Pinho's head for the 2-0 lead.
"[Miami] deserves a tremendous amount of respect and admiration for [their performance], as disappointed as we are and as difficult that is to say." Kreis said.
In the 55th minute, Pinho completed his hat-trick off an assist by Robert Kcira. Kcira chased a ball down the left flank that looked like it was out of reach and delivered a cross into a cutting Pinho. The Brazilian then shot it past Saunders for a 3-0 lead.
"We can't really put it into words right now," City forward Giles Barnes said after the match. "You can call it…whatever you want. That's gotta hurt us deep down. That's gotta play on your mind for a couple days, and that's gotta be a motivation for getting back into training tomorrow morning and putting everything to action to make sure that that's out of everyone's head by Saturday because, you know, that—that can't happen."
City's lone goal came off a corner kick delivered by Carlos Rivas from the right in the 79th minute. Rivas sent a low cross toward the edge of the six-yard box where Barnes was waiting. Barnes headed the ball behind and to his left past the outstretched arms of Daniel Vega.
Man of the Match: Stéfano Pinho
Pinho was instrumental in Miami's win over Orlando City, tallying a hat-trick. He scored two of his goals in the first half in the 30th and 36th minutes and completed his hat-trick in the 55th minute. Pinho finished the match with five shots (four on goal), completed 75 percent of his 24 passes and recorded a tackle.
What's next?
Orlando City will resume MLS play with a home match against the Montreal Impact on Saturday at 7:30 p.m.
Training Is Key to Orlando City Rebounding
"Get yourself on the pitch."
For Barnes, simply training is key to bouncing back after a loss as disappointing as the one the Lions suffered Wednesday night.
"You gotta get yourself on the training pitch. You gotta work as hard as you can," Barnes said. "Really put yourself to it, you know, and get on the pitch as soon as possible… Go on and enjoy yourself and work hard, and that's what you've gotta do. You gotta get this out your head, but you gotta use it as motivation to kick on for Saturday."
Said Kreis on motivating his team for Saturday's match against the Impact: "One would hope that it's not going to be difficult to motivate the players for Saturday night. It's a massive, massive match. We have three road games behind it, and it will be absolutely critical that we do our jobs to get the team ready and we take all three points."
Highlights
79′ | GOAL CITY! Giles brings one back for the Lions!

1-3 | #ORLvMIA pic.twitter.com/FKZ9Lt0kbX

— Orlando City SC (@OrlandoCitySC) June 15, 2017
NDR Notes
Pierre da Silva started his first match for the first team this season. He came on as a substitute for one minute in a 2-1 win over the Philadelphia Union earlier this season.
Hadji Barry's start against Miami was his fourth appearance for the MLS side this season. Its his first match since a 2-1 win over the Los Angeles Galaxy on April 15.
City's loss to Miami on Wednesday was its first loss in an opening Open Cup match ever, dating back to 2011. Every other year, City has won at least one Open Cup match.
Scoring
| | | | |
| --- | --- | --- | --- |
| Time | Team | Goal-scorer | Assisted by |
| 30' | Miami FC | Stéfano Pinho | Michael Lahoud |
| 36' | Miami FC | Stéfano Pinho | Hunter Freman |
| 55' | Miami FC | Stéfano Pinho | Robert Kcira |
| 79' | Orlando City SC | Giles Barnes | Carlos Rivas |
Statistics and Starting Lineups
| | | | | | |
| --- | --- | --- | --- | --- | --- |
| | Goals | Assists | Shots | Shots on Goal | Possession % |
| Orlando City SC | 1 | 1 | 9 | 2 | 54.2% |
| Miami FC | 3 | 3 | 17 | 7 | 45.8% |
Orlando City SC starting lineup (4-2-3-1): Josh Saunders (GK); Victor "PC" Giro, Léo Pereira, Jonathan Spector (C), Rafael Ramos; Servando Carrasco, Antonio Nocerino; Hadji Barry, Luis Gil, Giles Barnes; Pierre da Silva
Miami FC starting lineup (4-3-3): Daniel Vega (GK); Mason Trafford, Rhett Bernstein, Hunter Freeman, Michael Lahoud (C); Dylan Mares, Richie Ryan, Robert Kcira; Vincenzo Rennella, Kwadwo Poku, Stéfano Pinho
---
For more on Orlando City and how the team will bounce back in MLS play, follow Victor Tan on Twitter at @NDR_VictorTan.