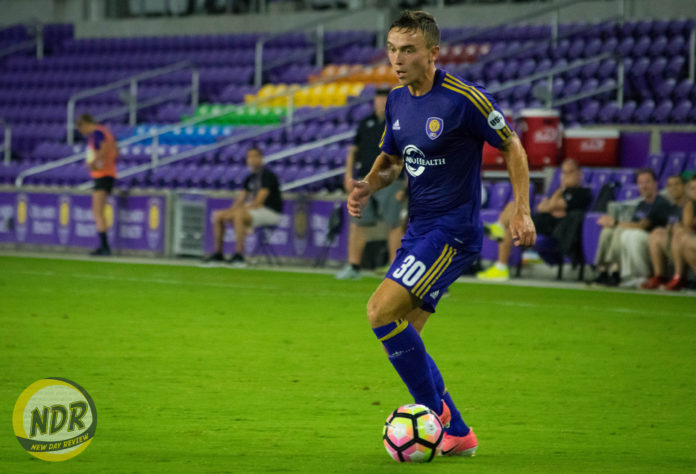 (Photo by Victor Tan / New Day Review)
Match Recap
Entering Wednesday's noon matchup against Toronto FC II, Orlando City B regarded the Canadian side as a team not to be taken lightly, despite their then-last-place standing. There was certainly cause for the United Soccer League Lions' concern, as TFC II (2-7-5, 11 points) defeated OCB (4-5-4, 16 points) 1-0 at Ontario Soccer Centre.
TFC II opened the scoring early with a ninth-minute goal. The effort began when Tsubasa Endoh received a pass in OCB's half of the field and delivered it to an open Ryan Telfer down the left flank. Telfer then took a touch and crossed it into the box to Jordan Hamilton, who chested it down and struck it with his left foot past goalkeeper Jake Fenlason.
OCB had many more opportunities to equalize in the second half, compared to the first, as their more-aggressive form produced significantly more chances. After notching just one shot (one on goal) in the first half, OCB unleashed seven shots (three on goal) in the second half but still couldn't manage an equalizer.
A 50th-minute attempt for OCB was the closest the USL Lions got to a score. After midfielder Danny Deakin received the ball back to the right corner, following a short-corner delivery, he arced a high-flying cross to the back-post and found the head of Michael Cox. The second-year OCB forward's attempt forced TFC II goalkeeper Angelo Cavalluzzo to make a diving save. One final touch on the ball toward the back of the Canadian side's net was deflected away from inside the goal by center-back Brandon Aubrey.
Cox led the way for OCB, tallying three of the team's four shots on target. Center-back Zach Carroll recorded the other.
Despite not scoring the lone goal of the match, Endoh provided TFC II with an offensive outpouring that was enough to help the Toronto side to its second victory of the season. He finished with six shots (three on goal) and completed 90.6 percent of his 32 passes. Endoh also produced on the defensive side, blocking two shots.
What's next?
OCB will play in Canada, again, when the team travels to face the Ottawa Fury on Tuesday at 11 a.m.
Seb Hines Suffers Right-knee Injury
Starting center-back Seb Hines went down with a right-knee injury within the first minute of the match. Hines received a pass from left-back Zachary Ellis-Hayden and sustained a non-contact injury as he slipped upon receiving the ball. The Wetherby, England, native was replaced by Conor Donovan.
Hines had arthroscopic knee surgery on his right knee on March 13.
So far this season, he has played 305 minutes and has started all five of his appearances for OCB. This comes at what may be considered a crucial point in the year for the club, as its Major League Soccer side is about to embark on a four-game stretch over the next 10 days. That stretch includes a fourth-round U.S. Open Cup matchup with Miami FC on Wednesday at 7:30 p.m.
Jake Fenlason Makes 2017 Debut
Fenlason let up the only goal of the match, but his performance kept OCB in the game until the end. He saved three of the four on-target shots that came his way Wednesday. He is the second goalkeeper OCB has used in as many games, as Josh Saunders also made his 2017 debut in a 1-1 draw with the Rochester Rhinos on June 7.
Perennial OCB starting goalkeeper Earl Edwards Jr. is currently second in the league in saves with 37.
Highlights
Ja-Ja-Jay Hams. #TFCLive | #TORvORL pic.twitter.com/U8lahGbrhb

— Toronto FC II (@TorontoFCII) June 14, 2017
Wrecked.

1-0 | #TORvORL pic.twitter.com/tRHGpuiQD1

— Orlando City B (@OrlandoCityB) June 14, 2017
😳 @Liam_Fraser7 #TFCLive | #TORvORL pic.twitter.com/83MgpfAyet

— Toronto FC II (@TorontoFCII) June 14, 2017
Cavalluzzo and Aubrey combine to keep the Lions out. #TFCLive | #TORvORL pic.twitter.com/E0ysqzY0RJ

— Toronto FC II (@TorontoFCII) June 14, 2017
Inches…

1-0 | #TORvORL pic.twitter.com/LfbYW96kh0

— Orlando City B (@OrlandoCityB) June 14, 2017
86′ | Class save from Fenlason!

1-0 | #TORvORL pic.twitter.com/ISFabog1zB

— Orlando City B (@OrlandoCityB) June 14, 2017
NDR Notes
Fenlason made his first appearance for OCB this season.
Hines injured his right knee, again, after undergoing arthroscopic knee surgery on the same knee in March.
OCB assistant coach Rob Valentino was listed on the bench for Wednesday's match.
TFC II's win on Wednesday was its second win of the season. The Canadian side was previously in last place in the Eastern Conference.
Scoring
| | | | |
| --- | --- | --- | --- |
| Time | Team | Goal-scorer | Assisted by |
| 9' | Toronto FC II | Jordan Hamilton | Ryan Telfer |
Statistics and Starting Lineups
| | | | | | |
| --- | --- | --- | --- | --- | --- |
| | Goals | Assists | Shots | Shots on Goal | Possession % |
| Toronto FC II | 1 | 1 | 11 | 4 | 47.0% |
| Orlando City B | 0 | 0 | 8 | 4 | 53.0% |
Toronto FC II starting XI (3-4-2-1): Angelo Cavalluzzo (GK); Robert Boskovic, Brandon Aubrey, Mitchell Taintor; Ryan Telfer, Brian James, Liam Fraser, Jordan McCrary; Sergio Camargo, Tsubasa Endoh; Jordan Hamilton
Orlando City B starting XI (4-4-2): Jake Fenlason (GK); Scott Thomsen, Zach Carroll, Seb Hines, Zachary Ellis-Hayden; Danny Deakin, Ryley Kraft, Jordan Schweitzer, Austin Martz; Michael Cox, David Loera
---
For more on OCB as they look to bounce back from a loss to one of the worst teams in the league, follow Victor Tan on Twitter at @NDR_VictorTan.