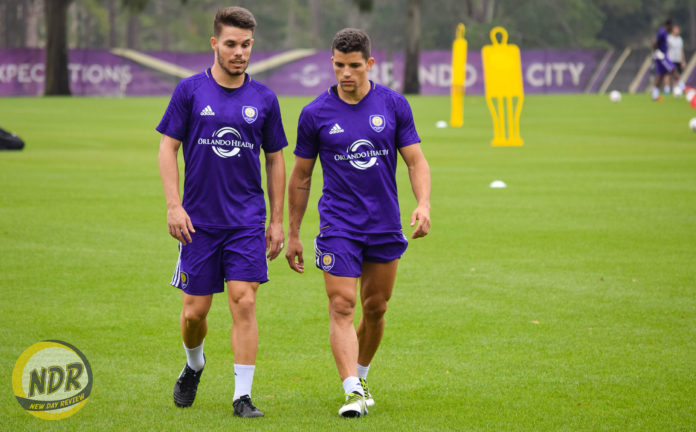 (Photo by Victor Tan / New Day Review)
June 12, 2017 at Sylvan Lake Park
HC Jason Kreis
Following a 0-0 draw with the Chicago Fire on June 4, Orlando City SC underwent a relatively unfamiliar 10-day break.
Good that we had a day off. Sunday was off. Saturday we trained. But, yeah, kind of nice to have a weekend where you don't have a game. The only problem is you tend to ask yourself every morning what day of the week it is. But we've got it figured out now. It's Monday. Start of a brand-new work week. Game Wednesday night; really important for us. And then a big game on Saturday as well.
City will host Miami FC in the fourth round of the U.S. Open Cup on Wednesday at 7:30 p.m.
I think it's easy to see why they're top of the table in the [North American Soccer League]. It's the best team in the NASL. It's a team that's very, very good with the ball. Have some players that are really dangerous. We know one of them quite well in [Kwadwo] Poku. But the two strikers that play in front of him, I think, both are very dangerous strikers—and a team that's, as I said before, is really good in possession and moves the ball well. So, it will create, what I'm sure, is gonna be a very difficult challenge for us.
For Kreis, the month of June will be "even more stacked with games," compared to May. In May, City played seven matches, finishing with a 1-4-2 record.
There's no doubt—we thought the month of May was difficult, but, to me, the month of June looks even more stacked with games if we advance the way we plan to in the Open Cup final. So, another game in there. So, we're basically looking at the possibility of two games a week for the next many weeks. And that just means all hands on deck. Every player that's in our roster should be contributing in some fashion. And we expect 'em to step up and take their opportunities.
Kreis has confidence in all of the players on his roster during an upcoming stretch of at least four games in the next 10 days.
As I said, we have a lot of players right now that we believe in. And we have a lot of players that have played first-team matches in MLS this season. So [we] don't believe that we're gonna be asking anybody to do something that we're gonna be completely unaware of. We're not rolling the dice, by any means, by playing anybody. So it does become a question of—with this many matches in this short a period of time, I don't believe that you can play the same lineup in every single match. So we need to figure out how many of those players we can rotate and when best to rotate them and which matches are best for each individual player.
Left-back Victor "PC" Giro scored the game-winner in the 120th minute in the Round of 16 of the 2016 U.S. Open Cup against Orlando City.
I don't think that was one of the games that we evaluated. We evaluated the Jacksonville game, but we didn't evaluate the Tampa game, for whatever reason that may be. But I have seen the goal 'cause obviously we evaluated PC, and that's why he's here. Quality player, for sure. So, yeah, that's all I can say about that, I guess.
Monday marks the one-year anniversary of the Pulse nightclub shooting.
I said when I came here, and I'm not sure whether people believe me or not, but the club being such an integral part of the community was a big, big factor in why I came. I like that. I really think it's a special situation. The club can be connected with the community, and the team can feel connected to the community. We can all feel like we're one big family. And that's the way we feel. So really, really pleased to see us taking part in a lot of the activities today.
DF Jonathan Spector
For Spector, the break was "nice" after a performance like his team had against Chicago.
It was a good break for us. It was nice, obviously, with the result we had. We would've liked to win, but, at the same time, it was a difficult game for us for a lot of reasons. But I think we showed what we're all about, really with the team spirit, the togetherness. We do what we needed to get the best result we could've out of the circumstances against Chicago. So, it was nice after that hard-fought performance to get a few days.
In the upcoming stretch of four games, Spector sees there's a lot to play for.
Yeah, I mean, there's a lot of points to pick up for us in a short period of time. I think that's the way we're looking at it, the way we have to look at it. There's a lot to play for. Hopefully we can continue to climb the table. But, certainly, the performance will give us a lot of encouragement going forward, knowing that we can defend with two less men and get a result for a large portion of the game. Certainly means a lot to us as a group.
Spector sees the Open Cup as an opportunity for players to compete and prove they're good enough for a starting role.
Obviously I've never played in it, but, certainly, I followed the league. I know all about it. And I think it's a good platform for some guys, maybe, who, perhaps, haven't played as much to make a stake and a claim for a starting position. So, for a lot of guys, there's a lot to play for. And, just as a group, to continue to build on what we've done so far; continue to be better with the ball and continue to defend well as a group.
DF Rafael Ramos
Ramos sees the quality in a team like Miami, especially when it comes to ball contrl.
Think they're a pretty good team. We just had a look this morning to their shape and the way they play. They're really good with the ball. We'll try to exploit their spaces in behind their backs, in behind their midfield, but I think they're pretty good, and they're in first spot in the league, in NASL, so good challenge for us.
For Ramos, the Open Cup is "very important" to the team.
It's very important for us. It's single competition where you win, and you go through. Of course we don't want to lose, and we don't want to stop now 'cause it's our first game in the U.S. Open Cup and especially in our home. We want to go as far as we can, and I believe we can go pretty far.
The Open Cup is significant enough to warrant the team's focus on just Wednesday's match and not on Saturday's home bout with the Montreal Impact.
No, one game at a time. We're focusing on Miami right now, and we're training for that game, and, after that, we'll look to the other one.
Ramos recognized it had been a while since his team had a week without a game.
It feels good. It feels good. For a long time, we haven't had a week with no games. It's good to recover and to get all the boys back and rested for this week.
For Ramos, the Pulse nightclub shooting is something he and the club will always remember.
It's very important. It will be very important for us as well. Last year we played the first game after that tragedy, it was Orlando City game, and I think we gave a pretty good response to it. And the response that the community has shown is unbelievable. Everyone's together for this one part. And this club, especially—the things that they have done for the community and for that exact happening. It was just great—the 49 seats in the stadium. We'll always remember that day, and we'll win again this year.
In 2016, the Lions lost 2-1 to the Fort Lauderdale Strikers in the Open Cup, courtesy of a goal by PC.
It was bad. It's one of those games that if you don't take them seriously, they can cause you trouble, and that's what happened last year. We started slowly, we conceded in the first 10 minutes, I believe, and then we went after it. We did pretty good in the second half, but they defended until the end, and they scored. I believe it was PC. PC scored.
When he came here, first day, that's the first thing I remember about him, (jokingly) and I just told him I wanted to punch him. I hope he scores again this year but for us.
---
For more quotes from Ramos and his desire to punch PC, follow Victor Tan on Twitter at @NDR_VictorTan.