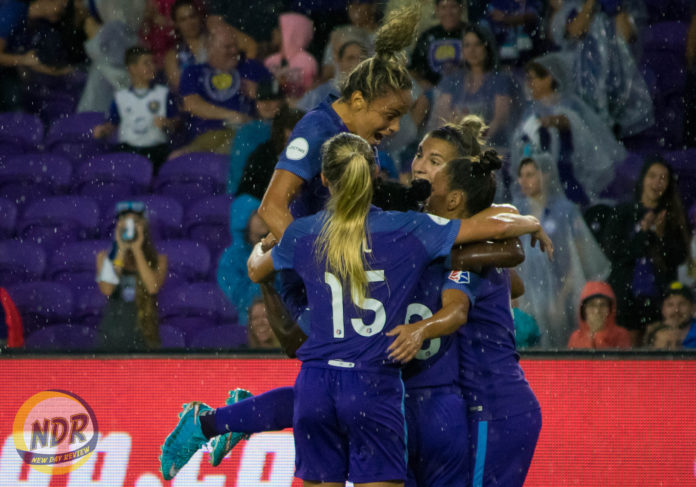 (Photo by Victor Tan / New Day Review)
Match Recap
ORLANDO, Fla. – Rain or shine, Saturday's match at Orlando City Stadium looked like it was always going to be a match the Orlando Pride were destined to win. Orlando (2-3-3, 9 points) created scoring chances early and often, notching two goals in the first 15 minutes en route to a 2-0 win over the Boston Breakers (2-4-2, 7 points) in front of 5,185.
"I was really delighted with the way we started the game tonight," Pride head coach Tom Sermanni said after the match. "We started it and showed real intent and were rewarded for that by the two early goals. It was great to have a clean sheet. Can't remember exactly when we had one of those before. It's been some time. And our first-ever penalty after 28 games in the [National Women's Soccer League]. Things are looking up."
Forward Marta Vieira da Silva got the scoring started early for the Pride after forward Jasmyne Spencer slipped a through ball into the Breakers' box in the eighth minute. When Boston goalkeeper Abby Smith came off her line to challenge Marta, the Brazilian attempted a move to her right before she was taken down inside the box for a penalty kick, the Pride's first-ever in team history. Marta struck the ball to the left for a 1-0 lead in the ninth minute.
No more than five minutes later did the Pride score again with an assist coming off the foot of Pride leading assister Camila Martins Pereira. Camila notched her third assist of the season, slotting the ball into a cutting Spencer in front of the face of Smith's net.
"Camila's a great player, and she has great vision," Spencer said after the match. "So every time she gets on the ball, I just try and get in position 'cus I always know that she's going straight for goal, either for herself or looking for me or anybody else. So, yeah, I was just like, 'Get there. Get there.'"
The Pride's offense wasn't the only facet of their game working, as they out-shot Boston 17-8 (6-3 on goal). Orlando also recorded its first clean sheet since June 23, 2016, when the Pride defeated the Houston Dash 1-0.
"The team just played incredible today," said goalkeeper Aubrey Bledsoe after the match, who is making her second start this season. "Every player on the field just gave it their all. Looked really solid. We were waiting for this breakthrough performance, and it's been a longtime coming. And, honestly, they made my job easy today. So, that shutout was a total team effort, and everyone deserves a credit for it."
Said Sermanni on Bledsoe's performance: "First class. I mean, I think she had a terrific game last week [in a 2-1 loss to Sky Blue FC]. No fault in any of the goals last week. And tonight, again, I thought she was flawless… What she did do she did exemplary. Any crosses that came in, in difficult conditions, under pressure—her handling was first-class, her decision-making was really good, and I think the way she controlled the game from the back was excellent."
Woman of the Match: Marta Vieira da Silva
Marta provided Orlando with the first goal of the match, scoring Orlando's first-ever penalty. Her effort on the ball was exemplified by her game-high five shots and game-high five shots on goal. She also took six corner kicks and drew a foul.
What's next?
Orlando travels to face the Houston Dash for the first of a home-and-home series against the No. 9 team in the league on June 17 at 8:30 p.m. The Pride will host Houston on June 24 at 4 p.m.
Unorthodox Lineup Yields Winning Result for Orlando Pride
Entering Saturday's match, the Pride saw significant lineup changes. For the first time this season, Kristen Edmonds played at right-back. Perennial starting center-back Alanna Kennedy also started in the midfield.
For Sermanni, it's not a formation he's sure he'll stick with, but he'll at least consider it.
"I don't know. As the first part of the scenario for the next game, there's two things that we need to make sure: Get everybody fit and healthy and then look at what we feel we need to do tactically against Houston," Sermanni said. "It would probably be difficult to make changes from the team that started tonight, however, that's not to say we won't be doing that.
"But the versatility, I think, is important, particularly in the modern-day game and particularly how we want to play. And I think you saw it tonight with Kristen Edmonds being able to slot into right-back and play very well. Alanna Kenendy, I thought, was outstanding in midfield. I thought she showed real composure, talent and vision when she was on the ball, and I think she's another player that can play in several positions."
Spencer saw the lineup from Saturday's win as "relentless" on the defensive side. But, like Sermanni, she's unsure of what future lineups will be like.
"I think today, just, we were a little bit more focused. We took care of things that we needed to take care of, and we were relentless defensively," Spencer said. "Like, we didn't give them anything, and I think that was something that we were missing in the previous games. But anybody who's on the field for us contributes just the same amount of work ethic, and, going forward, I can't say if we're gonna be in the same lineup. Who knows? It depends on who were playing, but I know that every other girl in the team is gonna give the same amount of effort."
Highlights
Looking back on Marta's first tally at Orlando City Stadium. #ORLvBOS pic.twitter.com/JqXOMegLO3

— Orlando Pride (@ORLPride) June 4, 2017
Calm, cool, and slotted. That's how it's done.

1-0 | #ORLvBOS pic.twitter.com/CIOZ5mTuKy

— Orlando Pride (@ORLPride) June 3, 2017
13′ | GOOOOOOOOOAL! Camila —> Spencer. Pride not letting Boston breathe tonight.

2-0 | #ORLvBOS pic.twitter.com/CrGnIvpSe1

— Orlando Pride (@ORLPride) June 3, 2017
We like this @camilinha94mp to @Jas_it_Up connection. #ORLvBOS pic.twitter.com/Y2kiItravA

— Orlando Pride (@ORLPride) June 4, 2017
Love all around. #FilledWIthPride #ORLvBOS | 2-0 pic.twitter.com/H8IsSpK5Kd

— Orlando Pride (@ORLPride) June 3, 2017
20′ | Capt. says NOPE.

2-0 | #ORLvBOS pic.twitter.com/hQ4WGmfnRU

— Orlando Pride (@ORLPride) June 4, 2017
32′ | What a sequence. Kennedy with the sauce, Catley with the service, and Hill almost with the plating!

2-0 | #ORLvBOS pic.twitter.com/J1QKlv0Lo5

— Orlando Pride (@ORLPride) June 4, 2017
44′ | Super casual from Marta, y'know. Featuring the twirl.

2-0 | #ORLvBOS pic.twitter.com/v3lxrYTQp3

— Orlando Pride (@ORLPride) June 4, 2017
54′ | Just Marta being… Well, Marta.

2-0 | #ORLvBOS pic.twitter.com/aWsYpylSPV

— Orlando Pride (@ORLPride) June 4, 2017
56′ | The Rook is starving for a goal. We just feel it coming.

2-0 | #ORLvBOS pic.twitter.com/WZNsbl3itW

— Orlando Pride (@ORLPride) June 4, 2017
58′ | Camila just a taaaad wide. Momentum seems to be ever growing tonight for the ladies.

2-0 | #ORLvBOS pic.twitter.com/J2NCsyOfEc

— Orlando Pride (@ORLPride) June 4, 2017
75′ | Easy collection for Bledsoe. Not even a little care for the Breaker forwards intentions.

2-0 | #ORLvBOS pic.twitter.com/g7xZCfqtLf

— Orlando Pride (@ORLPride) June 4, 2017
82′ | Corners on Corners. Kennedy might be hungry for one too from the looks of it.

2-0 | #ORLvBOS pic.twitter.com/QKjD8tULp5

— Orlando Pride (@ORLPride) June 4, 2017
84′ | Hills Hunger Count: breaking the scale at this point.

2-0 | #ORLvBOS pic.twitter.com/kWwQicnhfc

— Orlando Pride (@ORLPride) June 4, 2017
NDR Notes
Marta's penalty-kick goal to open the scoring in Saturday's win was the Pride's first-ever PK awarded and scored to the Pride in team history.
All NWSL matches ended in 2-0 scores on Saturday.
Orlando's 14 corners on Saturday is a single-game Pride record.
The Pride recorded their first clean sheet since a 1-0 win over the Houston Dash on June 23, 2016.
Scoring
| | | | |
| --- | --- | --- | --- |
| Time | Team | Goal-scorer | Assisted by |
| 9' | Orlando Pride | Marta Vieira da Silva | PK |
| 13' | Orlando Pride | Jasmyne Spencer | Camila Martins Pereira |
Statistics and Starting Lineups
| | | | | | |
| --- | --- | --- | --- | --- | --- |
| | Goals | Assists | Shots | Shots on Goal | Possession % |
| Orlando Pride | 2 | 1 | 17 | 6 | 55% |
| Boston Breakers | 0 | 0 | 8 | 3 | 45% |
Orlando Pride starting XI (4-2-3-1): Aubrey Bledsoe (GK); Steph Catley, Toni Pressley, Ali Krieger (C), Kristen Edmonds; Alannah Kennedy, Monica Hickmann Alves; Camila Martins Pereira, Marta Vieira da Silva, Rachel Hill; Jasmyne Spencer
Boston Breakers starting XI (4-1-4-1): Abby Smith (GK); Brooke Elby, Christen Westphal, Amanda DaCosta, Julie King (C); Angela Salem; Tiffany Weimer, Rose Lavelle, Amanda Frisbie, Natasha Dowie; Emilie Haavi
---
For more on the Orlando Pride as they battle to the top of the NWSL standings, follow Victor Tan on Twitter at @NDR_VictorTan.