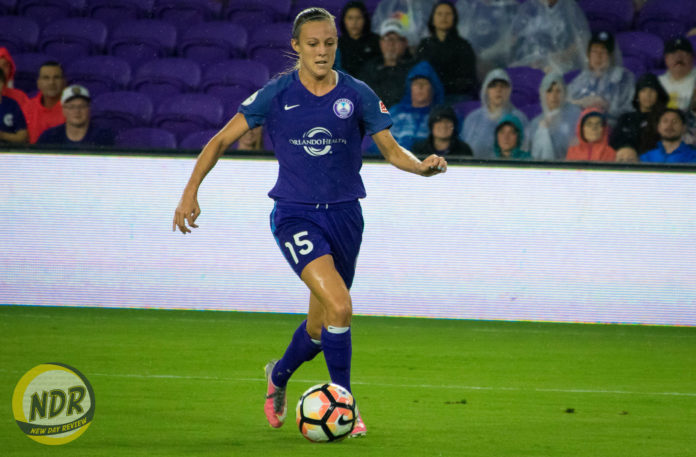 (Photo by Victor Tan / New Day Review)
ORLANDO, Fla. – In her first professional start, Orlando Pride forward Rachel Hill played with an intensity that lasted all 90 minutes of her team's 2-0 victory over the Boston Breakers on Saturday.
The Pride had the second-most shots in team history Saturday night, and Hill was a big reason why. Her offensive effort never waned.
The 21-year-old native had two shots in the game and seemed desperate to put the ball into the net. Hill was frequently seen sprinting down the pitch on counterattack moves, careening into the side posts, hoping to place her head on the ball.
"She's full of energy. She never quit, and she challenged for every ball," Pride striker Jasmyne Spencer said of Hill after the win Saturday. "That's exactly what we needed today to get the three points. She was involved in every play when we went forward."
Hill joined the Pride in January after being drafted by the Portland Thorns with the 14th-overall pick in the 2017 NWSL College Draft. The University of Connecticut graduate scored 61 goals and 18 assists in her collegiate career and was twice named a semifinalist for the MAC Hermann Trophy, the annual award given to the nation's best collegiate player, in 2015 and 2016.
"With her pace and ability to run behind teams, we felt that would be a good tactic for us," Pride head coach Tom Sermanni said after the game. "We thought that she would probably last 60 minutes, but she was still running strong after 90. It was a great debut. Very pleased with her."
Said Hill on her debut: "I was really excited to get the start. I've been here for a few weeks now and been working as hard as I can. When the coaches told me that [I was starting], I was extremely excited. It's nice to know that they have confidence in me."
While Hill did not get her name on the scoring sheet Saturday, she said she still enjoyed taking the field and playing with the likes of Marta Vieira da Silva, Camila Martins Pereira and Spencer, who all contributed to the scoring in Saturday's win.
"They always know where you are, and they play great balls through, so you always have to be ready because you never know when it might be coming," she said.
The Pride return to action on June 17 to begin a home-and-home match with the Houston Dash. Orlando will travel to Houston for the first game.