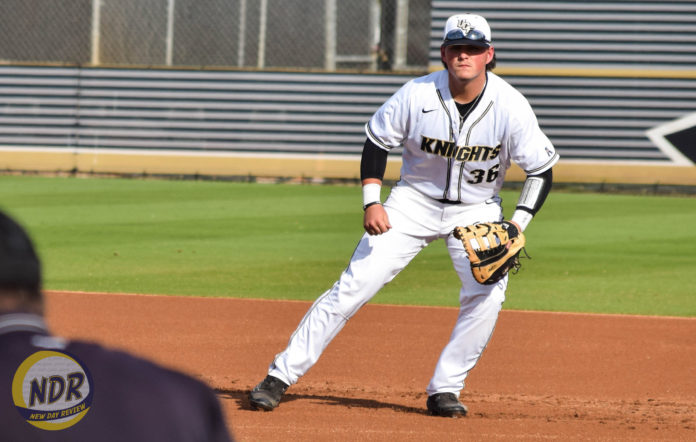 (Photo by Victor Tan / New Day Review)
Game Recap
Last-place East Carolina University has been the University of Central Florida's bane. After losing to the Pirates in the first round of the American Athletic Conference, the Knights (40-20) lost to ECU (32-27) Saturday afternoon at Spectrum Field.
For ECU, Jake Agnos (3-3) earned the win in 7.0 innings of work, allowing just two hits and three walks with six strikeouts. UCF starter Jason Bahr (0-2) recorded the loss, allowing two runs (two earned) on three hits with five strikeouts.
Solo home runs in the first and fourth innings by catcher Travis Watkins and first baseman Spencer Brickhouse, respectively, got the scoring started for the Pirates. Watkins' bomb over the left-center field wall came with two outs on a 2-2 count. Brickhouse led off for ECU in the fourth, sending his homer over the left-center field wall, too.
In the seventh inning, center fielder Wesley Phillips scored on an error by right fielder Eli Putnam. One batter later, second baseman Charlie Yorgen scored on a Watkins base hit to center field.
UCF mustered its best scoring chance in the second when left fielder Kyle Marsh and third baseman Kam Gellinger drew walks. With one out already away, second baseman Matthew Mika popped up to the shortstop, and designated hitter Ryan Crile fouled out to end the effort.
First baseman Rylan Thomas tallied two of the Knights' three hits in a 2-for-3 performance.
Player of the Game: Travis Watkins
Watkins got the Pirates' scoring started in the first. He finished the game 2-for-5 with two runs, two RBIs and a home run.
What's next?
The Knights have been eliminated from the AAC Tournament. On Monday at noon, regionals selections will be announced on ESPN2.
Scoring
| | | |
| --- | --- | --- |
| | University of Central Florida | East Carolina University |
| Runs | 0 | 4 |
| Hits | 3 | 4 |
| Errors | 2 | 2 |
| Left on Base | 7 | 9 |
| | | | |
| --- | --- | --- | --- |
| Inning | Team | Play | Score |
| T1 | East Carolina University | Travis Watkins home run to left-center field, RBI | 1-0, ECU |
| T4 | East Carolina University | Spencer Brickhouse home run to left-center field, RBI | 2-0, ECU |
| T7 | East Carolina University | Charlie Yorgen reached on an error by right fielder, advanced to third; Wesley Phillips scored, unearned | 3-0, ECU |
| T7 | East Carolina University | Travis Watkins singled to center field, RBI; Charlie Yorgen scored, unearned | 4-0, ECU |
Statistics and Starting Lineups
Pitching
| | | | | | | | |
| --- | --- | --- | --- | --- | --- | --- | --- |
| Player | Team | IP | H | R | ER | BB | SO |
| Jake Agnos (3-3) | East Carolina University | 7.0 | 2 | 0 | 0 | 3 | 6 |
| Jason Bahr (0-2) | University of Central Florida | 4.0 | 3 | 2 | 2 | 0 | 5 |
| Bryce Tucker | University of Central Florida | 3.0 | 1 | 2 | 0 | 2 | 1 |
| Jordan Scheftz | University of Central Florida | 2.0 | 0 | 0 | 0 | 2 | 2 |
Hitting
| | | | | | | | | | |
| --- | --- | --- | --- | --- | --- | --- | --- | --- | --- |
| Player | Team | AB | R | H | RBI | HR | BB | SB | SO |
| Travis Watkins | East Carolina University | 5 | 1 | 2 | 2 | 1 | 0 | 0 | 0 |
| Spencer Brickhouse | East Carolina University | 5 | 1 | 1 | 1 | 1 | 0 | 0 | 3 |
| Rylan Thomas | University of Central Florida | 3 | 0 | 2 | 0 | 0 | 1 | 0 | 0 |
UCF starting lineup: 1. Luke Hamblin (8) 2. Eli Putnam (9) 3. Brennan Bozeman (6) 4. Kyle Marsh (7) 5. Rylan Thomas (3) 6. Kam Gellinger (5) 7. Matthew Mika (4) 8. Ryan Crile (DH) 9. Logan Heiser (2)
UCF starting pitcher: Jason Bahr (0-1)
ECU starting lineup: 1. Brady Lloyd (DH) 2. Charlie Yorgen (4) 3. Travis Watkins (2) 4. Spencer Brickhouse (3) 5. Eric Tyler (5) 6. Turner Brown (6) 7. Dwanya Williams-Sutton (7) 8. Drew Henrickson (9) 9. Dusty Baker (8)
ECU starting pitcher: Jake Agnos (2-3)