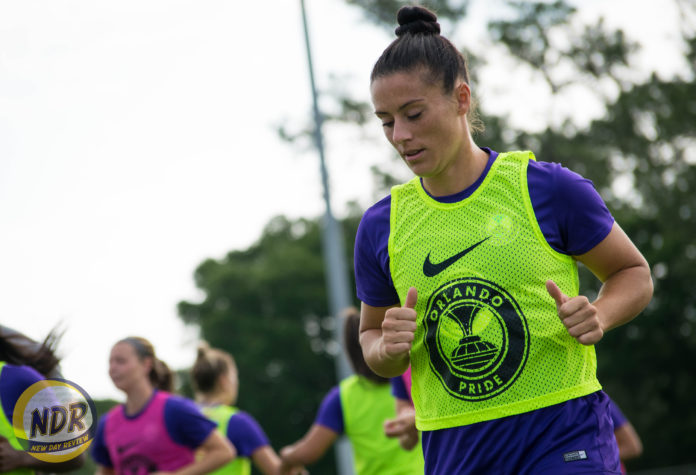 (Photo by Victor Tan / New Day Review)
ORLANDO, Fla. – Just when the Orlando Pride's fortune started to turn around, catastrophe struck. Orlando is coming off a two-game undefeated streak, beating the No. 1 North Carolina Courage 3-1 on May 14 and drawing with the No. 4 Seattle Reign 1-1 on May 21. In the draw, starting goalkeeper Ashlyn Harris sustained a non-contact injury, sidelining her for approximately eight weeks.
Now the Pride look to a new leader: right-back Ali Krieger. Center-back Alanna Kennedy sees the 32-year-old as someone who will step up.
"[Krieger's] just a great leader. She's very approachable," Kennedy said before training Thursday. "She's very well respected, and she's done great things in her career to earn that respect… For me, she's a great friend. So I just enjoy being around her, and I think she's definitely deserving of the role as captain."
As for Pride head coach Tom Sermanni, he sees Krieger as a "natural" choice to wear the captain's armband. But, at the same time, Sermanni's coaching philosophy doesn't put a lot of emphasis on who wears the armband.
"I didn't even notice who took the armband [after Harris left the game]," Sermanni said before training Thursday. "I don't mean that they're irrelevant, but it's kinda like—for me, there's too much emphasis put on who's wearing the captain's armband. Ali Krieger is a leader whether she's got an armband on or she hasn't. She still leads the team by example by how she plays, by her leadership off the field as well.
"So she is, obviously, the natural person to go out and lead the team out. But you're looking for leadership and captaincy, if you like, from different players in the team in different ways. So, I'm always loathed to kind of single out a captain and feel that they have this, like, owner-ish responsibility to be the leader. Leadership is a role for everybody in the team, but they just do it in different ways."
Finding other leaders on the team has been integral in the Pride's recent success. After the Pride's win over the Courage, Sermanni singled out first-year Pride forward Marta Vieira da Silva as someone who kept the team positive in the midst of an early-season winless streak.
"I think the first thing when somebody like Marta walks in the dressing room, they've got immediate credibility and a major aura about them," Sermanni said. "And then it depends how that player reacts around the team, as to how positive that becomes. And the great thing with Marta is that she just loves soccer. You see her out here, and she's having fun.
"So she's got this great balance of being somebody that enjoys being in an environment and having fun in the environment, mixing easily with people and with players. And then being able to switch on professionally when you walk across that white line and train… So it's easy for a player of her stature to come in, do her stuff and then just kinda leave again. But she has bought in to being, really, an integral part of the team."
Orlando travels to New Jersey on Friday to take on Sky Blue FC on Saturday at 7 p.m.