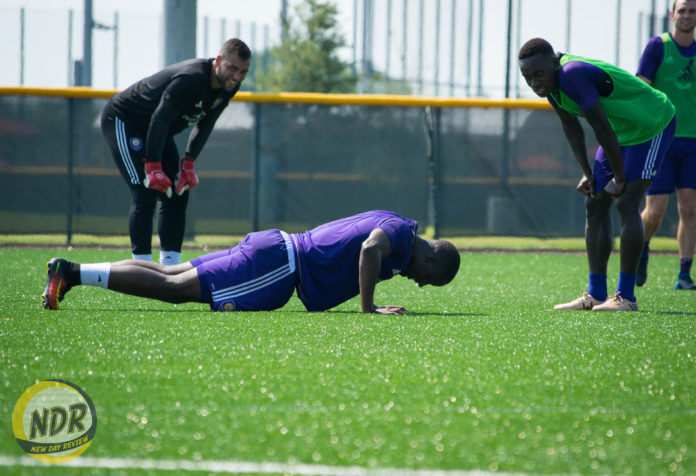 (Photo by Victor Tan / New Day Review)
ORLANDO, Fla. – Two.
That's the number of games Orlando City B will have played in the month of May after a match against the Charlotte Independence on Saturday. That's due to a scheduling anomaly that gave the United Soccer League side two two-week breaks throughout the month of May. The rest of the schedule has only one other two-week break.
And considering Orlando is undefeated (2-0-2) in its past four matches, these relatively unusual breaks have been somewhat of a buzzkill. Defender Zach Carroll described the breaks succinctly: "It sucks."
"We had the two weeks off and then the [2-0 win over FC Cincinnati]," he said. "And then another two weeks off, so, you know, we're kinda sick and tired of kicking each other in practice. So, it'll be nice to finally play an opposing team finally."
Said head coach Anthony Pulis on the month of May: "Well, it's been a strange month, obviously, only having two games in the whole month of May. Not ideal. The positives of that are we do get a lot of good, quality training time with the guys, which has been good, but, having said that, I think everybody's always itching to get into a rhythm of playing games again."
For Pulis' squad, it's now about regaining that undefeated momentum. That success is dependent on his team's "mentality and approach" heading into its first match back.
"Well a lot of it comes down to the mentality and the approach that the players bring to training every day," Pulis said. "And the mentality and the approach and the intensity of the training sessions have been fantastic, and that's always your worry a little bit as a coach 'cus I think sometimes you worry that players are, not going through the motions but maybe not approaching training the same way because there's not a game at the end of the week.
"So, as a coaching staff, we made sure we made a real conscious effort of making sure training was real-high quality, real-high intensity last week, and it's been the same this week."
Over OCB's two-week breaks, Pulis has had his team focused on its attacking play. That's because his team has performed so well defensively, posting three clean sheets over its four-game undefeated streak.
"We've worked a little bit more on our attacking play, I would say, 'cus I felt like we—I sound like a broken record a little bit—we have been defending well," Pulis said. "And we created some really good opportunities on the counterattack at Cincinnati and just our decision-making in the final third, final pass, final shot, kinda like little bit of cutting edge that you need in the final third."
Said Carroll on where he thinks his team has improved the most: "I think defensively. You know, we've had the three shutouts in a row, and we've really locked down back there. I think our front guys—you know, they've been putting away their chance, and so I think that's where we kinda lacked beginning in the year is we had our chances, but we weren't taking 'em, and so now we're taking our chances, and now we're not allowing goals."
OCB hosts the Charlotte Independence on Saturday at 7:30 p.m. Both teams drew the last time they met on April 8.
Rafael Ramos Is Expected to Play 90 Minutes Against Charlotte
Right-back Rafael Ramos has been nursing hamstring injuries since the preseason. While he did play 76 minutes in the win over Cincinnati, it is expected Ramos will play his first full match on Saturday. With regard to recovery, that's the next step for Ramos in his journey to returning to the club's Major League Soccer side.
"As far as I'm aware, Rafa will be with us, and the plan is to give him 90 minutes," Pulis said. "He did really well for us in the [76] minutes at Cincinnati. So I'm confident that he can get through 90 minutes against Charlotte on Saturday, and that puts him back into contention for [Orlando City head coach Jason Kreis'] team.
In two seasons for Orlando City's MLS side, Ramos has started 36 of his 37 appearances, tallying five assists in 3,013 minutes. He has not played a game for Orlando City yet.