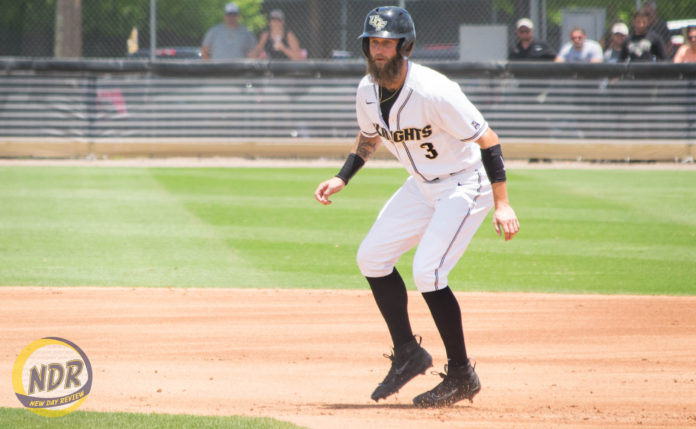 (Photo by Victor Tan / New Day Review)
Game Recap
The University of Central Florida is moving onto the next round in the American Athletic Conference Tournament. After dropping their tournament-opening game to the No. 8-seeded East Carolina Pirates, the Knights (39-19) defeated the Tulane Green Wave (27-31) 8-3 at Spectrum Field on Thursday.
Starter Robby Howell (10-0) earned the win after a 10-strikeout performance in 8.0 innings of work. Howell allowed three runs (three earned) on five hits and four walks. As for the Green Wave, starter J.P. France (5-5) got the loss after 5.0 innings of work with six strikeouts, allowing eight runs (five earned) on eight hits and two walks.
UCF jumped out to an early lead, putting up four runs in the third. The Knights then effectively put the game out of reach for Tulane with another four-spot in the sixth that was only countered with two runs by the Green Wave in their half of the sixth.
Catcher Logan Heiser's single to right field in the third drove in designated hitter Ryan Crile from second after he led off with a base hit and advanced to second on a passed ball. Two batters later, right fielder Eli Putnam hit his eighth home run of the season, a two-run bomb over the left-field wall. Left fielder Kyle Marsh capped the scoring with a solo shot to left field, giving UCF a 4-0 lead.
Tulane's two errors in the sixth helped the Knights to an even larger lead. After third baseman Kam Gellinger's lead-off single, a throwing error by Tulane pitcher Christian Colletti allowed second baseman Matthew Mika reach first and advance to second. One batter later, first baseman Hunter Williams' error allowed Mika and Gellinger to score. Marsh capped the scoring, again, with a two-RBI base hit to center field.
Williams' homer in the bottom half of the sixth and an RBI double by Grant Witherspoon gave Tulane its first two runs of the game. Witherspoon homered in the eighth to finalize the score.
Player of the Game: Kyle Marsh
Marsh finished the game 2-for-4 with three RBIs, a home run, a run and a walk. He was instrumental in helping UCF cap its scoring chances, driving the final runs of both of the Knights' four-run half-innings in the third and sixth.
What's next?
UCF will play the winner of the game between the University of South Florida and East Carolina University on Friday at 3 p.m. The Bulls-Pirates game is at 7 p.m. on Thursday.
Highlights
T3 | Putnam's two-run HR lands on top of Frenchy's out in left! @UCF_Baseball leads 3-0.

Watch: https://t.co/V8iVIaqY8L pic.twitter.com/qVMvdNgcbv

— American Baseball (@American_BSB) May 25, 2017
T3 | Marsh sends a HR to left for @UCF_Baseball's second long ball of the inning. The Knights are up 4-0.

Watch: https://t.co/V8iVIaqY8L pic.twitter.com/YGb3scfyVy

— American Baseball (@American_BSB) May 25, 2017
Crile chops one over the first baseman's head, two more runs come home!!

UCF 6 Tulane 0 #ChargeOn pic.twitter.com/nlZP2fliOo

— UCF Baseball (@UCF_Baseball) May 25, 2017
Hesier singles through the left side, runners on the corners now, still nobody out as Tulane makes a pitching change. #ChargeOn pic.twitter.com/Mu9ssTB4cs

— UCF Baseball (@UCF_Baseball) May 25, 2017
Tulane gets two in a row but gen Marsh comes up clutch driving in a pair! We lead 8-0!! ⚡️🔛 pic.twitter.com/lgb7VDmyTt

— UCF Baseball (@UCF_Baseball) May 25, 2017
Post game thoughts with @ucf_marcdaniels & @CoachLovelady23 (part 1) ⚡️🔛 pic.twitter.com/Akap0z9boL

— UCF Baseball (@UCF_Baseball) May 25, 2017
@ucf_marcdaniels @CoachLovelady23 Post game (part 2) ⚔️ pic.twitter.com/2wGybsSP9p

— UCF Baseball (@UCF_Baseball) May 25, 2017
Scoring
| | | |
| --- | --- | --- |
| | Tulane Green Wave | University of Central Florida |
| Runs | 3 | 8 |
| Hits | 6 | 10 |
| Errors | 2 | 0 |
| Left on Base | 7 | 8 |
| | | | |
| --- | --- | --- | --- |
| Inning | Team | Play | Score |
| T3 | University of Central Florida | Logan Heiser singled to right field, RBI; Ryan Crile scored | 1-0, UCF |
| T3 | University of Central Florida | Eli Putnam home run down left-field line, 2 RBIs; Logan Heiser scored | 3-0, UCF |
| T3 | University of Central Florida | Kyle Marsh home run to left field, RBI | 4-0, UCF |
| T6 | University of Central Florida | Ryan Crile reached on an error by first baseman, advanced to second, RBI; Matthew Mika scored, unearned; Kam Gellinger scored | 6-0, UCF |
| T6 | University of Central Florida | Kyle Marsh singled to center field, 2 RBIs; Luke Hamblin advanced to third; Logan Heiser scored, unearned; Ryan Crile scored, unearned | 8-0, UCF |
| B6 | Tulane University | Hunter Williams home run to right field, RBI | 8-1, UCF |
| B6 | Tulane University | Grant Witherspoon doubled, advanced to third on throw, RBI; Grant Brown scored | 8-2, UCF |
| B8 | Tulane University | Grant Witherspoon home run to right field, RBI | 8-3, UCF |
Statistics and Starting Lineups
Pitching
| | | | | | | | |
| --- | --- | --- | --- | --- | --- | --- | --- |
| Player | Team | IP | H | R | ER | BB | SO |
| Robby Howell (10-0) | University of Central Florida | 8.0 | 5 | 3 | 3 | 4 | 10 |
| J.P France (5-5) | Tulane University | 5.0 | 8 | 8 | 5 | 2 | 6 |
| Christian Colletti | Tulane University | 4.0 | 2 | 0 | 0 | 2 | 6 |
Hitting
| | | | | | | | | | |
| --- | --- | --- | --- | --- | --- | --- | --- | --- | --- |
| Player | Team | AB | R | H | RBI | HR | BB | SB | SO |
| Kyle Marsh | University of Central Florida | 4 | 1 | 2 | 3 | 1 | 1 | 0 | 0 |
| Eli Putnam | University of Central Florida | 5 | 1 | 1 | 2 | 1 | 0 | 0 | 3 |
| Logan Heiser | University of Central Florida | 4 | 2 | 2 | 1 | 0 | 0 | 1 | 0 |
| Ryan Crile | University of Central Florida | 4 | 2 | 2 | 1 | 0 | 0 | 0 | 1 |
| Grant Witherspoon | Tulane University | 3 | 1 | 2 | 2 | 1 | 1 | 0 | 0 |
| Hunter Williams | Tulane University | 4 | 1 | 1 | 1 | 1 | 0 | 0 | 0 |
Tulane starting lineup: 1. Lex Kaplan (7) 2. Hunter Williams (3) 3. Jarret DeHart (DH) 4. Grant Brown (8) 5. Grant Witherspoon (9) 6. Hunter Hope (5) 7. Jake Willsey (4) 8. Sal Gozzo (6) 9. Paul Gozzo (2)
Tulane starting pitcher: J.P. France (5-4)
UCF starting lineup: 1. Luke Hamblin (8) 2. Eli Putnam (9) 3. Brennan Bozeman (6) 4. Kyle Marsh (7) 5. Rylan Thomas (3) 6. Kam Gellinger (5) 7. Matthew Mika (4) 8. Ryan Crile (DH) 9. Logan Heiser (2)
UCF starting pitcher: Robby Howell (9-0)