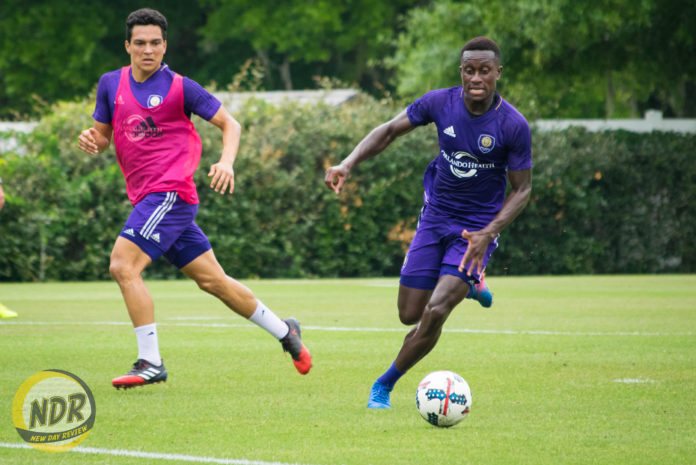 (Photo by Victor Tan / New Day Review)
May 2, 2017 at Sylvan Lake Park
HC Jason Kreis
Orlando City SC takes to the road for at wo-game road trip, beginning with Toronto FC on Wednesday at 7:30 p.m. On Saturday, the Lions will travel to face the Houston Dynamo at 8:30 p.m.
Yeah. Very difficult. Very difficult challenge in front of us to play Toronto, who, right now, I think, is playing some fantastic soccer. Seen their last couple of matches. They've been extremely dominant at home. And so, for me, it gives us probably what I would think is the most difficult challenge you could face in the league at the moment. Coming off the short rest, it presents us some other challenges as well. And then we'll go to Houston, which is an extremely good team, especially at home. Proven themselves to be very, very attack-minded and also another big challenge for us to see how we'll handle an even shorter turnaround and whether or not they'll be some rotation involved.
When asked if he'll see the two best No. 9s in Major League Soccer, Kreis said he wouldn't hesitate to call City forward Cyle Larin and TFC striker Jozy Altidore the best in the league.
Yeah, sure. I don't see any reason to hesitate to say that Cyle, at his form right now, and Jozy, in his form in the last, I would say, the couple of years in MLS. Both of them have proven to be extremely dangerous players. I don't know whether it's my job to judge whether they're the best two, but they're certainly amongst the top.
Kreis sees Larin and Altidore as physically similar.
Similar in their size and their stature. I think similar, as well, in some of the play that they have. I think both of them are viewed as, from the outside looking in, as typical box strikers. Guys that like to be on the end of things. Guys who are always dangerous in the box. Maybe they don't do a whole lot else, but I think when you start to really take a look at 'em, you'll realize pretty quickly that they both do a lot of other things to help their team. Both have the ability to create goals, as well, for teammates.
When asked about what his views are on power rankings, Kreis simply laughed it off.
I don't look at the power rankings. 0.0. To me, those mean absolutely nothing.
Last season, Sebastian Giovinco was the only player in MLS to rank in the top five in goals scored (17) and assists (15).
As I said, I think this right now, at this moment, I think that this is the biggest challenge that we could face—to go to an away match playing against Toronto in their form right now and in the form with Altidore and Giovinco in particular presents us some real problems. So, I think our team is very familiar with them, having played them in preseason, and I think our team is very aware of what we're going into, and I think that we're ready from a physical standpoint. And, of course, I'd like to have a few more days to rest. I'd like to have a few more days to tactically prepare, but I think our group is ready. So, we'll see.
The Lions will play seven games in the month of May. For Kreis, though, that's not a way to measure his team.
I will continue to say that we measure ourselves against ourselves. And, so, from my point of view, we've arguably, probably put together our best performance this past weekend, and so that's our measuring stick is can we perform like that? Can we do all of the little things to add up to positive results that we did this past weekend. We'll continue to judge ourselves off of ourselves.
Team captain Ricardo Kaká and Colombian striker Carlos Rivas scored their first goals of the season in a 2-0 victory over the Colorado Rapids on April 29. Both players came off the bench.
What I think, for me, it really says is it's an example, again, to our group. We judge ourselves by ourselves. So, now, that's the example. When you come off the bench, that's the contribution that we're looking for. That's the energy that we need you to bring. We need the team to be better. You're the freshest players around. You're fresher than everybody on the park, and so you need to bring a positive energy like that. And then even at the end of the match, those two players, in particular, were putting in quite a good defensive work for us. And so, again, lead by example, and look to ourselves to what we want to do.
Kreis said after the win over the Rapids that the difficult part about preparing for the Toronto match was that his team needed to cram three days of preparation into one.
We shall see. The proof is always in the pudding and what happens in the match. We'll see.
When it comes to traveling in MLS, Kreis sees it as a difficult matter that needs improvement.
I think it is a very big difficult to put a lot of people that don't really understand the inner workings of the league don't have a full understanding of how difficult it is to travel in our league. Commercial flying is difficult. Last week we flew to New York City and rounded out—we got at the airport at roughly noon, and we got into our hotel at 6. That's six hours, and that's a lot of time spent to kind of walking around, shuttling through security, waiting for bags, etcetera, etcetera. Those things, I think, those things can have an effect on us. So, it's an area that I think the league is, right now, taking some particular look at how do we make it better, and I think that's a really positive thing is to try to make the travel situation a quicker one so that we can get there and guys can be rested and ready for games.
Right-back Rafael Ramos was supposed to play in Orlando City B's 0-0 draw with Saint Louis FC on April 27 but experienced hamstring tightness the day before.
He's doing okay. Actually did a scan yesterday, I think, and it came back really positively. So, no re-injury. No new injury. And so he'll be starting to move forward again this week.
Kreis said center-back José Aja is definitely in consideration to play against Toronto and against Houston.
He's definitely in consideration, as are all the players. We're gonna travel with 20 players to Toronto so that we have 20 available for the quick turnaround, and we're looking and considering and thinking about giving a lot of guys opportunities over these two matches.
For Kreis and his staff, they've already made a decision on the starting lineup for Toronto. But the second-year head coach also said that could change over night.
Yeah, we've made a decision. We have a plan in mind. I'm always tinkering and thinking, now, so, occasionally, those decisions get changed over night, but we have a plan.
Rivas has so far started every match this season except the one against Colorado.
Again, Carlos has started every game but one. So I'm not so sure that he had to make a huge case for himself or push for a starting position. In my opinion, again, it's—I prefer that we don't talk about starters versus non-starters. We have a lot of good players in our squad that are capable of starting at any minute.
Kreis hasn't had enough time in one training session to see if Rivas looks any different after scoring his goal against Colorado.
Well, we only got to see one training session, and it wasn't much. You can't do much the day before the game, so, the proof will be in the pudding, right?
Apart from recovery, Kreis said decisions by the coaches will be key to success during the seven-game stretch in May.
Yeah, I mean, I think first and foremost will be recovery. What the players are doing to manage that situation to get themselves rehydrated, to get themselves regenerated from match to match. Some of the players we know are a little older than others, and how they're gonna deal with that is probably a little bit more difficult. And the final piece is the coaches. Do we make good decisions? It's about that, trying to weigh out all of the factors and make the right decision that's best for the team.
Before the win over Colorado, Kreis contributed to the spray-paint messages in the tunnel leading to the field at Orlando City Stadium with one word: "TOGETHER."
As I walked out and saw it for the first time, I thought it was so very cool and really original and genuine and felt like heartfelt from the fans to the players. And, you know, I just was thinking how words and messages mean a lot to me, and I think it becomes something that means a lot to this group. And that word, in particular—it's one that we use a lot, and I wanted the players to see that, the last thing they walked out of the tunnel.
GK Joe Bendik
Before joining Orlando City, Bendik played for Toronto.
Confident team, especially at home. You know, they like to get their wing-backs really high and really try to batter down on teams, really open up. So, for us, we have to stay compact and be able to weather what they have for the first half and then late in the game.
While he recognized Giovinco as a threat, Bendik noted that the Italian not the only one to be concerned about.
It's not just him. It's him and Altidore. It's, you know, those two and their wing-backs, again, and then whoever's playing in the middle, whether it's [Armando] Cooper, [Jonathan] Osorio—when [Tosaint] Ricketts comes on, but, you know, [Giovinco] kind of makes everything turn for them, and you can see that in their combinations.
Despite Toronto having Giovinco and Altidore, Bendik said his focus is simply on making saves.
Making saves. I mean, it's the same against anybody. Anybody can score goals, so you're not really looking at those two in particular. You're just trying to make saves.
Bendik is approaching this upcoming stretch with a one-game-at-a-time mentality.
Hopefully not much. You know, we take one game at a time here, and I don't think anybody can get too over-the-top where we're at. We've done very well at home, but we have two really difficult road games, and the first one here is Toronto, and it's just one game at a time, really.
Bendik reiterated Kreis' sentiments on traveling in MLS.
Just traveling, in general, in MLS is extremely difficult. You can see that from everybody's road record. There's only a couple teams who are really, really good. And I think Toronto was one of those teams last year. Then again, they played the first seven or eight on the road, so, mentally, I think, they were able to prepare for that. But, yeah, traveling and playing away is a difficult thing. It's hard to put a finger on why exactly. But, for us, it's trying to just trying to look at this one game, and then we'll deal with the next one.
For Bendik, the weather differences in the two different cities the Lions will play in over this week don't make much of a difference.
I don't know. Tell you on Sunday. Honestly, I don't think it makes too much of a difference.
When asked about cramming three days of preparation into one, Bendik said the team has to be mentally prepared.
It was difficult, but you've gotta be mentally prepared when you come in today that you're gonna have a lot of video to watch and a lot of things to deal with over the course of the next 24 hours.
The Lions lost to Toronto in the preseason. For Bendik and presumably the team, that film is unimportant.
None. That's preseason. You're not your team right now. It's not really their team. It's just not really something to good look at, I don't think.
Bendik played in Toronto for three seasons.
Yeah. Obviously Will [Johnson] played there as well, so we'll try to share a little bit of light to a couple of guys and what they like to do, but, overall, just kinda let them play their game.
When asked if Johnson and he reminisce about Toronto, Bendik mentioned only one thing.
Maybe the coffee shops. That's pretty much it.
Toronto has been playing in a 3-5-2 formation this season.
Yeah, 3-5-2 is hard to play against. You know, in a way, it almost looks like they're playing with four strikers, but, in that sense, if they can't use those four guys, it's very hard for them to defend or very hard for them to transition from offense to defense, and I think that's where, you know, that's where teams kinda get caught up is they sit back a lot, and they let these wing-backs come onto them, and you're forced to play 2-v-1 on the sides, and then you kinda jump there, and then they slip the ball into Giovinco or Altidore, and they can use their combinations. But, overall, I mean, 3-5-2 is extremely hard to play against.
For Bendik, the key to having success in May is taking it one game at a time.
Taking one game at a time. This is the course of the season where I think a lot of teams underestimate the course of the season where you're in the middle of it, and the beginning can be easy 'cus you're hyped up, but it's keeping that same mentality all the way through the season.
DF Donny Toia
Toia sees Giovinco as a formidable threat, especially at home.
Yeah, I mean, they're definitely up there, obviously. Great forward, obviously, we got Cyle, and they got Giovinco, but it's gonna be a battle to the end, that's for sure. They're at home, so it's gonna be tough, but, at the same time, we're gonna give it our all, and, hopefully, we can come out with the win.
When asked about the similarities between Larin and Altidore, Toia sees them as both strong on the ball.
I mean, obviously, you know Cyle's a strong guy. He can hold the ball up for us, but you also know that Altidore does the exact same thing. So, you just gotta be just as aggressive or more, and hopefully you get him a little unstable and knock it off out of his feet.
Toronto is currently on a two-game winning streak, first defeating the Chicago Fire 3-1 on April 21 and then Houston 2-0 on April 28.
They're a good team, obviously. They've shown that the last couple years in the league, and, so, they move the ball nice, and they like to find their forwards. If we can get them in front of us the whole time, I think we'll be okay. Like I said, we just gotta keep pressure on Jozy and Giovinco and make them make the mistakes, and, if we can do that, then we'll be in good shape.
For Toia, being at the top of the standings is great.
Obviously it's great. It's early in the season, so you want to stay up top, you want to stay up there and do everything you can to make sure that you're in the run for the playoffs. So, we're in a good position right now, and we're doing well, we're playing well. We're working hard as a team, and, if we can keep that going, then it's going to be pretty hard to beat us.
Toia sees playing two matches in a week as a challenge but also sees depth playing a beneficial factor.
It'll be a little bit challenging, but I think we have all the players that are capable of playing and stepping up, so, obviously, we're gonna have some tired legs at one point, but, at the same time, it's all about our recovery and what we're doing off the field as well as a team and individually to make sure that you're ready for the games.
For Toia, he doesn't think he's anywhere near his best yet.
Every day, you're out there trying to get better and better, so, I don't think I'm anywhere near my best at all. It's gonna take time, but that's what we're here for: to train every day and get better. And if people are saying that, I mean, it's whatever they want to say, but I'm out there focused on myself and trying to help out the team as much as possible, so, if I'm doing that, if I'm getting minutes, then that's all that matters. There's gonna be doubters and stuff like that. So, we just gotta keep that out of our heads and just stick together, and, if we do that, we'll be fine.
Toia sees the key to success in May as playing together through both the ups and downs.
I mean, there's gonna be ups and downs throughout the season. It's a long season. So, you just gotta know that there's gonna be times where it's not gonna go your way, but you just gotta keep the right mindset and stay focused the full 90 minutes and work for your team, work for each other. I mean, that's the most important thing is if you're out there doing individual things, then it's not gonna go well. So you have to just realize that we're out there to do the same thing to win the same thing, and, if you do that, then you'll be winning.
For Toia, these next two games against Toronto and Houston are "huge."
It's huge. If we win two of these games, right now, it's phenomenal. We're gonna be in great shape, so, if we can stay focused and get through this game, one game at a time, we'll be good. I mean, like I said, it's just first game, see how it goes, and hopefully we come out with a win. And then recover as quickly as possible for the Houston game.
So far in 2017, City is tied with FC Dallas for allowing the second-fewest goals in MLS (five). Sporting Kansas City has allowed only three.
Just a lot of communication and working hard. It's not just the guys in the back, it's everybody from the forwards all the way to back. I mean, you saw last game—Carlos Rivas last—probably like 93rd minute—sprinted all the way back to defend a guy in the corner of the 18. I mean it's just plays like that where you're just giving it all for everybody, for, not just your teammates, but yourself as well. And so when you're doing that, we're gonna win games no matter what because we're in it together, and we fight to the end.
Toia sees the painted tunnel as unique feature in Orlando among MLS teams.
Thought it was cool. I mean, you don't see that anywhere, so people, fans putting that stuff out there on the walls and stuff like that just goes to show that they care about it, care about the club, care about you, and, I mean, what's on the ball is right. We're there to win it, and we're here all together, and it's our home. We gotta take advantage of it, and nothing, nobody should get a result here.
When asked about Kreis' word "TOGETHER," Toia sees that as a big part of the team.
That's our—like the whole is together. I mean, it's huge. Worked together, like I said many times, we're gonna be just fine, and, I mean, that's the whole thing is if you're together, then you're gonna be winning games. If you're not, then it's gonna be a struggle.
---
Follow Victor Tan on Twitter at @NDR_VictorTan.