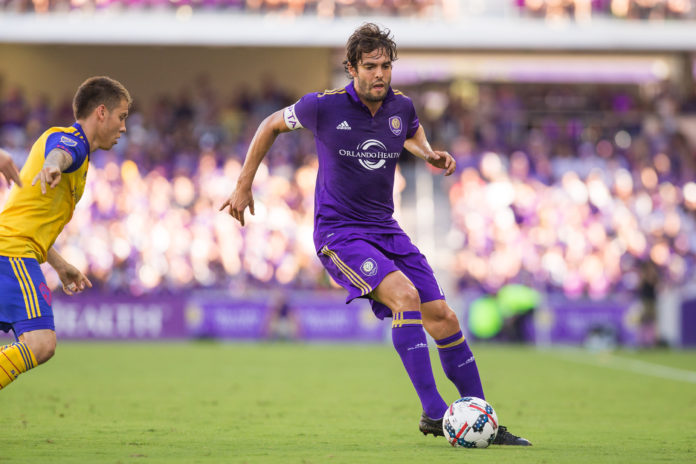 (Photo by Mark Thor / Orlando City SC)
Orlando City SC's 2-0 win over the Colorado Rapids on Saturday marked the beginning of what will be an eight-game stretch in the span of one month. The Lions return to action on Wednesday when they travel to face Toronto. For second-year City head coach Jason Kreis, the difficult part is having to put three days' worth of preparation into one day.
"It's difficult because we've gotten such a good rhythm in a way of working through our week and our training cycle and our preparation for the matches," Kreis said after Saturday's win. "Now, essentially, we're gonna have to cram what we usually do in three days into one. So, the coaching staff's already working extremely hard, along with our video analyst, to prepare for Toronto, and we will only have one day for the players to really be taking about it and training for it.
"But I think we're gonna be okay. We played Toronto in the preseason, and I think we're all very aware of what they do. And so I think that we're in a good spot."
For right-back and first-year Lion Scott Sutter, recovery is an important factor in the preparation for the month of May.
"It's a lot. The games are coming thick and fast now for the next month," Sutter said after the win over Colorado. "It's gonna be tough few weeks with a lot of tough games. I've been in the situation before. I think a couple of other guys have as well. When you got these mid-week games, it's just key to recover. All of us had to go in the ice baths after the match, and it's just important what we do off the field, not so much on the field. Can't really train that much."
After Toronto, City will stay on the road and travel to face the Houston Dynamo on May 6 at 8:30 p.m. City's match on Wednesday is at 7:30 p.m.
---
May 2017 Schedule
WEDNESDAY, May 3
Orlando City SC at Toronto FC, 7:30 p.m.
SATURDAY, May 6
Orlando City SC at Houston Dynamo, 8:30 p.m.
SATURDAY, May 13
Orlando City SC vs. Sporting Kansas City, 7 p.m.
WEDNESDAY, May 17
Orlando City SC at San Jose Earthquakes, 10:30 p.m.
SUNDAY, May 21
Orlando City SC vs. New York City FC, 7 p.m.
SATURDAY, May 27
Orlando City SC at Minnesota United FC, 8 p.m.
WEDNESDAY, May 31
Orlando City SC vs. D.C. United, 7:30 p.m.
---
Edits Log:
4/30/2017, 11:41 a.m.: Added upcoming May schedule for a certain reader. 😉