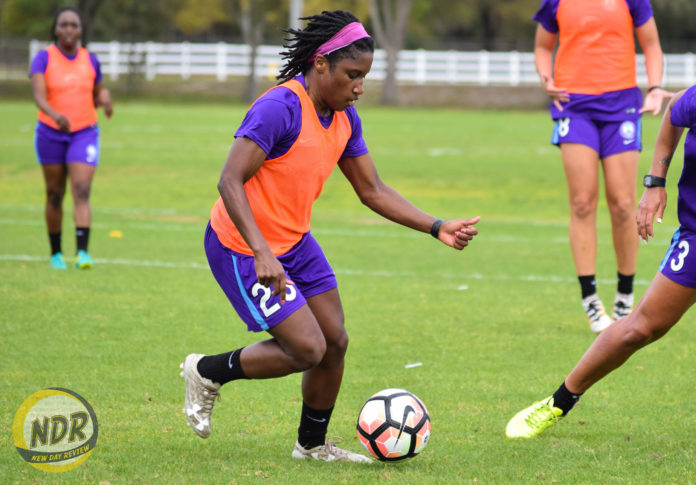 April 5, 2017 at Sylvan Lake Park
F Jasmyne Spencer
The Orlando Pride play their first match on Saturday against the Portland Thorns.
I think we definitely cranked it up a notch. We're all excited for opening weekend, and it's coming down to the wire now. So, it's been good.
When asked about her relationship with teammate Kristen Edmonds, Spencer said the two of them are "leading the pack."
Yeah, definitely. I think being the fact that we were here, and there's kind of an influx of new faces, we're leading the pack with, you know, what we want to produce on the field and just kinda piggy-backing out energy with the rest of the team. We love to have fun. The two of us—we're goofballs. We're always smiling. And, just, I think that energy definitely all the girls can play off of, so it's awesome.
Spencer said midfielder Dani Weatherholt and Maddy Evans will play bigger roles this season.
I think you'll see a little bit more of Dani Weatherholt and Maddy Evans coming into roles, filling up spots, and jamia [fields] with [monica Hickmann Alves], Camila [Pereira], [ashlyn Harris] and [ali Krieger]. And I think, going forward, we just want to get better on the ball. Better in position, create more chances and just clean up some of the mistakes we've had in previous games.
The Pride open their home schedule against the Washington Spirit on April 22.
It's awesome. I mean, our social medias are blowing up. The response from the community is awesome. It's only gonna get better especially after we open in a couple of weeks. And we're just so excited. We can't wait to play in front of our home crowd.
The National Women's Soccer League signed a three-year broadcasting deal with Lifetime in early February.
Yeah, it's amazing. I feel like, you know, we're lucky to have our own TV contract with a network that supports us and what we do on and off the field as female athletes. Their hype is kinda feeding right into our hype, and it's just gonna be an amazing season.
Spencer relishes every moment she gets to play professional soccer.
Yeah, it's amazing. I hoped for it. I didn't know. Me and a handful of the girls were in that period where we got drafted to the WPS, and then it folded. So, I mean, to be able to play professionally, in general, is amazing for us, and to see how much it's grown in such a short period of time is incredible. We hope it's here for decades to come.