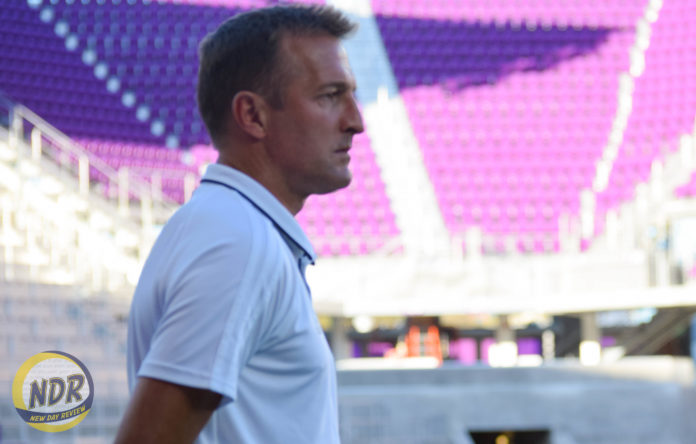 April 5, 2017 at Sylvan Lake Park
Availability: HC Jason Kreis, MF Antonio Nocerino
HC Jason Kreis
Orlando City SC suffered its first loss of the season 2-0 to Columbus Crew SC.
Actually a lot of positives. Really a lot of positives. When we looked at the number of dangerous goal chances that were created against us, it was very few and far between. And I felt like we had quite a few decent chances and decent looks at the goal. And really, I think even more importantly than that, maybe the number of outright chances wasn't that great. But the number of times we got into really good spots in their half of the field was really good. And, from my point of view, that's a foundation that we're continuing to build off of, both the defensive work with what we're doing and also getting the ball into the right areas. And now we've gotta correct what happens in the final third, I think, to start scoring more goals.
The Lions host the New York Red Bulls on Sunday at 4:30 p.m.
From my point of view, it's unimportant, really, about who the opponent is and what sort of form they're in. From my point of view, I look at it as a fantastic opportunity because it was our first negative of the year to suffer a loss. And now we have an opportunity, our first opportunity of the year, to react and respond to that negativity. And so I'm really looking forward to how our guys handle that situation this weekend. And I'm unphased by the opponent. To speak about the Red Bulls a little bit, I would say that it's a team that I feel is playing very well and hasn't gotten probably the results they deserve. So, if we look purely at the results, we're gonna put ourselves in a really bad spot. We need to know that this is a fantastic opponent that plays very good soccer and is extremely dangerous, regardless of the results they've had over the first four games of the year.
I see the Red Bulls playing in a different shape but still all the same philosophies of how they play. A lot of passing combinations, outside backs getting forward, a lot of movement and dynamicism in their players. So there's gotta be a lot of passing and organization on our part to defend those situations. When they lose the ball, they try to counter-press very quickly. So, we know it's a dangerous opponent, and it's gonna be a massive challenge for us, but, as I said before, this is all about us now.
With regard to injuries, Kreis said his squad could look like a "completely different team" in a "couple weeks."
[Tony Rocha's] full training today, was in yesterday, was in training last week and then took a little bit of a break because he was having a little bit of tightness. But he should be moving forward. Seb Hines will be out on the field here shortly, as will Rafa Ramos and [ricardo] Kaká. And, so, yeah, we feel like we're mending. Here in a couple weeks, we could look like a completely different team.
When asked about the group of players now, Kreis said that he feels good about the players he has available.
I would say that I feel good about the group now, to be honest. And I think it's a testament to the players that are doing jobs right now that we have two wins already in our pockets without a lot of very important players. And so I would say that we should go from strength to strength. We're a team that's got a couple of results, but we also know we need to improve the players that are out and have performed over the first three games, know that each of them has improvement to make, and then we've got some players that will come in that can add some benefit and some ability to us as well. So, we feel like we're in a good spot. We have a couple of wins, one loss, but we need to improve. And all of us know that, and I believe that we will.
MF Antonio Nocerino
For Nocerino, it was about his team staying in the game despite the loss.
For me, last Saturday, the team is a work well… The second half is play well, play aggressive, play better with the ball. For me, is the second scoring is a great moment. For me, it's important. I watch Saturday. The team stay in the game. Stay in the game. This is important. With Columbus, the guys work very well, work hard. Is lose. Okay. The work for future is very important because now is three game, the first three game of season, and the guy, the young guy, the team, the staff is work very, very good because the guys work well tactically, technically. For me, for future, I am positive.
Even though Orlando City is playing the Red Bulls on Sunday, Nocerino is focused solely on his team's improvement.
Is a good technically. Is a every player with a good technically. Is a play well. I no look the Red Bulls. I prefer look the my team because the my team is play good, play well. I stay quiet. No have a problem.