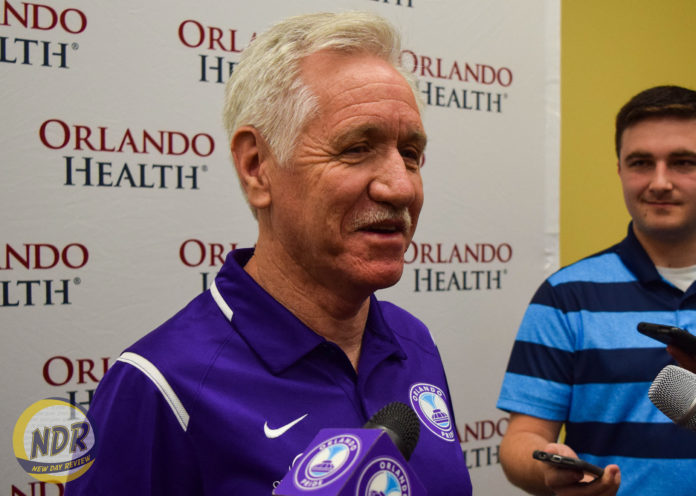 April 6, 2017 at Sylvan Lake Park
Availability: HC Tom Sermanni, DF Steph Catley
HC Tom Sermanni
The Orlando Pride will play the United States U-23 women's national team on Friday at 2 p.m.
Just to continue to build on what we've done over the last three or four games. Continue to up the tempo of how we play. Continue to look at the cohesion between our team and our players. And continue to work on match fitness so that we go into Portland ready to go next week.
Orlando opens its 2017 National Women's Soccer League season with an away match against the Portland Thorns on Saturday at 3 p.m.
It's one of those things that kinda creeps up on you in preseason. And then I think in our last game and in training this week, I've seen an increase in our tempo, and that's a good thing. I think our players are looking sharp. They're looking in good touch, they're looking in good spirits, and, hopefully, we can take that into next week.
Catley recently made her return to the Pride. She has been training with the Pride for no more than a week.
She's come straight in, straight back to normal. The hard thing is that as soon as Steph comes back, we lose Ashlyn and Ali with the U.S. team, and we lose Camila and Monica with the Brazilian team. So, again, that disrupts our preparation, going into this first game. But at least it wasn't as bad as last year.
On Wednesday, it was announced the U.S. Soccer Federation and the U.S. women's national team agreed to a new collective bargaining agreement.
I haven't seen an awful lot of detail, to be honest. I saw some things in one of the newspapers yesterday, and, on the surface, it seems like the players have got a reasonable salary increase, which is fantastic. But I don't know the nuts and bolts of it. Just from looking at it from a coaching perspective and looking from the game in the U.S., I think it's just fantastic that agreement has been reached. And everybody now can put that to bed. Players can focus on soccer. The administration can focus on running the game, and we can get back to doing the business that we all want to do.
It's always gonna be important. The game is moving on, and it's moving on at a rapid rate. It's always tougher for females. That's a reality of life. I don't have the answer for that, unfortunately, particularly in sports. But it's like anything. You just keep chipping away to improve terms, improve conditions, improve professionalism. And I think you've also got to take a step back to 20 years ago, which isn't a long time. A lot of players were actually paying money to play nationally. There was no professional leagues. So, you know, the game has moved on quite significantly. And it's just important that when you're in it, you don't notice that, but it's important that we recognize how far the game has come and how quickly it's continued to improve. So, it's a whole balance of things, and, as things improve, what you just said is a different set of problems. And what we need to do is just continue to increase the exposure, the professionalism, the terms and the conditions and how well we treat players.
The U-23s played Portland earlier in the preseason.
Not really. We're just in our preparation mode for Portland, so I think what will be valuable with our game against the 23s is that they have played Portland. Although it's probably a different group of 23s, I'm assuming that they're going to play the same way against us. So we've had an advantage of seeing the 23s play. And so we know it's going to be a good test for us. Our main thing in these games is to get our preparation right for Portland, to keep working on our match fitness and to keep working at our team cohesion.
Catley joins fellow Austrlian women's national-team defenders Laura Alleway and Alanna Kennedy.
I think it's just important—the cohesiveness between players and the comfort between players is important. And I think if you look at those three Australians, they've played a number of times in significant tournaments together. They've kinda almost grown up together. Two of them played together in Australia. So you immediately have that connection on the field and off the field. And I think those connections are very important when it comes to playing as a team.
For Sermanni, the biggest improvement for this team is depth.
I just think we've got better depth, and I just think we've got better mobility than we did last season. And I think we've also benefited from having a year where it was chaotic last year. We were chasing our tail, trying to get a team organized, a team on the field. Just generally, I think we're much more settled as a staff and much more settled as a playing group.
DF Steph Catley
Catley flew back to Florida on March 29.
It's amazing. I feel like it's been a while, and I've done a lot in the time that I've been away. But it's so nice to be back with the girls and everyone here, and I love Orlando. It feels like a big family. So I'm really happy to be back.
The Pride will play their 2017 season in Orlando City Stadium.
I've seen so many photos and so many videos of the stadium, and it looks absolutely incredible. But I guess you don't really get a sense of how amazing it is until you get there, so I'm really excited to see it for the first time, and obviously getting to play there is gonna be incredible.
When asked about playing with fellow Australians, Catley acknowledged the team's vast international experience.
Yeah, I feel like there's a lot of international experience, a lot of experience, in general, on the back-line. A lot of different combinations, a lot of amazing players that can come in and out. So, the most important thing for a team like this in a league like this is to have depth, and I think we've got a lot of that this year and especially in the back-line positions.
I mean, I've played alongside [Alleway] for years. I've played alongside [Alleway] at City, I've played alongside Alanna in the national team for a long, long time, and it just makes it so much easier. You know, you've got your terms that you say to each other in the game, and you know their strengths and how they play a ball and little things that can sort of help so much for the whole team to get the ball moving and to get everything going forward. So, I love playing Alanna. I love playing with [Alleway], and it's amazing to have that chemistry already coming in here.
For Melbourne City FC, Catley was the team captain last season.
I think, I mean, in the W-League, it's growing every single year, and it's getting tougher and tougher. Obviously, at Melbourne City, we've got an incredible team with a lot of experienced players, and I got to captain the team this year, which was an exciting, new experience for me alongside Jess Fishlock. So, I've learned a lot from her over the years but especially this year in terms of leadership and stuff like that. I think I've learned a lot.
Catley has noticed a difference in the general environment. It's more positive than last year's.
I think there's a real sort of air of positivity around. I think everyone really wants to help each other grow, and I think there's a real goal this year to get wins and to help each other be the best that we can be. So, I think there's a real positive vibe around, and I'm really enjoying it so far.
When asked about anything new she will bring to the team, Catley mentioned her new leadership experience.
I mean, as I said before, maybe a little bit of leadership. I think last year was my first year at the club and playing with some of the players, so it always takes a little bit of adjusting, and you sort of sit back and try and understand what your role is in the team, but, I think this year with some younger players coming in and stuff like that, I think I can really help in terms of bringing experience and a bit of leadership.
The Pride will once again run a "Fill the Bowl" campaign for the team's home-opener against the Washington Spirit on April 22.
I remember the home-opener last year and how big it was and how exciting it was for us as a team to come out and play and sort of the energy that we had during that game. And having fans and having a full stadium for us, it's just incredible and so special, and it really helps us on the field. So, hopefully we can get a packed stadium, and we can actually fill the bowl.
For Catley, Thursday was the first day she saw what the team will do tactically.
Honestly, I've only had like a couple of sessions, so I haven't really done too much tactics. Today was the first time we really got together as a back-line and started moving and started understanding our shape a little bit more. So, we've got a lot of stuff to work on before the first game. We've got a couple of practice games to do that. Yeah, we just gotta sort of wait and see.
USWNT goalkeeper Ashlyn Harris and defender Ali Krieger were called away for international duty on Thursday.
I don't think so. I think the ones that have gone away have been here for a couple of weeks already and will understand that. Me coming in, I've got a bit of work to do to understand a few of my roles and stuff like that. But being here last year obviously helps, and I know what Tom is after and my role as a left-back, for instance. So I think it's just to be out gelling with some of the other players I'm not as familiar with, but everything else should come pretty naturally.