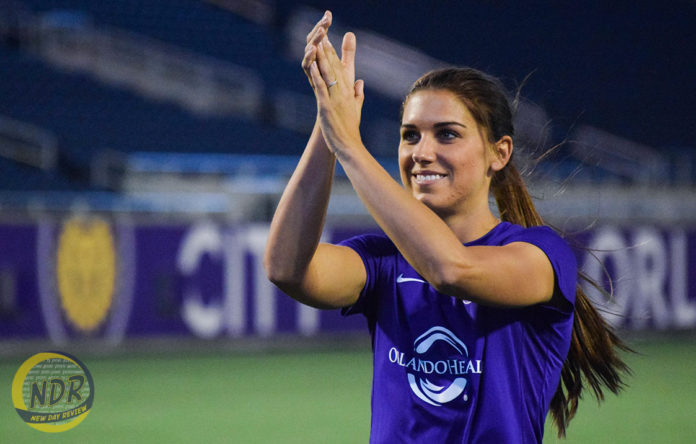 On Thursday, the National Women's Soccer League entered into an agreement that will expand the sport's reach throughout the United States.
The NWSL and Lifetime have agreed to a three-year broadcasting deal that includes the TV channel becoming an official sponsor of the league. This is part of A+E Networks becoming an investor with an equity stake in the NWSL. The new partnership also marks the beginning of NWSL Media, a joint venture between the NWSL and A+E Networks that will serve as the media and commercial branch of the NWSL.
"This is a transformational partnership in the evolution of the league, and we are so appreciative of [A+E president and CEO] Nancy Dubuc nd her team at A+E Networks, as they take a leadership position in the growth of our league and create opportunities for young women," NWSL commissioner Jeff Plush said, per a press release. "We are also extremely pleased to be able to present our fans with the most comprehensive national-television and streaming packages in our history."
For Dubuc, this partnership is a matter of sport and its impact on females everywhere.
"As a former college athlete, I know the importance of sports in the lives of women and girls, and I couldn't be more thrilled to join forces with [the] NWSL and U.S. Soccer to ensure professional women athletes are elevated as the entire country can watch and be inspired by their strength and athleticism," Dubuc said, per a press release. "The teams are filled with some of the best professional players in the world, and we are proud to welcome them to Lifetime."
The NWSL is the longest-standing women's soccer league in the United States' history, having been founded in 2012. U.S. Soccer president Sunil Gulati is optimistic about what the new partnership will bring.
"This partnership is not only tremendously significant in the continued growth of the NWSL but representative of how far the league has come in four years and where it can go in the future," Gulati said, per a press release. "A+E and its resources are a fantastic fit for women's professional soccer and will have a major impact onc ontinuing to raise the profile of what we feel is already the best and most competitive league in the world."
With the league's new partnership with Lifetime, a league game will be broadcast every weekend for the first time in the NWSL's history. The program will be called the "NWSL Game of the Week on Lifetime" and will air at 4 p.m. with a 3:30 p.m. pre-game show.
The Orlando Pride will play their 2017 campaign in the new soccer-specific stadium in downtown Orlando. In addition to USWNT superstar Alex Morgan, the Pride also welcome national-team defender Ali Krieger and bring back 2016 NWSL Goalkeeper of the Year Ashlyn Harris.