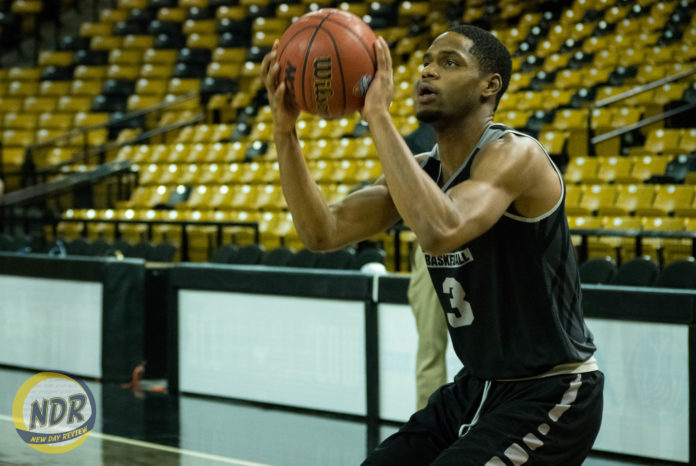 March 21 at CFE Arena
HC Johnny Dawkins
Before coaching at the University of Central Florida, Dawkins won two National Invitation Tournament titles at Stanford University.
I think [that game was the craziest game] this season, for sure. We got down by a huge deficit. Got down by 18. And our guys showed a lot of character. It's what they've showed all year long. They've been resilient. They have big hearts, and we kept competing, and we were able to fight back into the game.
UCF entered the second half of a 63-62 win over Illinois State University down 36-23.
I think one of the keys in challenging our guys at halftime was to settle down. I thought in the first half they sped us up. They got us a little bit out of character. We need to just get back to playing UCF basketball, which means being sharp with the ball, valuing the possessions, and we have to turn it up defensively. And we played more zone in the second half. I thought that was a little more disruptive. We pressed some to try to create a different tempo. I think that helped us some as well. So, I think those adjustments really helped, and the second half was a lot better half for us.
When asked about the mental toughness necessary to come back, Dawkins said it was difficult because of the crowd.
I mean, it takes a great deal of mental toughness. Like I've said before, our young men have big hearts, and they showed it again last night. That environment was electric. I think this entire season, an away game, that was probably the best environment we've been in, the most hostile environment we've been in. And I thought our guys really responded. I challenged them about being in that type of game and what we have to do to be successful. And I thought after half, they responded to that. They kinda got back to playing, as I said before, UCF basketball. Being physical, playing our style of play on both ends of the floor, and we were able to work our way back into the game.
On Wednesday, the Knights will play the Illinois Fighting Illini at 7 p.m.
Are you kidding me? Any time we get a chance to play in CFE we're excited. We have a chance to play in front of our community, in front of our students, in front of our fans at UCF. And we wanna do that. We wanna represent our university, as I said, at the highest level. And this gives us another opportunity to play against a quality opponent and accomplish that.
Forward A.J. Davis has brought the ball up for the Knights in certain occasions to give Taylor rest.
Well we have A.J. bring it up for several reasons. One, we know A.J. can run our offense for us. He's the most versatile player we have, and earlier in the season, when B.J. was out, he did that for us. Two, you know, it gives B.J. a chance to rest. B.J. went 40 minutes last night. Gives a chance to get off the basketball so you don't have to concentrate or focus that heavily 'cus it's not just a physical but the mental part of the game. So that gives him a chance to rest a little bit off the ball. And we're confident in A.J. running the team and making those plays, and he did a terrific job last night.
Taylor drew a foul on the last play of the game to shoot game-tying and go-ahead free throws to beat Illinois State.
Definitely wasn't designed to draw the foul. That just happened because he was in position, and the young man just got a little too aggressive and picked up a tough foul. It definitely was a designed play for us that we run, and our guys are familiar with it. When we drew it up on the board, we knew that they would kinda get excited about it and have an opportunity to run it. We've run it twice this entire year, and both times with the same result of us making the shot at the buzzard against UMass and then this one with B.J. making two big free throws.
Dawkins sees Illinois as a formidable opponent because of their experience.
Illinois is a very good team. They've been best basketball at the end of the season. If you look at their record, they're one of the teams that was probably thought of as last four out or so until they had a tough loss, I think, at Rutgers at the end of the season. But they were playing very well. They're a senior-laden team. A lot of experience. Experienced guard and [Tracy] Abrams, who is a sixth-year senior, so he's coming back with a great deal of experience. Their inside presence is good, with [Malcolm] Hill. He's a really tough player and [Maverick] Morgan. And they're a good basketball team. They like to score it well. They defend hard. They're feisty defensively, and they wouldn't be this deep in the NIT if they're not a quality team. And we have to prepare for 'em that way.
A major part of Taylor's game is driving into the paint and drawing fouls.
Well, B.J.'s a physical guard. And that's who he is. And we don't want him to change that. He's physical when he plays, and, of course, he's in those positions where because of that he always puts you in an awkward position as a defender. And it was a definitely a foul. And clearly he was ridden and bumped out of bounds. I tell B.J. all the time, "Just play it safe. Be smart with your moves and stay off the ground as much as possible." And he does that. But it's good that he's that physical and that he can get to the line as much 'cus that's really big for our team.
During the Knights' Round 1 game at CFE Arena, students were on spring break.
It's a big asset for us. To have our students back, I can just imagine this place just rocking. And I thought it was a real buzz when we played Colorado here, and our students were absent. So I can imagine if we can get that type of turnout and plus our students come out in full force, it'd give us a great atmosphere for these players. And, like I said, they've worked hard for us all year long, and hopefully we want to come out and give 'em a great opportunity to know just how much we all appreciate the effort and energy they put in his year.
The Knights will only have one day rest before playing Illinois on Wednesday.
I prefer a day or two or more preparation but not too long. This is a quick turnaround, I think, for both teams. But you have to be prepared. It's a tournament atmosphere, and typically in tournaments, you're gonna play every other day. And we're in that situation now, so we have to do a quick job of turning around and scouting and prepping our team. But I'd rather be playing while we're in rhythm than sitting out too long.
PG B.J. Taylor
When asked if it was difficult to not look too far ahead of games, Taylor said it might be for most teams.
I think it would be [hard] for most teams, but we're coached. It's not hard. We just had film for like an hour, and he always does a good job of keeping us grounded and keeping us focused on the task at hand 'cus he always tells us, "If you don't handle business tomorrow night, none of the stuff in the future matters." So, we gotta look at it the way we looked at it all season. At most, we got three games left, and that's what we had in the Charleston Classic, so we gotta look at it as the first game moving forward, and that's all we've been worrying about is Illinois is tomorrow.
Taylor said the Knights' game-winning play against Illinois State is something they practiced almost every day at the end of practice.
It's a play we practice every day pretty much at the end of practice like the last five minutes. It's just kind of a box play, box set to get me the ball and get me going in my right hand and just kinda push it full speed to see if I can get a play or make a shot off. Once I got to the sideline, I kinda saw that the defender didn't really cut it off too well, so I just knew I could attack and get the foul. I'm glad the ref made the call, and I was able to go to the line and knock down the free throws.
Taylor enjoys pressure moments like his game-tying and game-winning free-throw attempts.
I mean, the whole season, I kinda relished those moments. I kinda like being in those situations just because, I mean, I made a lot of big shots coming down the stretch so. They had a great crowd at Illinois State last night. It was one of the loudest crowds we played in all season, but I really want those moments. I mean, I couldn't have been more excited to have those two free throws and have the opportunity to make that play.
When asked about the Illinois State crowd, Taylor said the Redbirds played off the crowd's energy.
When we were able to make a run in that second half, the atmosphere in the building definitely changed just because, I think, they kinda lost some of their momentum, and they really feed off the crowd. You could tell the way they played it. They get a lot of energy from their home crowd. But once we were able to take them out of the game, that was huge for us and continue to make our run down the stretch.
Students returned from spring for classes that resumed on Monday.
I mean, it's gonna be huge for us. The student section been great for us all season. All of our fans, UCF's been great to us all season. Like I've been saying, this is the best school in the country, and I love the city of Orlando, just the support we get and the community been great to us all season. And I think we're becoming something that people can be proud of around here in this community, and that's what we want to be. I mean, we want to make Orlando proud, and we want the city to come out and support us.
For Taylor, handling the Redbirds' pressure helped their comeback effort in the second half.
We did a better job of handling their pressure. I think once we settled down and figured out how we were gonna attack their zone and their games, we were able to dictate the game to them instead of them dictating to us. I think the first half we were on our heels, we were reacting to them. But once we we were able to make our plays and make them have to deal with us, and then we kinda were able to impose our will. That's what switched the game around.
The mental toughness necessary to complete the comeback was fostered during the team's practices and preseason training.
I mean, Coach, since the spring, has been instilling that kind of mindset in us. I mean, five-mile runs at 5 a.m., intense workouts at 6 a.m. I mean, he's instilled the kind of toughness in us. So, whatever happened to us in the game, it's stuff we've dealt with before in some way or fashion in practice. And then we have a bunch of mature guys who've played college basketball before and been in all these situations with Nick [Banyard] being a senior, Matt's a senior, I'm older, A.J.'s older. So, we've been in these situations, so we gotta know, and we kinda have the confidence now. Even when we're down, we can come back.
Football player Jamiyus Pittman was shared his excitement in a study hall he shares with Taylor.
Jamiyus was really excited. That's my man right there. He's really excited. The whole athletic community around here been pulling for us, and they've been great. The UCF Athletics community has been so supportive to us. And we wouldn't be able to do what we've done this season without them.
When asked about his and the team's focus in a one-day turnaround, Taylor said it was just about preparing the same way.
Just prepare like we always do. It's going to be key for us just 'cus Coach always says, "It's not just about having the will to win. You gotta have the will to prepare to win." So we gotta come in here today, have a good focus and get focused, and that should carry over to tomorrow.
Dawkins called Davis the Knights' most versatile player.
I think he's just playing with more confidence. It's always been in him. I just think he's playing with more confidence and finding where to pick his spots at. When teams are gonna try to kinda deny me the ball back and deny Matt the ball back, there's a lot of seams for him to attack, and I think he's just doing a real good job of reading those plays. We wouldn't have won these four, five games without B.J.
SG Matt Williams
When asked about the Redbirds' environment, Williams acknowledged their fan base.
It was very good. We played a very good team. They played us very hard. They had a very good fan base. And, against us, it was the first time they've lost in a while, so that was big for us. We played a really good team. They played us very well. It was a good environment.
Illinois State shot 40 percent from three-point range on Monday.
Once they started hitting those threes, they got their fans into it. And that kinda made the game a little harder, you know, the environment of the game. I mean, once we calm the environment down, quiet the fans a little bit, from there, we already knew we was going to be good.
When asked about the key adjustments that helped the Knights come back to beat Illinois State, Williams said it was about a single commitment.
We just made a commitment that we didn't want our season to be over. Coach challenged us. He told us that we wasn't playing well. Just things like that. We don't really like to let our coaching staff down because they spend so much time preparing for us and trying to make sure that we were prepared for everything. So we just made a commitment that we just wasn't going to let them down and just was gonna win the game.
When asked if it was one of the best defenses he's played, Williams said it was a pretty good defense.
It was pretty good defense. They kinda was playing like a zone. It was like a match-up zone. It was pretty good defense.
Williams, a fifth-year senior, said the comeback came down to being poised.
Maturity and just mental stability. You know, just gotta be able to be poised. I feel like if you've been practicing—we prepare ourselves a certain way. The way we practice, the way we watch film, things like that, so, I felt that we was gonna be fine.
Williams originally played his senior-night game against the then-No. 15 Cincinnati Bearcats on Feb. 26.
Looking forward to the crowd tomorrow. Looking forward to all the fans coming out and support. It means a lot to me to be able to get another game here. I realized that this will be my last game here, really my last game here now. It'll be pretty good. I'm looking forward to it.
Williams sees the whole UCF community supporting the team.
Everybody with us. Everyone loves a winner, as Coach Dawkins always says. So, we win, and our fans are loving it too.
For Williams, the fact that Illinois made it this far in the NIT means they're a good team.
They're a pretty good team. They play in a good conference. They have good players. And they made it this far in the NIT. That means they're a pretty good team. We just making sure we prepare properly.
Before transferring to UCF, Banyard played his past two seasons at Illinois State.
Going back, we kinda knew, for Nick, that it'd be kinda jitterish, seeing your old home boys, your old fans, things like that. We just told him we had him from the beginning. You know, you have a new group of teammates now, a new group of fans. And we just let him know that we was gonna be there for him when it starts to get tough and things like that, so he got through it pretty well.
As Taylor stepped to the line for the final free throws of the game, Williams knew he was going to make them.
I already knew B.J. was gonna knock 'em down. If you watch the film, you'll see me in the background. I'm just like relaxing. I already knew B.J. was gonna knock 'em down 'cus that's just what he does.
Sticking true to their defensive principles is what's key to victory against Illinois for Williams.
We need to make sure that we stick to our defensive principles. We need to make sure that we focus on what got us here thus far. I just feel like we just gotta make sure that we don't focus on getting to the next step. We just gotta make sure we take care of Illinois, and, after the game was over, we can worry about our next step.