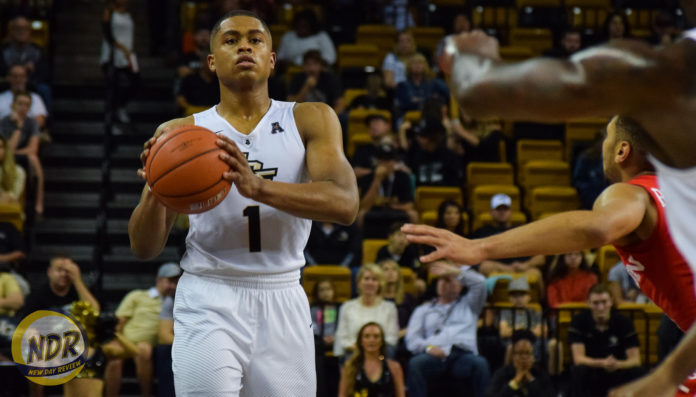 Whether they were fans or critics, not many people figured the University of Central Florida would finish the 2016-17 regular season as well as they did. In the American Athletic Conference preseason polls, the Knights were listed as finishing as the eighth-best team out of 11 programs.
How the tables have turned.
The Knights (21-11, 11-7 in AAC) finished the regular season with its first-ever winning season in the American, entering the AAC tournament as the four seed. They even defeated the fifth-seeded Memphis Tigers 84-54 in the quarterfinals of the AAC tournament, a team they had previously held a 2-18 overall record against.
Now, UCF returns to CFE Arena to compete in the National Invitation Tournament for the second time ever. Redshirt sophomore point guard B.J. Taylor sees the Knights' newest opportunity as a chance to both send the seniors out on a high note and to prepare younger players for future postseason runs.
"It gives the older guys a great opportunity to finish up their last games here, however many games we have left to show anybody what they want to do in their post-basketball careers," Taylor said before practice Tuesday, per UCF Communications. "And, for us younger guys like me, I never played in postseason. So, there'll definitely be a great test for me and great experience for me moving forward to next to have been playing in a postseason game and have been played in postseason tournaments to understand kinda how it is and see how my legs feel.
"So, next year, when we make the runs that we want to make, whatever tournament we're in, I'll have some experience."
For first-year UCF head coach Johnny Dawkins, who won the NIT in the 2011-12 and 2014-15 seasons, this supposed consolation prize of going to the NIT is not a consolation prize at all. In fact, it's a chance to win a national title.
"I think it's great… It's a great experience," Dawkins said before practice Tuesday, per UCF Communications. "It's an opportunity for our guys to continue to play. You're still playing for a national championship. You're playing for the NIT national championship. And our guys are excited about this opportunity."
Dawkins looks to share his experience as a two-time NIT winner with his players who have all not been to the postseason as a Knight. UCF last made it to a postseason appearance in the 2011-12 season when the Knights earned their first-ever NIT berth.
"I think experience does help, but every team's different. You have to make sure that you're prepared," Dawkins said. "You have to be excited about the opportunity, which we are. And I'm excited to still be coaching and coaching our players… The experiences that I've had in there—I've shared some of them with our team, and I'm gonna share some more with them."
When it comes to their opponent, the fifth-seeded Colorado Buffaloes, the Knights will face an older team, as Dawkins acknowledged. The Buffaloes (19-14, 8-10 in Pac-12) feature four fifth-year seniors with three of them being perennial starters. For Dawkins, that will serve as a challenge for his team.
"They're an old team. They're one of the oldest teams we'll play," Dawkins said. "They have four fifth-year seniors, so they're men. We know they're really good. They're experienced. Really good offensive-rebound team. They crash the boards well, and they have some terrific shooters."
One player thatcaught the attention of both Dawkins and Taylor is Buffaloes fifth-year senior point guard Derrick White. The Parker, Colo., native is averaging 17.7 points per game to go along with 4.3 assists per game.
"[They have] probably one of the best point guards, I think, maybe in the country," Dawkins said. "His numbers are phenomenal, and he's had a great season for them."
A young and relatively inexperienced Taylor sees his matchup with White as an opportunity to test his mettle against a player who's faced off against competition like UCLA Bruins star point guard Lonzo Ball.
"For me, personally, I know they played against a lot of good guards with Lonzo Ball out there and Markelle Fultz," Taylor said. "So, I mean, they've played against a lot of good point guards this year, so it'll be a good test for me. They had a really good season, so I'm sure it'll be a great test for the team."
The winner of Wednesday's matchup will play the winner of the University of California, Irvine-Illinois State University game.
UCF hosts the Buffaloes on Wednesday at 7 p.m. at CFE Arena.