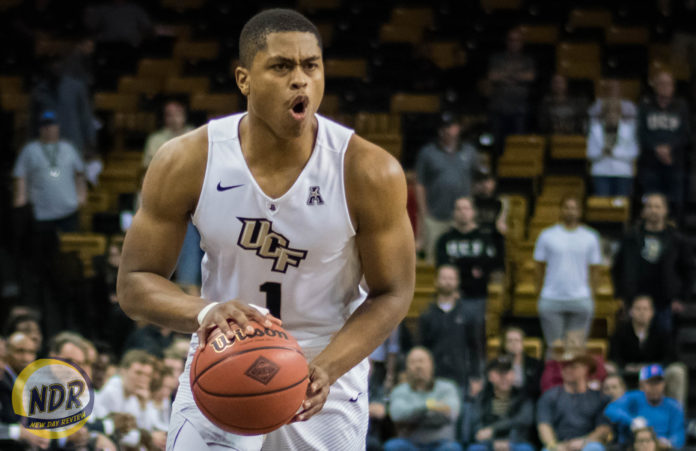 (Photo by Adrian J. Hernandez / New Day Review)
Live Blog: UCF vs. Colorado, Round 1
Game Recap
ORLANDO, Fla. – "Every program and every team has a beginning."
Those were the words from first-year University of Central Florida head coach Johnny Dawkins after the Knights won their first-ever National Invitation Tournament game.
But the 79-74 win at CFE Arena Wednesday night didn't come easy for UCF (22-11, 11-7 in American Athletic Conference), as Colorado (19-15, 8-10 in Pac-12) battled back from a 12-point deficit with less than two minutes to make it a one-possession game.
With less than 30 seconds to go, redshirt sophomore B.J. Taylor went to shoot two free throws as the Knights held a narrow 74-68 lead. Taylor missed both charity-stripe shots, and Colorado's Derrick White drained a three-pointer to make it a three-point game. In his next chance, Taylor drained both free throws for a 76-71 lead. Colorado's Xavier Johnson hit another three before A.J. Davis sealed the game with three more free throws to end the game.
"I'm confident regardless of what happens the play before or in any play. You gotta move onto the next one," Taylor said after the game. "I know I missed two before, but I knew I would make the next two. As a player, you gotta be confident, you gotta stay poised and keep composed in situations like that, and us going up five in a situation like that was huge in us closing out the game."
It looked like the Knights would douse any hope for the Buffaloes when Taylor and redshirt senior Matt Williams hit back-to-back threes to give UCF a 12-point lead with 1:50 left in the game. Four threes, an and-1 layup by White and two offensive rebounds gave Colorado second life.
"We was definitely happy. Like you said, battled all night," Taylor said. "The glass, the rebound margin had been an important key to the game as well. They were sending five guys to the offensive boards every time, so boxing out was huge."
Williams helped the Knights to an early start, tallying a game-high 13 points at halftime on 5-for-8 shooting and going 3-for-3 from three-point range. Williams' lone field goal in the second half was the right-corner three that put the Knights up by 12.
"He got us off to a great start, and Matt's done that for us in a number of games," Dawkins said. "He got us off to a great start 'cus he was really assertive, and he was very efficient with what he did. He had his jumper, he took it. Guys tried to chase him off of that, he went to mid-range shots and made those. He was very good today. And he had a huge shot for us late in the game."
A major discrepancy between the Knights and Buffaloes tonight was their free-throw shooting numbers; however, UCF took 14 free throws in the last 1:18 off Colorado intentional fouls. That was something Colorado head coach Tad Boyle identified as being a game-changer.
"They shoot 32 free throws, and we shoot six… Just a huge disparity and a lot to overcome," Boyle said after the game. "So I was disappointed with that. But, what are you gonna do? You gotta try to overcome it, and our guys tried, but we just weren't able to in the end."
Player of the Game: B.J. Taylor
Taylor finished the first half with five points but scored 21 points in the second half to help the Knights to victory. The Boone High School product went 5-for-9 from the field and 4-for-6 from three-point range in the second half. He also made all seven of his free throws in the second half and turned the ball over only once.
Healing BJ Taylor's Eye
In the first half, Taylor suffered an eye injury when he got hit in the face by a Colorado player. He was limited to just five first-half points on only four shot attempts. At halftime, Dawkins said athletic trainer Jarrett Schweim tended to Taylor, allowing him to finish the game with a team-high 26 points.
"Really proud of [Taylor] because I knew he was really battling through a lot. His eye was swollen a little but more so was irritated," Dawkins said. "And, so, every time he kept wiping it—I kept watching him wipe it with his shirt—and I'm like, 'It's probably gonna irritate it even more.' And so he was really blinking a lot in the first half. So I knew he couldn't really focus and maybe see the way he wanted to see on the floor.
"In the second half, Jarrett, our trainer, he's a magician. I think he worked magic and got it kinda cleared up, especially, I think, at the under-12 timeout when you start to really see him assert himself. I think that was Jarrett—a lot of good work getting him up to speed and, of course, he just kinda took over during that stretch and really helped us."
Birthday Boy AJ Davis
Dawkins said after the game Davis probably played his best-overall game—on his birthday, no less. The redshirt junior finished with totals all above his season averages: 17 points, eight rebounds and three assists.
"Well, it was A.J.'s birthday, so that says it all," Dawkins said. "What a day. A.J. saved one of his best games of the season for postseason. He had a great game today and not because of the points he scored. I thought it was his best all-around game. He's always giving you the energy defensively. He makes plays, he rebounds the basketball.
"But he did so many more things. He ran the point for us some and made really good decisions with the ball in plays. Of course, he really made a lot of connecting plays as far as talking to teammates, making sure they're in the right place and doing things. He was really engaged, and I was really happy to see his overall game. Probably his best-overall game this season. And it was his birthday, so it couldn't have come at a better time."
Davis shot 5-for-9 from the field and 2-for-5 from three-point range, including 5-for-6 from the free-throw line.
Big ups to the birthday boy! #ChargeOn pic.twitter.com/a8pna0va3c

— UCF Men's Basketball (@UCF_MBB) March 16, 2017
What's next?
The Knights will play the winner of the University of California, Irvine-Illinois State University game.
Highlights
#TackoTip pic.twitter.com/48wDqep3uv

— UCF Men's Basketball (@UCF_MBB) March 15, 2017
How?!?!

Matt is on 🔥🔥🔥3-for-3 from deep! #ChargeOn

25-13 Knights pic.twitter.com/0Y0CddFoCa

— UCF Men's Basketball (@UCF_MBB) March 15, 2017
3J Taylor! 54-44! #ChargeOn pic.twitter.com/SsXRFkX1zF

— UCF Men's Basketball (@UCF_MBB) March 16, 2017
Dont do it, B.J…Don't do it! 😬

9 straight from @BJTaylor_1 has us up 60-50 #ChargeOn pic.twitter.com/cbRh2Z4us3

— UCF Men's Basketball (@UCF_MBB) March 16, 2017
What?! @BJTaylor_1 is that dude! pic.twitter.com/lFnHy5BNh4

— UCF Men's Basketball (@UCF_MBB) March 16, 2017
NDR Notes
UCF won its first-ever NIT game. In the Knights' only other appearance in the NIT, they lost to Drexel University 81-56 in the 2011-12 season.
Taylor recorded his ninth 20-point game, scoring one point shy of his season-high (27).
Scoring
| | | | |
| --- | --- | --- | --- |
| | 1st Half | 2nd Half | Final |
| University of Central Florida | 38 | 41 | 79 |
| University of Colorado Boulder | 334 | 40 | 74 |
Statistics and Starting Lineups
Team Leaders
| | | |
| --- | --- | --- |
| | University of Central Florida | University of Colorado Boulder |
| Points | B.J. Taylor (26) | Derrick White (30) |
| Rebounds | A.J. Davis, Tacko Fall (8) | Derrick White (6) |
| Assists | B.J. Taylor (4) | Derrick White (6) |
| Blocks | Tacko Fall (3) | Derrick White (2) |
| Steals | B.J. Taylor, Tanksley Efianayi, Chad Brown (1) | Xavier Johnson, George King (1) |
| Turnovers | A.J. Davis, Nick Banyard, Matt Williams (2) | Lucas Siewert (2) |
| Minutes | Matt Williams (39) | Derrick White (40) |
Team Statistics
| | | | | | |
| --- | --- | --- | --- | --- | --- |
| | Rebounds | Assists | Blocks | Steals | Turnovers |
| University of Central Florida | 34 | 12 | 3 | 3 | 10 |
| University of Colorado Boulder | 34 | 14 | 3 | 3 | 7 |
Shooting Percentages
| | | |
| --- | --- | --- |
| | University of Central Florida | University of Colorado Boulder |
| FG% | 54.3% | 42.3% |
| 3FG% | 54.5% | 27.3% |
| FT% | 53.1% | 83.3% |
UCF starting lineup: B.J. Taylor (G), Matt Williams (G), Nick Banyard (F), A.J. Davis (F), Tacko Fall (C)
Colorado starting lineup: Dominique Collier (G), Derrick White (G), George King (G), Xavier Johnson (F), Wesley Gordon (F),