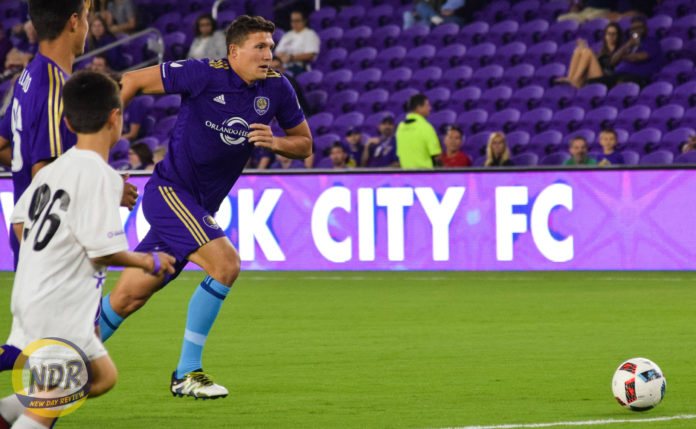 March 14, 2017 at Sylvan Lake Park
Availability: HC Jason Kreis, GK Joe Bendik
HC Jason Kreis
Giles Barnes was signed by Orlando City SC on Feb. 25.
I think, first and foremost, positionally, I felt like we needed to strengthen in an area of the field, an attacking area of the field. After we lost [Kevin] Molino, we felt, "How are we going to get those goals back?" Taking an evaluation of the group that we had and still have and thought we could use some help there. So, positionally, I think Giles helps us from that. And also I think his versatility is a big, big plus for us, being that he can play in the wide-midfield positions as well as either the striker positions. And so he adds us a lot of versatility. And then individual qualities is Giles is a very powerful runner. Somebody that can really stretch the field for us. But he's also good when he has the ball at his feet, running at defenders. So he gives us some qualities that are a little different than some of the players that we have already.
When asked about how well Barnes was integrating with the team, Kreis said he was doing "very, very well."
Very, very well. Obviously, he comes into the game and makes the assist for the game-winning goal in the first match and did a lot of other little things that were important. But from a character and leadership point of view, he's another voice around here with experience that's lending information and providing information to the group, which is important.
City forward Carlos Rivas sat out the end of training on Tuesday because of a strain he sustained earlier in the session.
He took a slight strain in the training session today. Not sure whether it's gonna be a serious issue, or it's just gonna be a day-to-day thing. So, we'll get a scan on him this afternoon, and we'll find out.
When asked about how valuable having an extra week to prepare for his team's next match without team captain Ricardo Kaká was, Kreis said he expects players to know multiple roles.
I think it's good. But I don't know that we're a team that's really that focused on individual attributes of our own players. I think that we're a team, and we're a coaching staff that wants all of the players to understand what all of the roles are. If a guy like Rivas gets caught out on the left side of midfield, he knows what to do, and he's there. And so the same goes for a new player coming in. We need to acclimate and coach him very quickly so he understands what his responsibility is in that role. I feel like Giles has stepped in and done a pretty clean job of that so far.
Orlando City hosts the Philadelphia Union on Saturday at 7:30 p.m.
A lot of fight. It's a team that's added some really, really interesting new players—really good new players. It's a team that made the playoffs last year, so we know it's a quality side. And it's a team that's always had a tremendous amount of fighting spirit. So, we expect it's gonna be another really big challenge for us this week.
Last season, the Union squeezed into the playoffs in the sixth spot, beating out Orlando City by one point.
For me, we continue—you'll continue to hear me say this—but, for me, when we're at home, it's not so much about the opposition; it's about us. We know that the job is very simple. The objective is very simple. It's three points. And we push the game with an aggressive mindset, and we demand maximum effort. We demand that our guys give everything they can to obtain the three points.
Midfielder Justin Mapp has been training with the team as a trialist for almost two weeks.
It's been interesting. It's not so much that you're bringing a guy like Justin in to kind of think about what he can do because you have a pretty solid picture. He's been around the league long enough to know what he can do. It's more a question, "Is he capable of that right now?" based on the fact that he didn't play many games last year at all. Was injured basically the entire season and has had a very long offseason to try to gain fitness. So, it's a difficult question to answer, I think, in his particular scenario where he is right now.
When deciding to sign Barnes, Kreis said there was an expectation that he would be able to play Kaká's role.
Yeah, I mean, we brought him, as I said, thinking this is a guy that could play in one of the wide midfield roles as we see him or either the striker roles. So it's a player that we brought here that we think he could play four positions for us.
Kevin Alston, who was sidelined with an injury for most of preseason, participated in a full scrimmage on Tuesday.
He needs to be built up. And so you can never be trying to have somebody in full training for a couple of days and then think about them playing the match on the weekends. So, we need to do the right thing, which is to build him up through matches and through, first of all, through training sessions, full training sessions. And then we'll get some match in there that's for him in other places first.
Bendik signed a three-year contract extension on Monday.
Yeah, absolutely. The easiest. And Joe, I think it's, in particular, it's interesting because he took on the message that there wasn't gonna be any big raises for players that were here last year. But what he wanted was some security. He wanted some length added onto his contract because he loves Orlando. He wants to be a part of this for many years to come, so it was an easy decision for all of us.
When asked about seeing the promotional material and the faces of players plastered down Church Street, Kreis said it's nice to be in a place where the community appreciates the team.
It's such a special thing, and I think some of the players often times maybe don't recognize it as much as some of us older people do. It's really a special thing to be in a community and a city where you're appreciated for what you do. And you're recognized for that. And I think that, as I said many, many times, this is an extremely place, and we need to all be appreciative of this great opportunity we have.
GK Joe Bendik
For Bendik, signing his extension was rooted partially in his love for the community.
Orlando is a place that I loved as soon as I got here and only enjoyed it more and more as the times gone on. The contract is something where I was going into an option year next year, and I think it—we had a talk and basically a commitment towards the club as long as those three years and hopefully many years after that. But, for me, it's a place that I completely believe in. And the support and everything, the way that everything's gone here, it's on an upward slope.
I think everybody knows the golf, the fish. It's relaxing. Beach. Just got everything right here. For me, it's the lifestyle is just so accommodating to soccer.
With regard to what he's learned, Bendik said leadership was something he learned last season.
I guess a little bit more just to become a leader. We have a lot of experience and a lot of guys that can help with that, but through the course of last year, we struggled maybe a little bit with that. Hopefully I can give a bit more there.
Last season, the Lions went 1-1-1 against the Union. City lost its first match 2-1 to the Union, drew 2-2 in the next and won 2-0 in the final.
It's the Union. They're very similar team as they've been in the past. And they have an extremely high work rate. They're willing to give everything every minute of the game. So, for us, we have to match that and beat them tactically.
Big strikers. They have a new good center midfielder who looks to be extremely dangerous on attack and can spray some balls to release pressure off the rim. So we have to close those down.
Bendik has seen Barnes integrate nicely on both facets of the game.
I think he's been great. You can obviously tell he's been around the league and been here for years. So, for him, he came in, and I thought he made an immediate impact. First touch was an assist, and, even in training, he was telling Donny [Toia] how he wants him to communicate with him and kinda teaching Cyle [Larin] a little bit more, so he's been an excellent teammate.
When asked if he'd like to not be mentioned in Save of the Week honors each week, Bendik said the only thing that matters is earning three points.
For me, if it's Save of the Week or not, or if it's a just keeping the ball for the entire game, it doesn't really matter as long as we walk away with three points. There was obviously some things we needed to work on after the New York game. I think, for us, it's just growing as a team as long as the season goes on.
Even after just one game, Bendik has seen a definite difference in the defense.
Definitely. I think there's times in that game that maybe balls would've slipped through, or things wouldn't be as clean. I think [Jonathan] Spector and Jose's [Aja] partnership is growing. I think Donny did a great job. Will [Johnson] was asked to play right-back, and he did an excellent job. So, we're progreessing.
When asked if it was possible to quantify the veteran experience that has been added to the team, Bendik said it's not.
No, I don't think so. I think we'll see as the season goes on. The beginning of the season can be a little bit easier because everybody's ready and everybody's rejuvenated from the offseason. It's that middle part of the season, I think, for us that we have to keep the intensity high.
During Orlando City's first-ever match in Orlando City Stadium, the supporters' section shrouded Bendik's goal in purple smoke during the first half.
My first impression of it was walking out for my warm-up and seeing everyone out there and all the chants. For me, it was a little bit emotional. I think I did some things in my warm-up that I've never done before just because I wasn't as focused, or it just hit me all at once. That was awesome. The smoke is distracting. I was sitting there, and I was like, "I can't really see the ball." And I took a look over my shoulder, saw a bunch of purple smoke and just walked out of it. But, yeah, I love it. Rather have it than not.