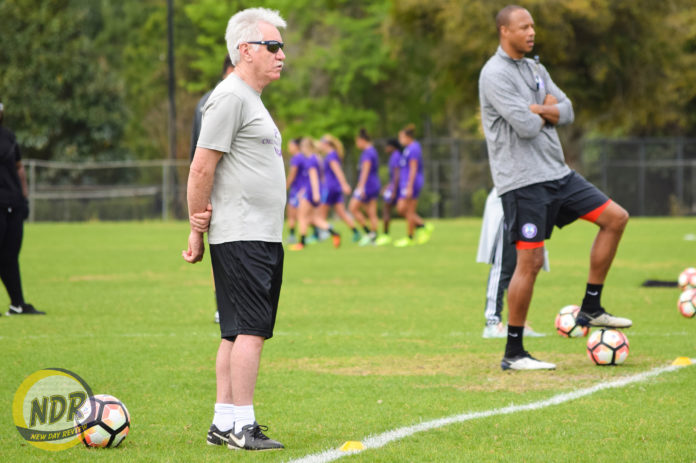 The Orlando Pride endured a tumultuous inaugural season in the National Women's Soccer League. Last season, the NWSL's newest team finished ninth out of 10 positions in the league, losing the second-most games (13). A myriad of factors contributed to the Pride's lack of success in their first season.
For starters, it was an expansion season for Orlando. That rushed the Pride into the preseason under a new head coach with new players. Then came the Olympic break, drawing a host of international starters away from Orlando.
Fortunately for the Pride, they won't have to worry about major-tournament call-ups this season. That excites midfielder Kristen Edmonds.
"I think we added a couple of really, really quality players to the team that's only going to help us," Edmonds said after training Monday. "And I think we're gonna be playing at a really high level this year. Last year, before the break, I think we were playing really well, and I think the break, losing so many players all at one time for a long period of time, kind of hurt us a little bit.
"But, this year, there's no Olympics, there's no World Cup. So we'll pretty much have everybody for most of the season. So I'm excited to see what happens. I think it's gonna be good quality, and we're gonna push for playoffs this year."
Speaking of the season before the Olympic break, Pride head coach Tom Sermanni noted the definitive divide between before and after the midseason stall. Entering the 2017 preseason, Sermanni wants his team to pick up from where the Pride left off before the 2016 Summer Olympics.
"Hope we win a few more games," Sermanni said after training Monday. "I think last season—and I've said this many times—was a season of two halves. What I want to see is a continuation of where we left off at the first half of the season last year with some improvements."
Now, in his second season as the boss, Sermanni feels his team is "more settled." That starts with the Pride having a definitive training location.
"We just want to be more settled in our training venue, for example, and hopefully based [at Seminole Soccer Complex] more," Sermanni said. "Last year was difficult for everybody, and we ended up training at Sanford Airport, training at other places. So, this year, I think, generally, we're far more settled than we were."
It's not only that the Pride are consistently training at one location, but Sermanni, his staff and his players now all know what each other expects, too.
"The staff is much more experienced at working together, much more comfortable together," Sermanni said. "We're able to sort of plan things better. So, generally, I just think everybody feels a lot more settled… We're all much more familiar with each other… They know what I expect from them, and they kinda know how I work and what I want to do and how we want to play."
Edmonds, who finished last season with a team-high six goals in 19 appearances, said she sees a more positive environment in the Pride's first training session of the year compared to last season's first session. For Edmonds, she knows her team can't use expansion-year excuses anymore.
"There's kind of like a more positive environment," Edmonds said. "Not saying that last year wasn't positive, but it's everybody's just excited. Our honeymoon stage is over, and everybody knows that we want to win now. And wins matter the most.
"Nobody's looking at us as the new team in the league anymore. So we have a point to prove, and everybody knows that."
The Pride will play a series of preseason friendlies against in-state universities and the United States U-23 women's national team before traveling to face the Portland Thorns on April 15 for the season-opener. One week later, Orlando will host the Washington Spirit in Orlando City Stadium on April 22.
NDR Notes
When asked if any player stuck out to him during the team's first training session, Sermanni highlighted 22-year-old defender Camila Pereira, saying she "showed her quality."
McKenzie Berryhill is out indefinitely with concussion-related issues.