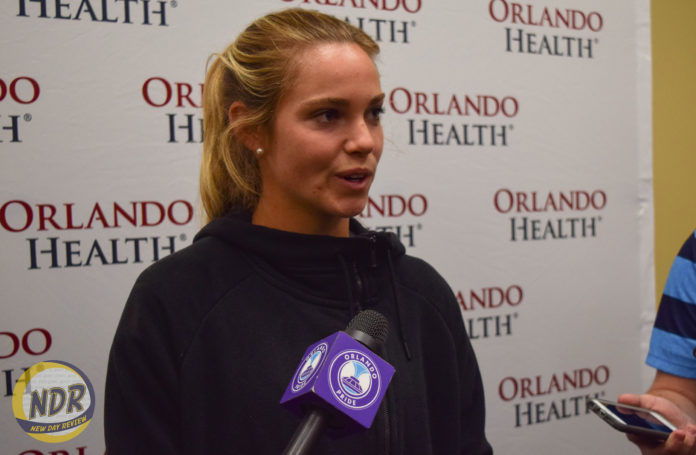 March 11, 2017 at Orlando Health
Availability: HC Tom Sermanni, MF Dani Weatherholt, F Jasmyne Spencer, DF Laura Alleway, Team Doctor Dr. Daryl Osbahr
HC Tom Sermanni
When asked about how his offseason was, Sermanni said it was "very long."
Very long. Last offseason was kind of a block getting things organized. The start of this offseason seemed to drag on forever, and then it suddenly, the season comes around quickly at the end. It was a mix, to be honest. It was probably the first couple of months from the end of the season up until the turn of the year. It was a little bit frustrating because we're trying to get things in place, and we couldn't get anything done for a whole variety of reasons, many of which were outside of our control. But then things seemed to turn in January. I think we did very well in the draft. We managed to get a couple of deals done. We got some players in. And then, all of a sudden, by the end of January, we started looking a lot more solid, and the team and the squad seems to have come together very well since then.
When asked about what excites him the most heading into his second year as the Orlando Pride's head coach, Sermanni said it was about getting back with a team he had a year's experience with already.
Getting back in with the team, having now gotten to know them for a year. I think, as I said last year, it was a real mix of things. Things were all over the place, to be frank, particularly with it being an Olympic year, bringing a new team together, having no time to get things organized. What I'm looking forward to this year is I think we're a lot better organized, we're a lot more stable. I think we've got much more depth in this squad. There is far greater competition for places. So I'm looking forward to get in and really having a competitive squad to start from Day 1.
When asked about his team's identity, Sermanni said he wants his team to be a dynamic one.
We want to be a really dynamic team. We want to be a team that really goes out to play a good brand of soccer, an exciting brand of soccer, an attacking brand of soccer. So we want to be a team that finds what you come and see, enjoy watching and a team that plays in a very positive fashion.
The Pride will play their 2017 season in Orlando City Stadium.
It's phenomenal. It's great environment, great atmosphere. Fantastic for fans. They're right on top of the team. The playing surface is outstanding. The whole setup around it is just fantastic. If not the best stadium in the country, it's certainly up there amongst the top two or three. So, doesn't get much better than that.

A lot of them haven't seen the new stadium up close and personal. Some did at the game last weekend. That offers huge, positive impact on the team. The down side is it has the impact on the opposition teams as well. Because they come here, and they see this fantastic stadium, and it gives them a boost as well. But, I think, for us, it's the stadium and the crowd and how loud this crowd's gonna be happy and how passionate this crowd's gonna be that will give us an edge.
Forward Alex Morgan will miss the Pride's preseason and some regular-season matches because she is currently playing with Olympique Lyonnais in France.
It doesn't affect [the approach to the preseason or the beginning of the season] at all. Let me clarify that. You're always impacted when you lose one of your key players and best players. So that's obvious. But that doesn't impact how we are going to prepare, how we're going to train and how we want the team to play. Because, as I said, now, we've got much more depth than we had last season. We're in a much better position than we were last season. So, losing a player of Alex's caliber is obviously something we didn't want to happen. But you have to deal with it. It won't impact what we intend to do or how we inted to play.
Last season, Weatherholt appeared in 12 matches.
Having had experience in the league, way back in the early 2000s, the second year for draft picks is a very important one. You know, sometimes it takes a year or so to get into the swing of playing in the league. And Dani did very, very well for us last season. She's now had some international experience, under-23 level, so is coming into this season, I think, in a far more confident place than perhaps last season. So, we're looking for her to be a player that really kicks on and makes an impact for the team.
The National Women's Soccer League and A&E Networks signed a three-year TV deal that includes broadcasting NWSL games on Lifetime.
I just think it shows the importance of women's soccer. When you get a network of that significance coming into the game, you know that they've done their homework. They know that it's a sport that's got great potential to have far-reaching effects and impacts around the country. So it says a lot, from a sporting sense, of how important soccer is and the reach that women's soccer can have, probably, particularly in the female community. But it also says about the stability of the league. In previous leagues, when they reached this stage, they were going in the wrong direction. This league has now reached Year 5, and it's getting stronger, and it's getting more popular. So, I think that the A&E deal will have a huge impact to propel the league to an even higher status.
On Thursday, a rumor began circulating that the Pride signed Brazilian superstar Marta Vieira da Silva.
Is there a new signing coming up? I haven't heard that. Get away. I haven't heard that. I don't do Twitter. Well, word does tend to get back to me. Yeah, apparently there's a rumor out there. It's a rumor that I can't comment on at this stage, at this moment in time. Marta is a player who plays for Rosengard in Sweden. It would be fantastic to get a player of her quality to this club. And if that happens, it will be wonderful. If it doesn't happen, I think we still got a very strong squad.
Orlando acquired University of Connecticut product Rachel Hill through a trade with the Portland Thorns this offseason. Hill notched 61 goals and 18 assists in four seasons with the Huskies.
Mainly later. She's still got some school to finish. And school's a priority. And it's important from us, as a club, to encourage the educational side for our players as well as the soccer side because a soccer career can be a very short one. So, it's important that she finishes her school. She'll come in for part of preseason, and we'll have a good look at her then. And then join us again, I think, sometime in May.
The Pride retain most of their players. Apart from a few new additions and losing Canadian players Kaylyn Kyle and Josée Bélanger and Sam Witteman, most of Orlando's roster remains the same.
Well, I think particularly the defensive relationship should impact the team very positively because you're talking about three players who play regularly and happily regularly for several years now in the Australian back-line at major tournaments, World Cups and Olympics. The fact that you've got three very experienced international players that play together should be, should be very positive for us. And I think players who are familiar playing with Nickolette [Driesse] and Jamia [Fields]—I think players who have been familiar playing with each other and are comfortable playing with each other is always a bonus and always helpful. So we should see that. And that should help Nickolette settle in as well. And we should also see that with Monica [Hickmann Alves] and Camila [Martins Pereira].
When asked if he accomplished his offseason goals, Sermanni said that he'd be happy if nothing happens between now and opening day.
If nothing happens between now and opening day, I'll be very happy. If something comes up that I think could strengthen the team further, then we'll look at that. But I'm not out there, at the moment, actively sort of searching for other players. But if something lands on our doorstep, then we'll certainly look at it.
MF Dani Weatherholt
When asked how she felt about returning to Orlando, Weatherholt specifically mentioned the new stadium.
It feels absolutely incredible. I'm really excited to see the new stadium and get back out there and reach out to all the fans. I know we're all so excited to be back in the community.
Weatherholt spent her offseason in California.
I was in Northern California, and I was kinda training at Santa Clara with some of the coaches around there and coaching a lot.
Weatherholt received her first international call-up, joining the United States U-23 women's national team in Spain during the NWSL offseason.
It was great. It was mid-February, like last-minute, and I was, like, really nervous. And then being there was just exciting. I was just kinda thankful for the opportunity. Really, it's just a privilege to have been there. And I learned a lot. A great coaching staff… I feel excited coming into the season.
Last season, the Weatherholt was a rookie. She was selected by the Pride with the 31st-overall pick in the 2016 NWSL College Draft.
It's great. I think there's already that foundation and that team chemistry. So, coming in, everyone's excited to see each other again and start playing.
Weatherholt started many games for the Pride during the Olympic break last summer.
I'm just hoping to help the team in any way that I can. So, hoping to be an impact player. So, however the team needs me, happy to step into any role.
When asked about the anticipation from the team, Weatherholt said everyone's excited.
I think everyone's really excited, and we have really high expectations for this year. We're hoping to take it far, take it to the top four and eventually win it all. So, I know we all have that as a goal. Gotta come together, and preseason will be huge. But we have high expectations.
When asked about her fitness level, Weatherholt said she felt like everyone prepared well.
I think we all worked really hard over the offseason. And so I think we're gonna come in ready and prepared.
When asked about what she's done differently from her rookie season to her sophomore one, Weatherholt said she's been more involved with the strength-and-conditioning program.
Over the past season, I've been working with the strength-and-conditioning program here. So, they've been really helpful in preparing for us.
Weatherholt said she's improved in the mental aspect the most.
I think, overall, mentally. Just, your rookie year, you're nervous and trying to make an impact, and you're in a new place. So, I think, mentally, I'm just really excited to contribute.
For Weatherholt, her position gives her an opportunity to be a role model and do charity work.
I went to Grenada and Nicaragua with Soccer Without Borders, and it was an absolutely incredible experience. I really recommend to everyone and anyone. We worked with young girls in the community of Grenada. It started with about 10 girls, and now it's up to 70 young girls playing in the community. And every day the coaches there go door to door to try to get parents to allow their young girls to come out and play. It's step by step each day, but it's growing, and it's really exciting. It's a very humbling experience. The girls love the game.
I had been to the Dominican Republic once, but that was with a faith-based organization. So, it was young boys and girls working with an orphanage. But soccer is always the foundation because it's the love of the game that really brings everyone together.
Each week, Lifetime will show an NWSL game of the week.
My first thought was just extreme gratitude to all the women that came before me. Like, Michelle Akers, Julie Foudy—all of them. And even recently. Like, Alex Morgan's generation. They've done so much for the game. And I just feel incredibly grateful that I get to be a part of this first step towards Lifetime TV.
All three Orlando City SC teams will play in Orlando City Stadium.
It's so exciting. I think it shows the professionalism of Orlando and the club. Like, being that we're women, we get to have that stadium. Like, the first thing someone asked me was, "Well, do you guys get to play in it?" And I was like, "Yeah. Orlando's all about equality." And the management are all about, "What the men get, you guys get." So, it's very special, and we're really thankful to be a part of it.
Last season, the Pride broke the NWSL's single-game record attendance record in Orlando's home-opener. The Pride hosted 23,403 people in a 3-1 win over the Houston Dash at the Orlando Citrus Bowl.
I think we're definitely gonna break it. I think by a couple thousand. High hopes.
F Jasmyne Spencer
When asked about how it felt to be back, Spencer said it was nice being in warm weather again after being home in cold weather.
It's good. It's warm. I mean, I know I was in Australia, but my three weeks at home I nearly froze to death. So, I'm happy. I'm happy to be back.
Spencer spent the NWSL offseason with Canberra United. Canberra won the W-League's regular-season title.
It was good. That was my third season there, and every year I go back, it gets more and more competitive. It's a great balance between continuing to play but not kinda over-doing it. I had a really good team out in Canberra United. We won the league and then lost to Melbourne City with Steph [Catley] and [Alleway] in the semis. That's the second year they've knocked me out, but no grudges. But it was good. I had a good time.
Spencer said her experience in Australia helped her improve her leadership skills.
Well, my team there was really young. And now [I've] rounded the corner and became a veteran and had to develop some more leadership skills. And I'm looking forward to carrying that into our season.
Spencer, goalkeeper Aubrey Bledsoe, defender Toni Pressley and midfielder Maddy Evans all signed new contracts with the Pride this offseason.
It's great. I loved it here. This community, top to bottom—the fans, the staff, the owners and the managers—it's unbelievable, and I'm so happy to be a part of it again.
Spencer is used to playing all year long.
It's good. I'm not someone in particular who's had to really worry about that because I've never really stopped, which is good. It's kinda just balance. You don't want to be peak at preseason, so you just kinda keep building and then hopefully hit strides when the games start coming in.
Without Morgan in the lineup, Spencer said it's an opportunity for herself and teammate Kristen Edmonds to lead the team.
As I said earlier, I know myself, Kristen going into some camps, we've developed this leadership role that we didn't necessarily have in seasons past. But we're definitely looking forward to carrying that on and helping some of the younger and new girls gel and just really introduce them to what the club is all about and just build it as we keep going forward.
Spencer hasn't seen the new stadium yet.
It's unbelievable. I can't wait. I haven't even gotten down there yet. I think I've only been here for like two days. But I can't wait. I know it's going to be incredible.
For Spencer, being an expansion team made it difficult to find a team identity.
I think we're just gonna have a little bit more direction as a team, like, what our identity is gonna be on the field. As an expansion team, it's really hard to try and get that In the first season, especially. We were formed in October, and we only had three or four months to try and put a roster together. And you can tell, with the interchanging of our Olympians, that it was difficult to kinda just get our identity and play week in and week out. So I think that's gonna be something completely different this year.
Spencer said the Lifetime TV deal was a long time coming.
It's amazing. It's incredible to see. I think it's been a long time coming for us. When I left college, I was drafted into the WPS, and they had TV games. So, when we did it, I was like, "Man, that's like such great exposure for women's soccer and the league, in general." So I'm so excited that we finally have one solidified, and it's gonna be great. I'm super appreciative to Lifetime, and I can't wait.
DF Laura Alleway
For Alleway, she's playing soccer all season long.
It's not an offseason. We play all year round. We did well, I suppose. We won the championship. So, Steph and I have come over here with, I guess, gold in our eyes, and we wanna kinda bring it to Orlando and do the same thing here.
Spencer lost to Alleway and Catley in the W-League in the semifinals.
That's two years in a row now. She's changed teams, and we beat her both years. Good luck to her next season.
Despite most of the roster returning, Alleway said she still feels like there are a lot of new faces.
I still feel like there's so many fresh faces upstairs. We're doing medicals right now, so everyone's kinda flowing in and out. It's awesome to see the familiar faces, but then it's exciting because there's so many new ones as well.
Alleway has also not seen the new stadium in person yet.
I haven't seen it yet. I'm so excited. It looks amazing. My driver, the other night, who picked me up from the airport, said it was so good the first game, and he's really looking that the girls might sell out in our first game. So it's gonna be awesome.
For Alleway, she enjoys surfing in her free time. She found time to do that in between seasons while still in Australia.
I managed to squeeze in like two and a half weeks off, which I still was doing things and surfing as much as possible. So I like to have my downtime. It's definitely important for your body and your mind to refresh to try and go another seven-month season. So, I squeezed in three weeks and surfed as much as possible.
Televised women's soccer matches are not new for Alleway. In Australia, there are two dedicated channels.
In Australia, we have two channels that televise one game per week. So then, to see that they're doing it over here, obviously it's awesome that it's on YouTube because my family and friends back home can watch. But, yeah, it's gonna be massive for the game to actually get it televised and getting people all over America watching it.
The Pride added USWNT defender Ali Krieger in the offseason through a trade.
I'm excited to work with her, to be honest. Obviously, they've done massive things, and she's been a big part of World Cups and winning tournaments for the U.S. national team. So that's gonna be awesome to learn stuff from her, and I'm excited to get in front of Ashlyn [Harris] again. She's always amazing. I feel like I learned a lot from her last year, but there's so much more that she has to offer and that I can learn from her. Yeah, I'm excited that Alanna's [Kennedy] coming. I'm excited for the whole year. It's really cool to be back here.
With the addition of Kennedy, there are now three Australian women's national team defenders on the Pride's roster.
Well who's to say that we're starting? We gotta work for our spot. It's definitely an advantage knowing players. The three of us have played next to each other in World Cups, Olympics now. We've definitely got that chemistry and a really good connection between us. Add Ali in there and Ashlyn, I mean, hopefully this is gonna be a good season from the back-line. That's my focus.
Without Morgan to start the season, Alleway sees it as an opportunity for forwards like Sarah Hagen to be utilized more.
Not having her here is a massive loss to even just like as a friend but on like a personal level, and on the field, it's gonna be devastating not having her out there. But it also gives opportunities to other people to step up. Sarah Hagen is an amazing player. And I don't think we really got the most out of her last season. So, this is a chance for her to really step up and stake her claim as a No. 9. We have so many forwards coming in, like the rookies coming in and stuff. It just allows for other people to step up. We've all been in that place where we were maybe the underdog, and opportunity came, and we got to step up, whether you step or whether you don't. For me, it was in 2011. And when Tommy picked me back for the Australian team, and it was a battle between someone else and myself going into the World Cup, you know, he took a shot on me and never looked back. So, whether you can rise to the occasion or not, opportunity's in your hands, whether you take it. It's exciting for all the forwards up there to try and make their mark.
For Alleway, the identity of the team wasn't able to develop last season because it was an "experimental year."
I think last year was like an experimental year. So this year, we obviously got that chemistry now. A lot of players know each other. Now it's like a growth point, I think. We can really move forward from last year.
Alleway sees that everyone is fit.
I think everyone looks really fit from the mark. Toni Pressley's looking amazing at the moment. I've been watching them on their Instagram and then talking to them from back home. Everyone seems to be working hard in the season even if they weren't playing like we were lucky enough to have a season to play in. But people seem to be rearing to go for this season.
For Alleway, the thing she missed the most about Orlando is her teammates.
All the girls, I suppose. It's always cool to be around Tom. He's such a good person and good vibe that comes out of him. I'm so excited for this new stadium—playing on grass. It's warm back home, so I can't say the weather. Hopefully get to the beach a little more this year and explore the coastline.
Weatherholt was one of the players Alleway said grew on her as a player.
She really grew on me last year. Not as a person; she was always amazing. But, as a footballer, seeing her from the start of the season and then her, I guess, her stepping up. Like I said before, when opportunity comes, whether you can step up to it, I think she really did well when we were away, and you could see over the season how much she grew. I mean, I've been away for six months. So, who knows what she's been up to in the offseason? Haven't even had a chance to catch up with her yet. But, yeah, I think she's still only so young, and there's so much development in her, and she has such a great attitude. So, it'll be exciting to see where she can go this year. Hopefully, I can help her from her behind and encourage her and give her some good information, I suppose. It'll be exciting to see how she can grow this year.
Team Doctor Dr. Daryl Osbahr
On Saturday, the Pride had their first medical examinations at Orlando Health.
This is a wonderful day for us at Orlando Health 'cus we have an opportunity to kinda reconnect with all the players as they come in for the preseason. It's also a good time to kinda get to know them and the new players that we have as well as to really make sure that they're as healthy as possible as they come in. The preseason is always an interesting time because a lot of new players playing together. They aren't necessarily all at the same fitness level that we always expect. So we have to make sure we do as good of a job as we can and working with Coach Sermanni and his team to keep them healthy and keep them on the field. So, considering the preseason, the injury risk always goes up. We have to make sure that we're doing as good of a job as we can to make sure that they're fit and healthy and ready to get out there. So we have our cardiologists, our nutritionists, our physical therapists, our athletic trainers, our primary-care, sports-medicine doctors and our orthopedic doctors up there evaluating every single part of the athlete that we can to make sure that they're coming in here as healthy as possible.
Osbahr said Saturday's examinations were going well.
So far so good. We're still up there working. So, it takes a little while to kinda go through the entire day. It's always great to see the old players come back and reconnect with them. And we have a great relationship with the players, and it's kind of a sisterhood-brotherhood type thing. As a physician, you're always blessed to be able to take care of such high-quality players. And, with that, we don't take it for granted, but, certainly, we love our close relationship with all of them.
For Osbahr and his staff, staving off soft-tissue strains was key.
Well, obviously, soft-tissue strains are a huge concern when it comes down to soccer. So, from a soft-tissue strain perspective, we want to make sure they have good flexibility and good strength to be able to incur the soccer demand. We also look at their nutrition levels, their hydration, dehydration, heat acclimatization can be a huge issue, especially coming down to Florida, depending on where they might've been over the course of the offseason. So, as they come in, we want to make sure that they're able to tolerate the effects of weather down here as well as Coach Sermanni's great preseason plan to get 'em, hopefully at the end of the year, to win it all.
When asked if the team's fitness was better than last season's, Osbahr said yes.
Absolutely. Obviously, fitness can be lost pretty quickly over the course of an offseason. So, when you don't have these players, when you don't have 'em for an entire year—obviously in Major League Soccer, it's much longer season. So, we're really a little bit hand-cuffed by the way the players come in, who they've been playing in the offseason with. But obviously we try our best to give the players as good of a work-out regiment as we can when they leave. And then hopefully they're playing on teams that will do as great a job they can to keep them healthy and also to make sure that they're ready to come in for the preseason. So that's always our goal with them. And we're always talking with them in the offseason. We'll be calling 'em, texts coming back and forth, email messages about if they had a nick or knock or something, we'll hear about. And we want to know about it 'cus we want to make sure no time is lost and they don't come in with a lingering injury that will kind of carry through the season. We'd rather make sure that we get it taken care of as soon as possible.
Spencer experienced some injury issues during the W-League season.
A couple players have had knocks. Obviously, Jasmyne Spencer had a knock that everybody had heard about. Alex, over in Lyon, had an injury there everybody knew about. But everything seems to be going in the right direction. And, in terms of what we expect them—and our players take it seriously. They want to be healthy. And they don't take for granted not only the team they're with and our great coaches and our great organization but also our great medical team that tries to do the best job for them. So we're fortunate that they have a lot of belief in what we do.