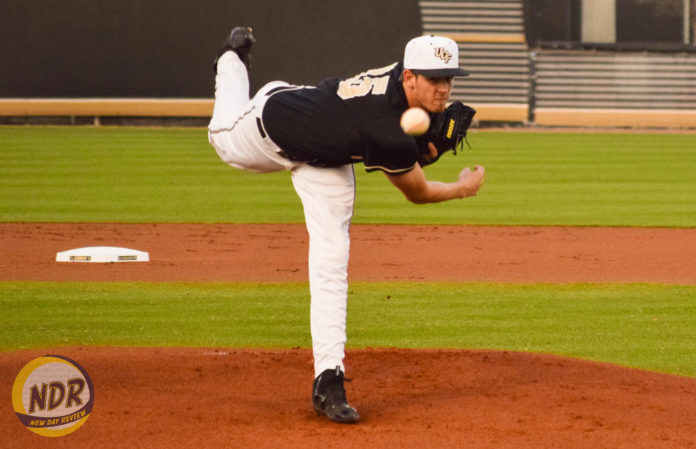 Game Recap
ORLANDO, Fla. – The University of Central Florida completed its sweep of Central Michigan University. But first-year UCF head coach Greg Lovelady wasn't afraid to call it how he saw it.
"We'll take the sweep. You never give wins back. We got really lucky, especially in this Game 3," Lovelady said after the game. "Felt like after Friday—tried to warn them that none of those runs and hits were gonna carry over, but I feel like maybe we came out today and played a little bit like maybe they were."
Though, if there was one player's hitting that carried over to Saturday night, it was true freshman first baseman's Rylan Thomas'. It was ultimately outfielder Eli Putnam's walk-off base hit to left field that helped the Knights (14-3) defeat the Chippewas (5-9) 5-4 at Jay Bergman Field in front of an announced crowd of 1,158, though.
In addition to going 2-for-4 with two RBIs, two runs and a home run, Thomas (1-0) also got the win on the mound, pitching the final 1.1 innings with a walk. CMU's Jordan Grosjean got the loss, allowing Putnam's walk-off hit.
"I've been kinda waiting to pitch all week," Thomas said after the game. "I mean, I had a pitch prior in the spring season, but, I mean, I didn't really have any idea as to what I was doing. I got back in, and he was like, 'Just head down to the pen just in case,' and eventually I got the call for the eighth inning."
Down 4-3 entering the bottom half of the ninth, the Knights prepared for their rally. It began with an Austin Murphy lead-off walk. Luke Hamblin's sacrifice bunt advanced Murphy to second before Brooks Morgan worked to a full-count pitch and was hit by a pitch. Matthew Mika then singled to third base to load the bases to set up Putnam for the game-winning at-bat. Putnam hit the first pitch he saw to left field, driving in Murphy for the tie and Morgan for the game-winner.
"It's all routines, which is what we talk about," Putnam said after the game. "We talk a lot about mental game and stepping up in these big situations where you have bases loaded, one out. You're not trying to do too much. Obviously, you can't get doubled up. But you're just looking to do something simple to get the run across. You know, just one at a time. Just pass the bat, pass the bat to the next guy. Eventually, you scrape a few across."
After the Chippewas extended their lead to two with an RBI single to third base in the sixth, UCF held Central Michigan scoreless the rest of the way. Thomas started the Knights' rally in the bottom of the eighth.
After Putnam's lead-off flyout to right field, Thomas stepped to the plate for what would be his fourth home run and 12th RBI of the Central Michigan series. That put the Knights within one, down 4-3. Thomas' home run also forced Central Michigan to pull left-handed starter Tyler Hankins, who pitched 7.1 innings with six strikeouts, which opened the game for UCF to score.
For Thomas, it was about feeling relaxed in the batter's box.
"Any time you can barrel that many balls up, there's nothing you can do that's wrong," Thomas said. "So, everything felt good… Nothing really looks any different. Just the feel of relaxation when you're inside the box versus feeling jittery, which is what I kinda felt earlier on in the spring season.
"Feel good now."
UCF responded to giving up two runs in the first by scoring two of their own.
Putnam hit a lead-off base hit to the shortstop. Then, Thomas doubled to left-center field to drive in Putnam for the Knights' first run of the game. After Logan Heiser popped up and Kyle Marsh walked, Kam Gellinger reached first on a fielder's choice that also drove in Thomas from third.
Central Michigan took the lead again with a run in the second. Afterward, though, both teams remained scoreless through the third, fourth and fifth innings. For Lovelady, it was just a matter of his team not adjusting properly to Hankins.
"[Hankins] just kept doing the same exact thing. We made no adjustments," Lovelady said. "We talked about it in the dugout, and we talked about it in the dugout—we just didn't do a good job. He just kept throwing the same pitches, and we kept doing the same things."
Player of the Game: Eli Putnam
Putnam went 3-for-5 with a run, two RBIs and the walk-off base hit to help the Knights complete the sweep of the Chippewas. His base hit in the first set him up for Thomas to drive him in for the Knights' first run of the game.
What's next?
The Knights will host the Bradley Braves on Tuesday at 6:30 p.m.
Knights Read Books on Mentality
Thomas said that the key to carrying over his success to other games and other series revolves around the mental game. That's something Lovelady and his staff have preached since they first arrived. Lovelady has his team read books on mentality, even.
"It's the mental game. Love preaches so much about the mental game," Thomas said. "We read multiple books on it. It's just staying within yourself, not trying to do too much and just ultimately try to help the team win with everything that you do. Whether you're laying down a bunt or trying to steal a bag, you just gotta stay in it and help your team win, honestly."
Among the books that he and his teammates have read, Thomas keyed on was Play Big by Tom Hanson. For Thomas, he's been learning the game since before he got to UCF. That was due largely in part to his father.
"I've just been fortunate as my dad has definitely tried to influence me with some of that knowledge," Thomas said. "It's definitely helped out. So, when I came here, it was a relief to see that there's other people out there working on the mental game."
Highlights
B1 – Rylan Thomas is an RBI machine!!

CMU 2 UCF 1 #ChargeOn pic.twitter.com/YbsS6NjeJu

— UCF Baseball (@UCF_Baseball) March 11, 2017
B1 – Just like that, we're tied!!

CMU 2 UCF 2 pic.twitter.com/zFV1f9khjF

— UCF Baseball (@UCF_Baseball) March 11, 2017
Sweet turn gets us out of the 6th!

CMU 4 UCF 2#ChargeOn pic.twitter.com/00tIpymPg3

— UCF Baseball (@UCF_Baseball) March 12, 2017
Was there ever a doubt!?!? 12 RBIs and 4 home runs in the last 24 hours!!

CMU 4 UCF 3 pic.twitter.com/DSmQn42O2C

— UCF Baseball (@UCF_Baseball) March 12, 2017
How SWEEP it is!

Eli Putnam ensures we stay a perfect 12-0 in weekend series in 2017 with this walk-off 2-run single!#ChargeOn pic.twitter.com/9NVBRuFwKp

— UCF Baseball (@UCF_Baseball) March 12, 2017
NDR Notes
This is the second walk-off win the Knights have earned. Gellinger hit a walk-off base hit in a 3-2 win over Stony Brook University on March 5.
After Saturday night's 5-4 win, Thomas now leads the Knights in home runs with four. He finished the three-game series 8-for-11 with seven runs, 12 RBIs and four homers. Thomas also earned the win in Game 3.
Scoring
| | | |
| --- | --- | --- |
| | University of Central Florida | Central Michigan University |
| Runs | 5 | 4 |
| Hits | 6 | 6 |
| Errors | 3 | 2 |
| Left on Base | 7 | 5 |
| | | | |
| --- | --- | --- | --- |
| Inning | Team | Play | Score |
| T1 | Central Michigan University | Daniel Jipping doubled to right-center field, RBI; Daniel Robinson scored | 1-0, CMU |
| T1 | Central Michigan University | Evan Kratt singled to left field, RBI; Daniel Jipping scored | 2-0, CMU |
| B1 | University of Central Florida | Rylan Thomas doubled to left-center field, RBI; Eli Putnam scored | 2-1, CMU |
| B1 | University of Central Florida | Kam Gellinger reached on fielder's choice, RBI; Kyle Marsh out at second, shortstop to second baseman; Rylan Thomas scored | 2-2, T |
| T2 | Central Michigan University | Grant Frazer singled, bunt, RBI; David Cole scored | 3-2, CMU |
| T6 | Central Michigan University | Evan Kratt singled to third base, RBI; Daniel Robinson scored | 4-2, CMU |
| B8 | University of Central Florida | Rylan Thomas home run, RBI | 4-3, CMU |
| B9 | University of Central Florida | Eli Putnam singled to left field, 2 RBIs; Matthew Mike advanced to second; Brooks Morgan scored; Austin Murphy scored | 5-4, UCF |
Statistics and Starting Lineup
Pitching
| | | | | | | | |
| --- | --- | --- | --- | --- | --- | --- | --- |
| Player | Team | IP | R | ER | H | BB | SO |
| Rylan Thomas (1-0) | University of Central Florida | 1.1 | 0 | 0 | 0 | 1 | 0 |
| Jason Bahr | University of Central Florida | 5.1 | 4 | 4 | 5 | 1 | 9 |
| Jordan Scheftz | University of Central Florida | 2.1 | 0 | 0 | 1 | 0 | 2 |
| Jordan Grosjean (0-2) | Central Michigan University | 0.0 | 0 | 0 | 2 | 0 | 0 |
| Tyler Hankins | Central Michigan University | 7.1 | 3 | 3 | 4 | 2 | 6 |
Hitting
| | | | | | | | | | |
| --- | --- | --- | --- | --- | --- | --- | --- | --- | --- |
| Player | Team | AB | H | R | HR | RBI | SB | BB | SO |
| Eli Putnam | University of Central Florida | 5 | 3 | 1 | 0 | 2 | 2 | 0 | 0 |
| Rylan Thomas | University of Central Florida | 4 | 2 | 2 | 1 | 2 | 1 | 0 | 1 |
| Daniel Robinson | Central Michigan University | 3 | 1 | 2 | 0 | 0 | 0 | 1 | 1 |
| Evan Kratt | Central Michigan University | 3 | 2 | 0 | 0 | 2 | 0 | 1 | 1 |
UCF starting lineup: 1. Eli Putnam (9) 2. Rylan Thomas (3) 3. Logan Heiser (2) 4. Kyle Marsh (7) 5. Kam Gellinger (6) 6. Bryce Peterson (DH) 7. Max Wood (8) 8. Brooks Morgan (5) 9. Matthew Mika (4)
UCF starting pitcher: Jason Bahr (0-0)
Central Michigan starting lineup: 1. Alex Borglin (6) 2. Zach Gilles (7) 3. Daniel Robinson (9) 4. Daniel Jipping (DH) 5. Evan Kratt (3) 6. Robert Greenman (2) 7. David Cole (8) 8. Zach Heeke (5) 9. Grant Frazer (4)
Central Michigan starting pitcher: Tyler Hankins (0-0)