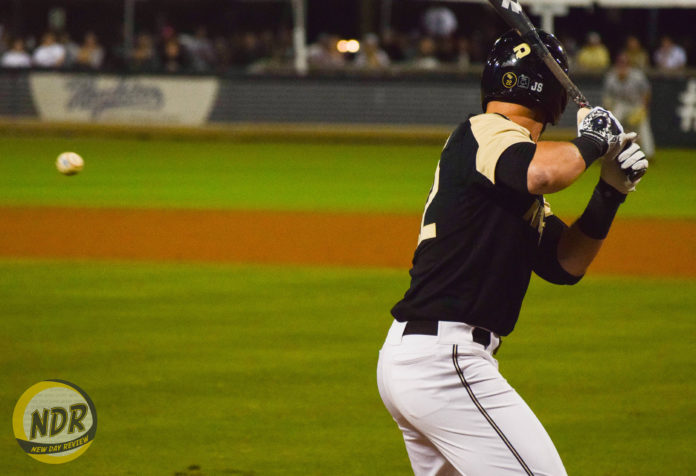 Live Blog: UCF vs. No. 3 FSU, Game 1
Game Recap
ORLANDO, Fla. – Florida State University's bullpen shut the University of Central Florida out down the stretch. In a 5-2 Knights (11-2) loss, the No. 3 Seminoles (10-2) retired 16 of UCF's final 17 batters. After the game, first-year UCF head coach Greg Lovelady didn't mince words about his team's performance.
"We gotta be a lot better. We played absolutely horrible in all three facets," Lovelady said after the game. "They're a really good offensive team. They hammer some balls. We're lucky the score was only 5-2. Offensively, we were just uncompetitive. Did not do much right. We took a lot of strikes. And we swung at a lot of balls that weren't strikes."
Sophomore pitcher Chris Williams (0-2) got the loss and the start on the mound, pitching 5.0 innings with seven hits, five runs (four earned), one walk and four strikeouts. FSU's Alec Byrd (1-1) got the win in 2.0 innings pitched with no hits, no runs, a walk and four strikeouts. Drew Carlton got the save in 2.0 innings with two strikeouts.
"I was proud of [Williams]. We made two errors that first inning. He only gives up one run, second and third, I think, it's nobody out," Lovelady said. "Only gives up one run, which is good. But we didn't do much tonight. We didn't pitch very well. We had opportunities to put guys away. We hung a lot of stuff. We were up in the zone a lot."
Trailing 2-0 entering the bottom of the fourth, the Knights retaliated with a statement at-bat. After catcher Logan Heiser was hit in the head in his first at-bat, he came back with a vengeance that resulted in a two-out, two-run homer to tie the game. Left fielder Kyle Marsh drew a lead-off walk before Bryce Peterson and Ryan Crile struck out swinging.
"I was trying to put a good barrel on the ball," Heiser said after the game. "He left a fastball up, and I actually saw it out of the hand pretty well, and I was able to make solid contact, and thankfully it carried out of the park."
In FSU's next opportunity, the Seminoles took a three-run lead off clutch two-out hitting. After the Seminoles' Tyler Daughtry and J.C. Flowers struck out and grounded out respectively, a bunt and a base hit set up Dylan Busby for a go-ahead RBI. Rhett Aplin was hit by a pitch to load the bases before Quincy Nieporte hit a two-run base hit up the middle for an FSU 5-2 lead.
After Heiser's home run, though, Marsh's walk in the bottom of the sixth was the last time UCF got on base. FSU's bullpen combined for six strikeouts, one walk and no hits in the final five innings of the game.
"They're pretty deep on the mound. They threw some good arms," Lovelady said. "I mean, all the guys they threw out there were pretty good. And, again, we had some chances, and Logan hit a big home run. Changed momentum of the game for a little bit."
FSU scored its first two runs in the first and fourth innings. Nieporte's groundout to shortstop Kam Gellinger let Taylor Walls dart in from third. In the fourth, Cal Raleigh singled to center field to drive in Aplin for a 2-0 lead.
Player of the Game: FSU's Bullpen
The Noles' bullpen retired 16 of the Knights' final 17 batters. Marsh walked in the bottom of the sixth, but that was it for the Knights the rest of the way.
What's next?
UCF hosts the Seminoles for a 4 p.m. matchup.
Chris Williams Against Top Florida Teams
Williams also started in the 4-3 loss to the No. 2 Florida Gators. Lovelady has also said he has yet to see the best of Williams. For the sophomore, he relishes the opportunity to play against the best teams in the state.
"It's fun getting out there, playing versus some of the best teams out there," Williams said after the game. "You just gotta go out there, show up and go show what you got. And today we didn't show it, but we're gonna come back tomorrow and give 'em our best."
Said Williams on Lovelady's comments: "Just coming out, I haven't really found all my pitches yet. Just coming through, and that's been the problem. I've been throwing some, leaving some balls up, not really hitting my spots, and that's where I need to go to is working down the zone and hitting my spots, and that's what we're working for."
Highlights
Coach brought the 🔥 on the mound tonight!

Peep that 👻ucf.knights snap story for more. #ChargeOn pic.twitter.com/kZ2rQYtqG7

— UCF Men's Basketball (@UCF_MBB) March 7, 2017
T3 – Hamblin with a web-gem to end the inning!! #UCFast

FSU 1 UCF 0 pic.twitter.com/gfMszzR56I

— UCF Baseball (@UCF_Baseball) March 8, 2017
Nice turn unassisted by Kam gets us out of the half inning!#ChargeOn pic.twitter.com/tPJVZsCl0r

— UCF Baseball (@UCF_Baseball) March 8, 2017
An absolute BOMB by @HeiserLogan ties the game!! Apparently he's ok.

FSU 2 UCF 2#ChargeOn pic.twitter.com/5i50n6ZwVN

— UCF Baseball (@UCF_Baseball) March 8, 2017
NDR Notes
Eli Putnam's 11-game winning streak came to an end after he went 0-for-3 in a 3-2 win over Stony Brook University on Sunday.
Heiser hit his first home run of the season. It was a two-run bomb over the left-field wall that also drove in Marsh to tie the game at 2-2.
Scoring
| | | |
| --- | --- | --- |
| | University of Central Florida | Florida State University |
| Runs | 2 | 5 |
| Hits | 2 | 9 |
| Errors | 3 | 0 |
| Left on Base | 4 | 9 |
| | | | |
| --- | --- | --- | --- |
| Inning | Team | Play | Score |
| T1 | Florida State University | Quincy Nieporte grounded out to shortstop, sacrifice, RBI; Rhett Aplin advanced to third; Taylor Walls scored, unearned | 1-0, FSU |
| T4 | Florida State University | Cal Raleigh singled to center field, RBI; Rhett Aplin scored | 2-0, FSU |
| B4 | University of Central Florida | Logan Heiser home run, 2 RBIs; Kyle Marsh scored | 2-2, T |
| T5 | Florida State University | Dylan Busby singled to center field, RBI; Taylor Walls advanced to third; Matt Henderson scored | 3-2, FSU |
| T5 | Florida State University | Quincy Nieporte singled up the middle, 2 RBIs; Rhett Aplin advanced to third; Dylan Busby scored; Taylor Walls scored | 5-2, FSU |
Statistics and Starting Lineup
Pitching
| | | | | | | | |
| --- | --- | --- | --- | --- | --- | --- | --- |
| Player | Team | IP | R | ER | H | BB | SO |
| Chris Williams (0-2) | University of Central Florida | 5.0 | 5 | 4 | 7 | 1 | 4 |
| Trent Thompson | University of Central Florida | 2.0 | 0 | 0 | 1 | 1 | 4 |
| Andrew Karp | Florida State University | 4.0 | 2 | 2 | 2 | 2 | 6 |
| Alec Byrd (1-1) | Florida State University | 2.0 | 0 | 0 | 0 | 1 | 4 |
Hitting
| | | | | | | | | | |
| --- | --- | --- | --- | --- | --- | --- | --- | --- | --- |
| Player | Team | AB | H | R | HR | RBI | SB | BB | SO |
| Logan Heiser | University of Central Florida | 2 | 1 | 1 | 1 | 2 | 0 | 0 | 0 |
| Quincy Nieporte | Florida State University | 4 | 1 | 0 | 0 | 3 | 0 | 0 | 1 |
| Dylan Busby | Florida State University | 5 | 2 | 1 | 0 | 1 | 0 | 0 | 0 |
UCF starting lineup: 1. Eli Putnam (9) 2. Luke Hamblin (8) 3. Rylan Thomas (3) 4. Kyle Marsh (7) 5. Ryan Crile (4) 6. Bryce Peterson (DH) 7. Logan Heiser (2) 8. Matthew Mika (5) 9. Kam Gellinger (6)
UCF starting pitcher: Chris Williams (0-1)
FSU starting lineup: 1. Taylor Walls (6) 2. Dylan Busby (5) 3. Rhett Aplin (DH) 4. Quincy Nieporte (3) 5. Cal Raleigh (2) 6. Nick Derr (9) 7. Tyler Daughtry (7) 8. J.C. Flowers (8) 9. Matt Henderson (4)
FSU starting pitcher: Andrew Karp (0-0)