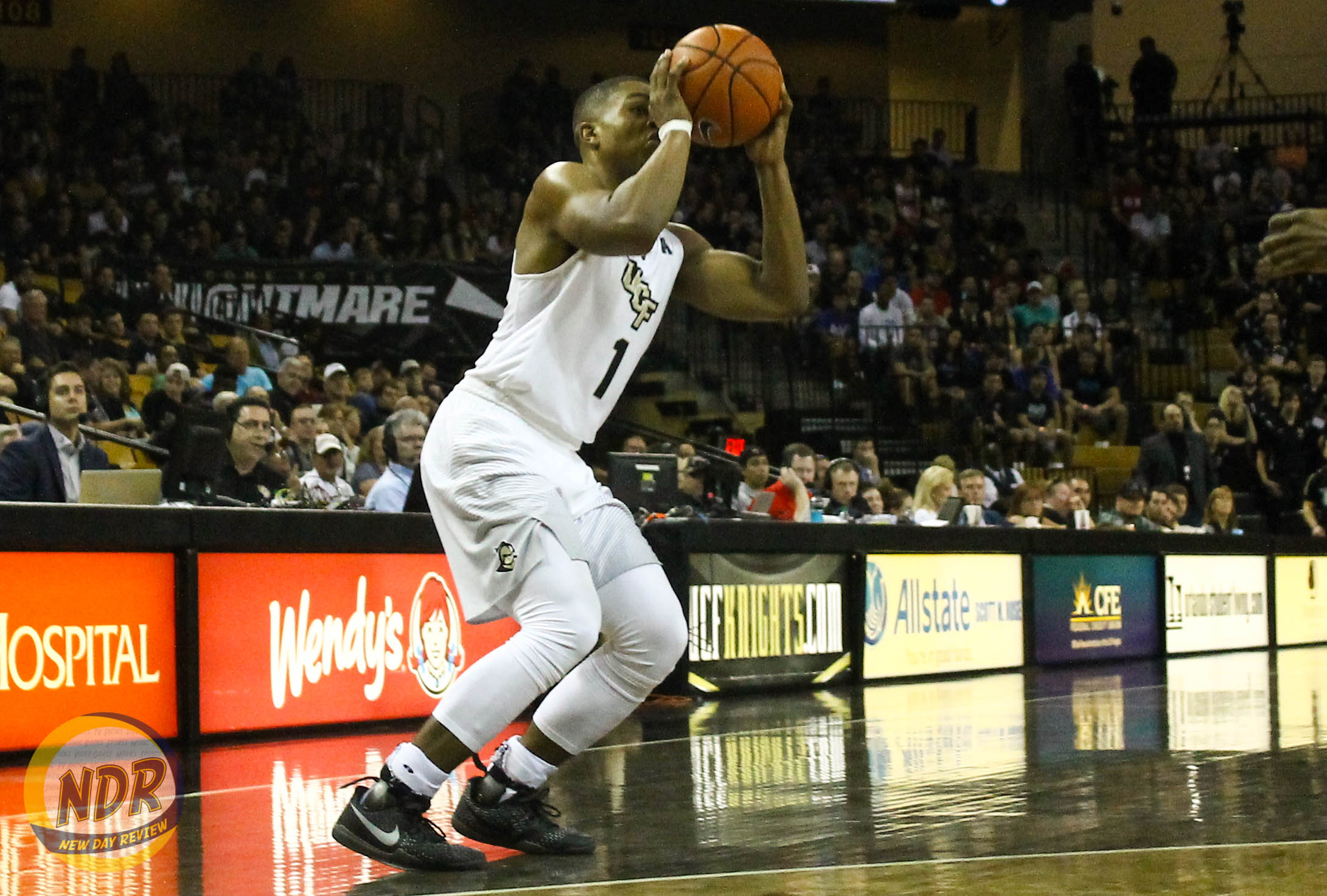 March 6, 2017 at CFE Arena
HC Johnny Dawkins
The University of Central Florida drew a Round 1 bye for the American Athletic Conference.
I think I wish I was still playing. Especially when your guys are playing with a certain energy, and you're gaining momentum. You wanna kinda continue to keep that going. But I think, ultimately, the rest doesn't hurt us. Having a chance to recover for some of our guys. A lot of our guys play extended minutes as you know. I think those guys may benefit from the time off.
When asked about his team making the NCAA tournament or the NIT, Dawkins said he doesn't think about that.
Well that's tough for me to look at that. I don't really follow those brackets or that stuff as much. I think if you look at everyone's body of work and how teams if it's close, I like to look at how teams are playing down the stretch if it's close. And I think we've been very competitive. I think we've been playing our best basketball when a lot of people think it counts the most. And we have to continue. But that's not my job to make those assessments other than to say we're just gonna try to go in our conference tournament, take it one game at a time and try to play our best basketball.

I have no idea what they're looking for to make that kind of assessment. I just think that we want to just keep playing good basketball, keep going out and competing, keep trying to get better which has been our model all year. Every practice, every game, we're just trying to get better, and we'll see where we are at the end of the year.
When asked if he thought his first season was a successful one, Dawkins said his team's standards are still yet to be determined.
I think the standards that we set for ourselves are yet to be determined. We're still playing for an opportunity to play in the postseason, and that's what we want to have our sights set on as a program, and we're still trying to accomplish those goals. I think if you look at our team, from where we were at the start of the year to now, I think we've gotten better. And I really do like that whenever I watch a team continue to practice and play. Are they practicing and playing with the energy this time of year? Are they improving? So those are things I would consider a success because I think they have been playing with a lot of energy and enthusiasm at the end, and I do think our players have improved throughout the season. So i would call that part a success.
This is Dawkins' first year as UCF's head coach.
I was hoping our team would be competing to win our conference. Every year I walk in the gym and every year that I coach, that doesn't change for us. I think that if we have low standard, then I think it will permeate through our players. So, for me, it's important to set high standards as the leader here where we're trying to achieve things that are realistic. And I thought realistically we could compete in this conference this year, and, unfortunately, we fell a little short. But I think our guys learned a lot from the experience.
Both the men's and women's teams finished with 20-win seasons.
It's great. I'm really proud of our women's team and our women's coach. She does a terrific job with her group. I think that shows by the type of season they had. And, like I said, we're fortunate to have had a season that we've won 20 games as well. And then we all need to keep shifting gears, for us now and for our conference tournament. And, for them, we'll see what's beyond their conference tournament for them, what's up next. Because they've had a good enough year to continue to keep playing, and I hope that's in the cards for them.
The Knights will play the Memphis Tigers on Friday at 2 p.m.
No matter who you draw now, it's a one-and-done situation. It's a tournament-style format. So you just have to go out there and just concentrate and try to compete to win. No matter who we're playing, it's gonna be the same for us. It's gonna be for how we prepare. We have to go out there and play our best basketball because everyone's starting their season over again. Everyone's back at 0-0. I'm sure they're telling their players the same thing. So everyone know that this is a new beginning, and you have to approach it that way.
The Knights lost to Memphis 70-65 on Jan. 22 and defeated the Tigers 72-57 on Feb. 4.
Well, we'll definitely look back at the film. We've played them twice, home and away. We both split. They won at home, we won at home. So there're things that we'll surely take away from our games versus them. And, also, you gotta be ready for the unexpected. In a tournament format, people can surprise you because it's just a one-game situation each time out, and they can do some things a little bit different and make adjustments. So we have to be a little bit prepared for everything.
When asked about the his team's energy level, Dawkins said it's about preparation.
I think, for us, we have to make sure that we prepare the right way. And that we go up there with the right mindset. For UConn to do what they've done the last several years in the conference tournament, it shows they go out there with a great mindset. They go out there with the belief that they can win, and they've been very competitive. I think we have to take that same approach.
Taylor has been instrumental in the Knights' late-game situations. He helped the Knights win with late-game three-pointers in games against the Temple Owls, Cincinnati Bearcats and USF Bulls.
In late-game situations, if I'm putting the ball in a guy's hands, sometimes I wanna know what they're thinking about, what they want to do. The one thing about having played the game, for me, is I understand that you can draw up some great things, but the bottom line is it's not what you know, it's what your player knows and go out there and do. So a lot of times I will ask and say, "What do you think about this? Do you want to run this or that?" You give him the choice of the two things that I may have in mind for him and let him pick the one that he feels he's most comfortable with at that stage in the game.

We talked about it early in the year about a big adjustment for him playing for me would be his ability to understand time and score and understand when and when not to go for it. And I think he's been picking his spots really well down the stretch of the season. But it's been a learning curve for him. He's had to go through some things to kinda figure out exactly what I want and what we want from him as a team. But I believe he's evolving into a terrific point guard in our conference.
PG B.J. Taylor
When asked about coming up big in clutch moments, Taylor said he embraces those moments.
When the times kinda come up, I embrace those moments. I want the ball in those situations when the came is tight, and it kinda swings momentum when you make plays like that 'cus it kills over teams' morale, and a lot of times, they get demoralized and do stuff like that. So I enjoy those moments, and I enjoy especially on the road when the crowd gets quiet.
A successful tournament for Taylor is to win the whole thing.
Winning it. That's what we came to do. Coach won't let us settle for anything less than than. We gotta go take it one game at a time, but our goal is definitely to go out there and play our best and take it one game at a time and get all the way to Sunday.
When asked about making the NCAA tournament, Taylor said he and his team are focused only on Memphis.
We just taking it right now with Memphis. We know what we gotta do. You talk about it in the locker room every day. So we just taking it one game at a time, and we gotta get Memphis before any of that other stuff happens.

I think [a one-game-at-a-time approach] simplifies things for us in a way that we don't focus on everything so much, and we don't get overwhelmed thinking it's a long season or anything. We just take it one game at a time. It's a lot smaller of a task to complete 'cus you're just, like, I gotta take it one game, get this one, then I get to the next one. So I think that's been like our mindset this whole year, and you just gotta continue that.
Taylor said the one-game-at-a-time approach is also applied in the game as well.
We take the game into smaller rounds. We take it four minutes at a time. We don't look at it as one long game. So, I think breaking it down into smaller goals and smaller tasks that we have for ourselves makes it a lot easier to focus in, and we can play a lot harder for longer stretches. We're just focused on smaller periods of time.
When asked about when he knew his team would have a special season, Taylor said it was early on.
I think once we got there—we played the first game of the Charleston Classic, we were like, "We can do something this year." I mean, we put in a lot of hard work this offseason, but you always need that validation to start it off, you know, get the confidence growing. So I think once we got that first win of the Charleston Classic, we kinda saw what our potential was. We were ready to kinda do something special this season.
The Knights defeated the USF Bulls 86-64 in their first meeting on Jan. 17. They only beat USF 59-56 in the regular-season finale.
It's a rivalry game, and I know it sounds cliche, but you really have to throw records out the window in a game like that. I mean, every season you can watch rivalry games in any sport where one team might be having a bad year in conference, and one team might be the top of the conference. In the rivalry game, the other team's gonna play with energy. We gotta play with energy. So, the records go out the window just because the energy level's gonna be there, and the passion's gonna be there. And the energy level that you might not play against another team with, you're gonna play with against your rival. So, you have to match that energy level especially on the road.

I mean, you gotta give them credit. They came out, and they played really hard, and they pushed us. And I think our focus was there, but we had to pick up our energy a little bit. As Coach says, we can't focus on what we did in the past the weekend before. Focus on what the task was at hand. So, I think once we locked in for like that last three or four minutes of the game and held them scoreless, that really was the difference.
SG Matt Williams
When asked about having a bye week, Williams said he enjoyed it.
We really enjoyed it. I feel good right now. My legs, my body don't feel tight. I have a lot of energy, so it was pretty good to get a break.
When asked about his thoughts on playing Memphis, Williams complemented the Tigers.
Memphis is a very good team. They're a tough team. We're preparing for them kinda different than we preferred for our past opponents. They like to get out in transition. They have very good players, and we just really have to focus on just making sure we play our defense. And just making sure that we perfect the schemes that got us successful against Memphis the first couple times. And once we do that, we'll be fine.
Like Taylor, a successful tournament for him is to win the whole thing.
A successful tournament will be winning the whole tournament. That'll be successful for us.
When asked about making the NCAA tournament, Williams said he hand his team don't think too much about it to avoid the pressure.
We try not to put too much pressure on ourselves by thinking about it. We try to take it one game at a time. But, as a team, we can lock on. We can talk about it. We all know collectively that with us winning the tournament, we won't have to worry about anything about getting our name called or any of that. So we just trying to take it one game at a time, but, at the same time, it's still been on all our minds. So we're all trying to accomplish that goal.

It's kinda tough, especially as being young guys. We all have so much emotions towards the things that we're doing right now, especially us seniors. We talk about it all the time. So it's just trying to just stay locked into the one game at a time.
The redshirt senior said returning to UCF was the best decision of his life.
I say coming back has been the best decision I've probably made me in my life. Just coming back, playing with this group of guys, having the season that we've been having together and just all the things that we've accomplished together—it feels good just to be back here and be winning.
When asked about when he knew his team would have a special season, like Taylor, Williams said it was during the Gildan Charleston Classic.
I would say 'cus of the beginning of the season, the Charleston tournament, just the way we learn so fast, how to play so hard on defense, and just things that we were seeing how by us playing hard how much it changes the games, other people's game plans. And then once I seen us play against Villanova, I just seen the way that we all were—no one was backing down. Everybody want it more. That let me know right there that we had a tough team.
When asked about what a deciding factor would be against Memphis, Williams said it's about defense.
I would just say just sticking to our principles, just sticking to our defense. First time we played Memphis up there, they kinda got in our heads, got in my head, gotten kinda rowdy. That kinda hurt our team. And then the next game, they tried to do the same thing, but I just made sure I held my composure and listened to my teammates. They told me just to stay focused on the game. And once I did that, I feel like it just made the game so much more easier. So I just feel like if we just stick to our game plan, our defensive game plan, that we'll be fine.
In UCF's 59-56 win over USF, Williams became the 18th UCF player to hit 1,000 points. He finished the regular season with 1,018 career points.
The year's been very good. I have beaten plenty of records and things like that. And I wouldn't be able to do any of that without my teammates. They give me the ball, they're setting good screens for me. As you start hitting more and more threes, other teams and opponents, they are aware that you're close to breaking records, so they make it that much harder to try to break records. And my teammates just did that much more. Just screening for me, try to find me, just making sure I get open. Just letting me to keep shooting, just telling me to stay focused. And that's pretty much what it was. My teammates, they made it that much more easier for me.
When asked about his expectations entering the season, Williams said he just wanted to win games.
Well, going into the season, we just wanted to make sure that we win. We just wanted to lay a foundation down for the guys that's here. Especially us seniors, we just want to lay our foundation down that we want to make sure that we win. Winning cures everything. That's our model. Winning really takes care of everything. Don't matter if you score three points or 30, if you win, we all win together. So I just feel like our mindset was just so much focused on trying to win as many games as possible.