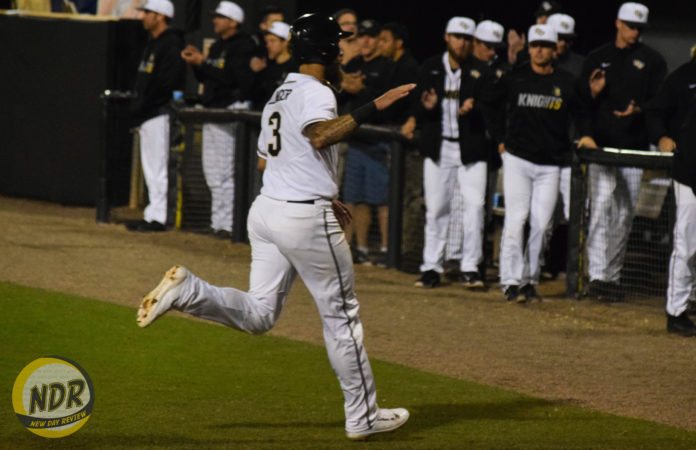 Game Recap
ORLANDO, Fla. – Stony Brook University stunned the University of Central Florida to start the game. The Seawolves (1-6) jumped out to an early 3-0 lead in the first inning but would fall to the Knights (9-1) 7-3 at Jay Bergman Field Friday night.
Thaddeus Ward (2-0) got the win on the mound, pitching 2.2 innings with two strikeouts and allowing two hits. Stony Brook's Nick Montefusco (0-2) recorded the loss, pitching 0.2 innings with one strikeout and allowing three earned runs, two hits and a walk.
UCF starting pitcher Robby Howell started the game slowly, surrendering three runs on three hits in the top of the first inning. He returned to pitch scoreless outings in the second, third and fourth innings.
"[Howell's] gotta be better. Just walked too many guys," first-year UCF head coach Greg Lovelady said after the game. "The umpire's strike zone was small, but the guy was [very] consistent… He didn't call the low strike. Wasn't even calling the high strike. And those are the things you gotta be prepared for and be able to adjust. We just didn't do a very good job. Just didn't have very good fastball command today. Got behind a lot. Really struggled with it.
"But, after the first three innings, the last couple innings, he was a lot better. By that time, he already got his pinch count way too high."
With the game tied at 3-3, the Knights set themselves up to take the lead in the bottom of the seventh.
UCF loaded the bases with a Kam Gellinger bunt, an Eli Putnam base hit and a Luke Hamblin walk. Runners advanced and Gellinger scored on a wild pitch to give the Knights a 4-3 lead. After first baseman Rylan Thomas grounded out, left fielder Kyle Marsh singled up the middle to drive in Putnam. A base hit by second baseman Ryan Crile drove in Hamblin, and a Bryce Peterson sacrifice fly to right-center field let Marsh score.
"We battled. Didn't look real good early on," Lovelady said. "Got through it, and, offensively, we battled. Had some big hits… The offense—we got down 0-2 a lot and found ways to get hits. And then got [their starter] out of the game and did a great job of attacking the bullpen."
UCF held the Seawolves scoreless after the first inning courtesy of a play by Ward at home plate. With a runner on third, Stony Brook's Jeremy Giles laid down a bunt that sent the ball bouncing high toward the mound. Ward leaped to gather the ball and threw across his body to home to keep the score tied at 3-3.
"It came off the bat, and I saw it," Ward said after the game. "I saw it up in the air, went to go get it, and I kinda blanked out for a moment there when I went to throw it. I was just like, 'Oh, God. Don't throw this ball away.' And somehow found the catcher's glove. Honestly, I really wasn't thinking a whole lot right there."
Trailing 3-0 entering the bottom of the first, the Knights patiently battled back to tie the game by the sixth inning.
Hamblin drew a walk and then stole second with one out in the bottom of the first. After Thomas flew out to right field, Marsh's single to the shortstop drove Hamblin in for the Knights' first run.
Dallas Beaver would score for the Knights in the second after he was hit by a pitch and advanced to second on a balk. After Gellinger singled down the left line to advance Beaver to third, Putnam grounded out to the pitcher to allow Beaver score.
The Knights tied the game in the sixth when Peterson sent a solo shot over the center-right field wall on a 2-2 count.
"Well, first off, I was just happy to get my team going," Peterson said after the game. "It was 3-2. We didn't have much energy in the dugout, and I was just fortunate…to get the team going and get a run on the board to tie it up. And then the rest of the team helped out, and we ended up winning 7-3."
Player of the Game: Bryce Peterson
Peterson finished the game 2-for-3 with two RBIs, a run and his second home run of the season. He was instrumental in the Knights' win, tying the game in the sixth inning before capping UCF's scoring in the seventh with a sacrifice fly to right field to score Marsh.
What's next?
The Knights continue their three-game weekend series with the Seawolves on Saturday at Jay Bergman Field at 6:30 p.m.
Kam Gellinger Moves to Shortstop
Perennial Knights shortstop Brennan Bozeman sustained an injury in an 11-2 win over the No. 2 Florida Gators on Wednesday. Gellinger replaced Bozeman at shortstop against Florida. In Friday's win, Gellinger started at shortstop while Matthew Mika started at third.
"I do like a three-lineup thing during practice every day," Lovelady said. "So I want guys to play multiple positions so that in case there's an injury or in case I gotta make some moves late in the game that guys are comfortable playing different positions.
"So Kam's played a lot of short in practice in the fall and in the winter. He's a really good shortstop. So I felt really comfortable knowing that we had guys prepared to play other positions, especially in the infield."
Highlights
Marsh delivers an infield single to score Hamblin from third!

SBU 3 UCF 1#UCFast pic.twitter.com/0FijXyyn39

— UCF Baseball (@UCF_Baseball) March 4, 2017
Great snag by Putnam in right as Thompson makes quick work of the Seawolves with just 9 pitches in the 5th! Still down 3-2. #ChargeOn pic.twitter.com/5XYCYS0OH6

— UCF Baseball (@UCF_Baseball) March 4, 2017
B6 – TIE GAME!! @Bryce_P21 with a solo shot to right center, his second of the season!!

SBU 3 UCF 3 #ChargeOn pic.twitter.com/Ng4n22PkiZ

— UCF Baseball (@UCF_Baseball) March 4, 2017
Bunt takes a big hop back to the mound and Ward cuts the runner at home! Next hitter just stands there. Inning over!

SBU 3 UCF 3#ChargeOn pic.twitter.com/Bi6TnQIJVa

— UCF Baseball (@UCF_Baseball) March 4, 2017
Wild pitch brings home the go-ahead run!! We lead 4-3! pic.twitter.com/3NVQK3tA0G

— UCF Baseball (@UCF_Baseball) March 4, 2017
Marsh doing what Marsh does!!

SBU 3 UCF 5 pic.twitter.com/9MPSxlYhLD

— UCF Baseball (@UCF_Baseball) March 4, 2017
4-6-3 GDP to get us to 9-1 👌#ChargeOn pic.twitter.com/MJugkZYEbS

— UCF Baseball (@UCF_Baseball) March 4, 2017
NDR Notes
Putnam extends his hitting streak to 10 games. He finished 1-for-4 with a run and an RBI.
Hamblin's seven-game hitting streak ended Friday night. He finished 0-for-3 with two runs, two walks and a stolen base.
Peterson hit his second home run of the season. This time, it was to tie the game at 3-3 in the bottom of the sixth inning.
Scoring
| | | |
| --- | --- | --- |
| | University of Central Florida | Stony Brook University |
| Runs | 7 | 3 |
| Hits | 10 | 8 |
| Errors | 0 | 2 |
| Left on Base | 8 | 12 |
| | | | |
| --- | --- | --- | --- |
| Inning | Team | Play | Score |
| T1 | Stony Brook University | Michael Wilson singled up the middle, 2 RBIs; Toby Handley scored; Andruw Gazzola scored | 2-0, SBU |
| T1 | Stony Brook University | Bobby Honeyman singled to right-center field, advanced to second on the throw, RBI; Michael Wilson scored | 3-0, SBU |
| B1 | University of Central Florida | Kyle Marsh singled to shortstop, RBI; Luke Hamblin scored | 3-1, SBU |
| B2 | University of Central Florida | Eli Putnam grounded out to pitcher, sacrifice, RBI; Kam Gellinger advanced to second; Dallas Beaver scored | 3-2, SBU |
| B6 | University of Central Florida | Bryce Peterson home run to right-center field wall, RBI | 3-3, T |
| B7 | University of Central Florida | Luke Hamblin advanced to second on wild pitch; Eli Putnam advanced to third on wild pitch; Kam Gellinger scored on wild pitch | 4-3, UCF |
| B7 | University of Central Florida | Kyle Marsh singled to center field, RBI; Luke Hamblin advanced to third; Eli Putnam scored | 5-3, UCF |
| B7 | University of Central Florida | Ryan Crile singled through right side, RBI; Kyle Marsh advanced to third; Luke Hamblin scored | 6-3, UCF |
| B7 | University of Central Florida | Bryce Peterson flew out to right field, sacrifice fly, RBI; Kyle Marsh sscored | 7-3, UCF |
Statistics and Starting Lineup
Pitching
| | | | | | | | |
| --- | --- | --- | --- | --- | --- | --- | --- |
| Player | Team | IP | R | ER | H | BB | SO |
| Robby Howell | University of Central Florida | 4.0 | 3 | 3 | 4 | 6 | 3 |
| Thaddeus Ward (2-0) | University of Central Florida | 2.2 | 0 | 0 | 2 | 0 | 2 |
| Bret Clarke | Stony Brook University | 5.1 | 3 | 3 | 6 | 1 | 3 |
| Nick Montefusco (0-2) | Stony Brook University | 0.2 | 3 | 3 | 2 | 6 | 1 |
Hitting
| | | | | | | | | | |
| --- | --- | --- | --- | --- | --- | --- | --- | --- | --- |
| Player | Team | AB | H | R | HR | RBI | SB | BB | SO |
| Bryce Peterson | University of Central Florida | 3 | 2 | 1 | 1 | 2 | 0 | 0 | 1 |
| Kyle Marsh | University of Central Florida | 4 | 3 | 1 | 0 | 2 | 0 | 0 | 0 |
| Michael Wilson | Stony Brook University | 4 | 1 | 1 | 0 | 2 | 1 | 1 | 2 |
UCF starting lineup: 1. Eli Putnam (9) 2. Luke Hamblin (8) 3. Rylan Thomas (3) 4. Kyle Marsh (7) 5. Ryan Crile (4) 6. Bryce Peterson (DH) 7. Dallas Beaver (2) 8. Matthew Mika (5) 9. Kam Gellinger (6)
UCF starting pitcher: Robby Howell (2-0)
Stony Brook starting lineup: 1. Andruw Gazzola (7) 2. Toby Handley (8) 3. Casey  Baker (3) 4. Michael Wilson (DH) 5. Dylan Resk (9) 6. Bobby Honeyman (5) 7. Jeremy Giles (6) 8. Sean Buckhout (2) 9. Brandon Janofsky (4)
Stony Brook starting pitcher: Bret Clarke (0-1)